Read time:

1:30min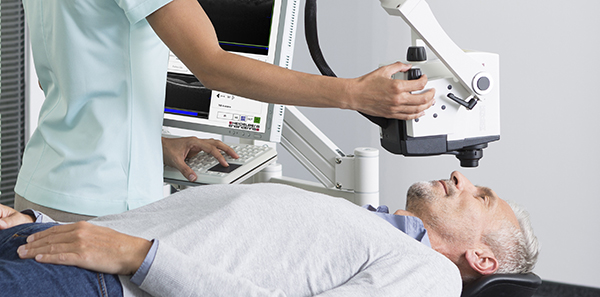 Spectralis OCT Flex Module   Photo: Heidelberg Engineering
______________________________
By Helen Carter
Journalist
OCT scan lying down
An OCT that enables examinations to be performed on patients lying down without compromising image quality is being shown for the first time at retina and cataract meetings in Denmark this week.
Heidelberg Engineering is showing its new Spectralis OCT Flex Module at the European Society of Retina Specialists and European Society of Cataract and Refractive Surgeons meetings in Copenhagen on 9 -13 September.
With its movable stand and adjustable, flexible arm, the Flex Module enables examinations to be performed on patients in the supine position.
Snap for Sight
To celebrate World Sight Day on 13 October, Vision 2020 is asking people to #snapforsight from 1 October onwards.
The campaign is a social media initiative encouraging Australians to focus on capturing their moments and raising awareness about the importance of eye health and regular eye examinations.
People can capture their moment via image, video or audio file and share it on Twitter, Facebook or Instagram using hashtag #snapforsight .
New treatment for dry eye
The US Food and Drug Administration has approved a drug for treating the signs and symptoms of dry eye in adults.
Lifitegrast ophthalmic solution, marketed as Xiidra, is the first medication in a new class of drugs, called lymphocyte function-associated antigen 1 (LFA-1) antagonist, approved by the FDA for dry eye disease.
It was evaluated in more than 1,000 patients in four trials. Patients were randomised equally to Xiidra eye-drops or placebo eye-drops, twice daily for 12 weeks. Those treated with Xiidra had greater improvement in signs and symptoms of eye dryness than those on placebo.
Common side-effects included eye irritation, discomfort or blurred vision and an unusual taste sensation (dysgeusia).
IOL revolutionises cataract removal
The first intraocular lens that helps cataract patients improve visual acuity at near, intermediate and far distances has received FDA approval.
The Tecnis Symfony extended-range-of vision IOL has a unique design and could reduce the need for patients to wear contact lenses or spectacles after cataract surgery. It may also reduce the effects of presbyopia.
The FDA approved the lens based on results from a trial in 299 patients with cataracts, of whom 148 received the Tecnis Symfony IOL and 151 received a monofocal IOL.
The study found that 77 per cent of those who received the Tecnis IOL had 20/25 vision at intermediate distances without glasses compared with 34 per cent of those who received the monofocal lens.
At near distance, patients with Tecnis could read two additional progressively smaller lines on a standard eye chart compared with patients who had the monofocal lens.
Allied health referrals increase
Referrals from GPs to allied health services have grown by five million in Australia over the past 10 years, two new reports reveal.
They found that in 2015-2016, there were five million more referrals from GPs to allied health services than in 2006-2007.
General Practice Activity in Australia 2015-2016 and A decade of general practice activity 2006-2007 to 2015-2016 were published by the University of Sydney's Bettering the Evaluation and Care of Health (BEACH) program.
They are the last BEACH reports following the government's decision this year to withdraw funding for the almost 20-year-old program.
Aussies want funds for preventive health
Most Australians want more government funding for preventive health, a new Roy Morgan Research poll conducted for Research Australia shows.
The poll of more than 1,000 people found 76 per cent wanted increased funding for preventive health, 90 per cent viewed looking after and improving their health as very or extremely important, and 75 per cent would support a sugar tax on soft drinks.
OBA developing further guidance about advertising
The Optometry Board of Australia will soon be releasing further guidance around claims in advertising.
The OBA has met to discuss issues around claims in advertising, in particular claims regarding benefits of treatments.
All practitioners must be familiar with the OBA's Code of Conduct and Guidelines for advertising regulated health services.
The guidelines equip any person or business that provides a regulated health service with guidance on the obligations of advertisers under the National Law.
For example, a person or business must not advertise regulated health services in a way that is false, misleading or deceptive or is likely to be misleading or deceptive, or uses testimonials or purported testimonials about the service or business.
Filed in category:
Uncategorised