Read time:

1:30min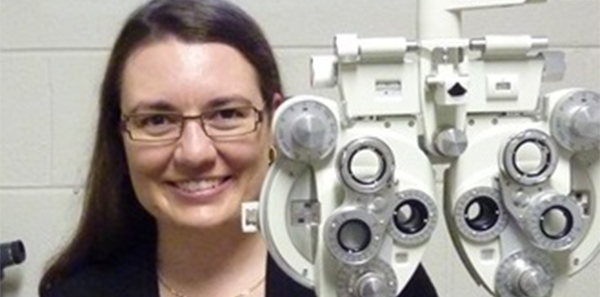 Amanda Griffiths has been developing her My Health Career website for over two years.
______________________________
Gold Coast optometrist Amanda Griffiths is the founder of My Health Career, a website designed to help high school and university students get a better understanding of what it's like to work in the health industry.
The website features expert interviews with a variety of health practitioners, including five optometrists, which are uploaded as videos.
Ms Griffiths records the interviews and works at developing the website up to three days a week while continuing to work part-time as an optometrist in Brisbane.
She said students were already getting career advice from schools but because she had approached career adviser associations, they were directing students to the website. My Health Career gives the students up-to-date industry information.
'Often by the time they hit my website, they know what they're looking for and they're looking to fill in a piece of the puzzle,' she said.
As well as optometrist colleagues in Queensland, the page features interviews with dentists, doctors, occupational therapists, pharmacists and professionals in practically every other health career available in Australia.
After two years of work, the website is reaching up to 9,000 unique visitors per month and is ready to begin featuring advertising from interested clients.
My Health Career was inspired by Ms Griffiths' uncertainty in high school. One of her older sisters had gone down the path of business and another had studied to be an optometrist, so she decided to put both as a preference.
'I went into optometry absolutely clueless about the profession and then five years after I graduated, I supervised optometry students in the clinic and I saw that they were just as clueless as I had been about what the profession was about,' Ms Griffiths said.
'A couple of years later, I thought about putting together a website to try to help these teenagers make an informed career decision,' she said.
Having built a database of subscribers to the website, Ms Griffiths is finalising work on an e-book, which will include information already on the website, plus new research.
She is toying with the idea of expanding her career advice services into a structured work experience program, which would allow high school students to get inside the minds of health practitioners.
'I would actually look at approaching something like a hospital organisation throughout Australia and rolling it out as a sort of multisite,' she said.
The program may involve a short training session for practitioners so that they are properly supported to host students.
As well as these initiatives, Ms Griffiths continues to build her profile through speaking engagements at high schools and presenting webinars for career adviser associations.
Having recently moved to the Gold Coast, Ms Griffith has taken advantage of its reputation as a conference hub to connect with visiting health professionals.
'I'm thinking about collaborating with other people who have websites and some other organisations to do some joint webinars,' she said.
My Health Career can be found at www.myhealthcareer.com.au
Filed in category:
Uncategorised