Read time:

1:30min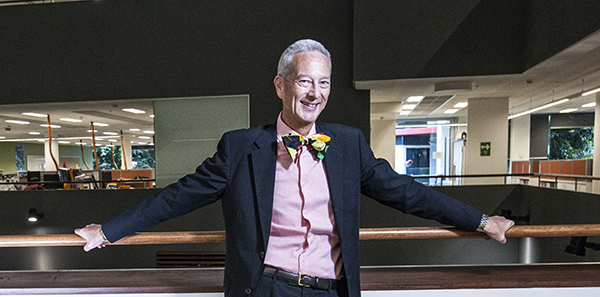 Professor Nathan Efron AC
______________________________
By Sandra Shaw
Professor Nathan Efron has been made a Companion in the General Division of the Order of Australia in the 2015 Queen's Birthday Australian honours list announced on 8 June.
This is a significant accolade because Companion of the Order is the highest level of the award aside from Knights and Dames, and was given to only eight Australians in the current round.
Professor Efron is a Queensland-based academic optometrist and the first optometrist to have been accorded this special honour.
The citation issued by the Office of the Governor General stipulates that Professor Efron has received this award 'For eminent service to medicine in the field of clinical optometry, particularly to vision correction and corneal physiology, as an academic, researcher and author, to the treatment of juvenile diabetes, and through executive roles with national and international professional organisations'.
Professor Efron said he felt privileged to serve as the flag-bearer for a further elevation of optometry as a recognised profession that stands tall among all key professions in this country.
'Although I lived in the UK for 16 years, I am a fiercely proud Australian and I feel very humbled and honoured to have received this national award,' he said.
'I am also intensely proud of my optometric heritage and was delighted to see that the award citation specifically refers to my contributions to clinical optometry, and in particular vision correction and corneal physiology.
'Optometry continues to press forward relentlessly on all fronts, academically, politically, technologically and commercially. All of these advances serve to enhance the profession of optometry in the collective psyche of the nation.
'Having an optometrist being made a Companion of the Order of Australia is just another marker of this upward progression. Optometry can now proudly stand shoulder to shoulder with medicine, rather than in its shadow,' Professor Efron said.
'I don't think this award will directly impact my current laboratory work, or my efforts in publishing papers or seeking funding for research. However, being a Companion might afford me more influence by way of serving on research advisory boards, peer review bodies, assessment panels and the like.
'I think of my career and life-long contributions as a giant jig-saw puzzle. I have worked with many wonderful colleagues in Melbourne, Manchester and Brisbane throughout my career.
'I recently worked out that I have approximately 380 co-authors of my life-time collection of published works. Each one of these collaborators, whether they are a fellow professor, graduate student or lab assistant, represents individual pieces of the puzzle.
'Some have contributed enormously to my success, and some have made a relatively modest contribution, but the final picture is never complete without all pieces of the puzzle in place. For this reason, I cherish each and every one of my collaborators,' he said.
Career
Professor Efron completed his BScOptom and PhD at the University of Melbourne in 1981, and after two years of post-doctoral studies at the University of California, Berkeley and UNSW, he returned to Melbourne as lecturer then senior lecturer responsible for contact lens education.
In 1990 he took up the foundation Chair of Clinical Optometry at the University of Manchester, England, and established a contact lens research and consultancy unit known as Eurolens Research.
In Manchester, Professor Efron served as Head of Department from 1992 to 1997 and Dean of Research for the university from 2001 to 2004.
Professor Efron returned to Australia in 2006 and joined the School of Optometry and Vision Science, and the Institute of Health and Biomedical Innovation at the Queensland University of Technology (QUT), as Research Professor.
At QUT he established the Anterior Eye Laboratory where, as well as continuing his contact lens research, he has been exploring a range of novel ophthalmic markers of diabetic neuropathy.
He has attracted significant peer-reviewed competitive funding from the National Health and Medical Research Council (Australia), National Institutes for Health (USA), Juvenile Diabetes Research Foundation International (USA), American Optometric Foundation (USA) and George Weaber Trust (Queensland).
Professor Efron is president of the Australian College of Optometry and vice-president of the International Society for Contact Lens Research. He served as president of the Cornea and Contact Lens Society of Australia in 1981, and the British Contact Lens Association in 1997.
Professor Efron lectures extensively world-wide, particularly in the field of the ocular response to contact lens wear. He has presented lectures at more than 500 conferences in 42 countries.
He has been an active and enthusiastic mentor throughout his career, having supervised 28 PhD and 16 MSc candidates to successful completion, some of whom are professors in the UK and USA. He has also examined 29 higher degree theses, including two DSc candidates.
As a prolific author of textbooks, Professor Efron has written and edited 16 books on contact lenses and general optometry. He is currently working on the third edition of his book Contact Lens Practice (Elsevier), which he expects to be published in early 2016.
Professor Efron has won numerous research awards, including the British Contact Lens Association's Gold Medal in 2001, the American Academy of Optometry's Glenn A Fry Award in 2010, and the Kenneth W Bell Medal of the Cornea and Contact Lens Society of Australia in 2015.
Filed in category:
Uncategorised