Read time:

1:30min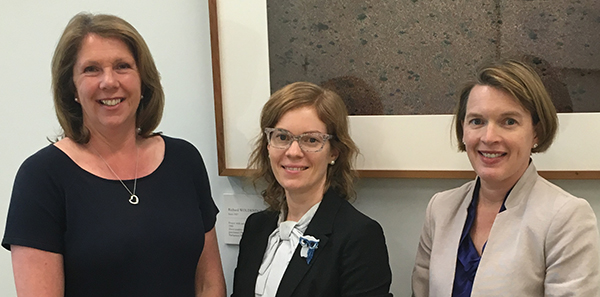 (L-R) Shadow Health Minister Catherine King, Kate Gifford and Genevieve Quilty at Parliament House last month
________________________________
By Kate Gifford
President
I'd like to explain a little more about the government's Medicare Benefits Schedule review and our advocacy work in Canberra.
The review is taking place alongside a review of how chronic disease is managed within the primary health care system and how this is funded, and includes a full-scope schedule review across the more than 5,000 MBS item codes and an assessment of how effective current compliance measures are.
Optometry Australia has prepared submissions and is actively seeking all opportunities to influence these reviews. Diabetes is one key area we have focused on in our contribution to the primary health care review, where the role of optometrists in the care continuum could be maximised to support more timely and affordable access to care.
There are ready opportunities to establish more efficient approaches by triaging those who can be cared for by an optometrist in the community, out of the hospital and tertiary care system.
The government has floated the concept of funding packages of care as opposed to fee-for-service for chronic disease, which has obviously met with some concern from the sector, but we were comforted to hear that the government would not look to make this compulsory, leaving the patient to choose how they access subsidised care.
Meetings

At our action-packed advocacy meetings in Parliament House last month, CEO Genevieve Quilty made a key point, noted by the Health Minister's office, that if optometry is to be part of chronic care packages, then we need to be fairly remunerated for this work. We also discussed Optometry's involvement in piloting new digital infrastructure for co-ordinated health care, through the long-awaited ehealth record system.
We have included the establishment of a bulk-billing incentive for low income earners and children in our Federal Budget submission, similar to that currently available for GP services. Both the Minister's office and the Shadow Minister for Health rightfully questioned why the government would offer a bulk-billing incentive when over 93 per cent of professional services are bulk-billed.
This is a problematic argument for Optometry Australia, with such high rates of bulk-billing in our profession. It appears that it doesn't need to be incentivised if nearly everyone is doing it.
I explained that not many practices are the 'average' practice, and that reliance on cross-subsidising those who can pay with those who cannot is not sustainable across the profession. This is a sentiment that Health Minister Sussan Ley had expressed in a previous meeting. I also reiterated how important we feel direct billing, charging an additional fee as well as bulk-billing, is to support sustainability and access.
The Health Minister's office had little detail on its planned Private Health Insurance review.
More discussion on this took place that day with Private Healthcare Australia, the peak body representing private health insurers, who shared our concern that review of the rebate provided for hospital cover could also affect general treatment, 'extras' cover, which pays out benefits for optical appliances to the tune of $170 million per year.
Any significant changes or increases in policy cost to our patients could have dramatic implications for our profession, as well as dentistry and physiotherapy which, respectively, are the first and third biggest recipients of 'extras' rebates; optical rebates are in second place on the podium.
Optometry Australia is holding discussions with these professional organisations to ensure preparation for any advocacy required. We also discussed the frequent annoyances that both our profession and our patients share regarding quoting facilities, time of claim and lack of universal guidelines from the health insurance industry.
Our meeting with the Shadow Health Minister, Catherine King, came shortly after an announcement by Labor leader Bill Shorten that if elected to government, Labor would commit $9 million to closing the gap in Indigenous eye health.
Ms King supported the elements of our budget submission focused on Indigenous access to eye care, and asked for data on access issues for low income earners subsequent to the 2015 cuts to our schedule.
For a small profession, we're required to have a wide reach in our advocacy.
A professional organisation for GPs, for example, doesn't have to worry about private health insurance; physiotherapy and dentistry have minimal involvement in Medicare. Add to that increasing regulation in the AHPRA environment and co-ordination with our sector colleagues, and Optometry Australia is working harder than ever to protect and promote the profession.
Our 2016-2017 Federal Budget submission is readily available to download from our website and was shared on Facebook on February 16. Regardless of your political knowledge and interest, you can be confident that your support of Optometry Australia is an investment in your present practice and future as an optometrist.
Filed in category:
Uncategorised