Read time:

1:30min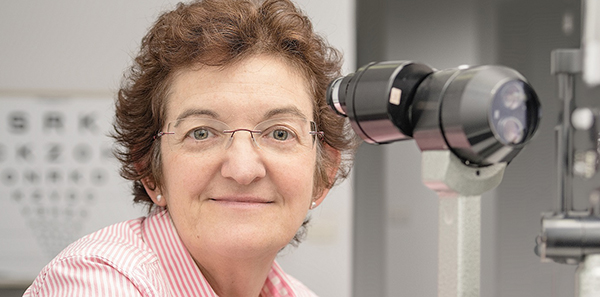 Professor Robyn Guymer
______________________________
By Rhiannon Riches
Assistant Editor
The Centre for Eye Research Australia (CERA) has received five out of 22 NHMRC grants for medical research in ophthalmology and optometry, with four grants awarded to the University of Sydney.
CERA Professor Robyn Guymer secured two of the five grants, both to further research in age-related macular degeneration.
One grant of $561,362 is to support a Practitioner Fellowship to pursue research titled 'Age-related macular degeneration: novel biomarkers, outcome measures, world first clinical interventions and uncovering pathological mechanisms in early disease'.
Professor Guymer said there was urgent need for an early intervention to slow the progression of vision loss due to age-related macular degeneration.
'My trial of a novel laser treatment to slow progression of disease, identification of retinal changes that signal progression and the use of basic science to investigate mechanisms induced by the laser, are representative of the scope of my research and indicative of  my position at the interface of clinical research and basic science,' she said.
A second grant of $828,300 is to support a project titled 'Age-related macular degeneration: A cause and a cure'.
'AMD is characterised by debris accumulation in the retina and I will investigate if loss of function in cells that should clear this debris is a critical step in the development of AMD. I will trial a novel laser intervention to slow progression of disease and use basic science techniques to investigate the mechanisms of action of the laser,' Professor Guymer said.
The Australian Government announced on 3 March $129.4 million in grants to support medical research. A total of 96 grants, 22 of which are in the ophthalmology and optometry category, will be funded through the National Health and Medical Research Council.
Minister for Health Sussan Ley said the grants focused on a range of health topics and varied from smaller postgraduate scholarships, to collaborations with the European Union, to large multidisciplinary programs.
NHMRC grants awarded to CERA
Professor Robyn Guymer
Age-related macular degeneration: A cause and a cure
$828,300
Dr Hitesh Peshavariya
A non-cytotoxic approach to reduce ocular fibrosis following surgery in glaucoma
$586,979
Professor Robyn Guymer
Age-related macular degeneration: novel biomarkers, outcome measures, world first clinical interventions and uncovering pathological mechanisms in early disease
$561,362
Dr Zhichao Wu
Novel clinical biomarkers of glaucoma management
$366,252
Dr Lyndell Lim
Improving visual outcomes in patients with Diabetic Macular Oedema undergoing Cataract Surgery: A prospective randomised clinical trial (the DiMECat Trial)
$187,322
Other grant recipients of note
Professor Gregg Suaning, University of New South Wales
Clinical trial of a suprachoroidal visual prosthesis for the profoundly vision impaired
$1,098,802
Associate Professor Lisa Keay, University of Sydney
PlaTFORM: PrevenTing Falls in a high risk, vision impaired population through specialist ORientation and Mobility services: a randomised trial
$773,768
Professor Chen Chen, University of Queensland
Biomarkers for the treatment and prognosis of sight-threatening diabetic retinopathy
$598,305
Jran Ozkan, University of New South Wales
Assessing the biogeography of the ocular microbiota and the impact of antibiotic prophylaxis
$314,644
Filed in category:
Uncategorised