Read time:

1:30min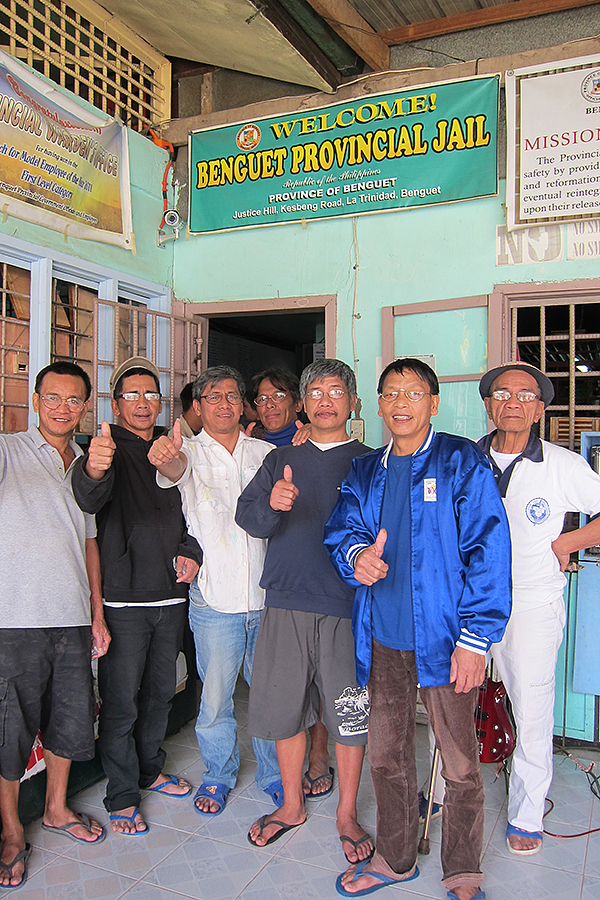 Prisoners from Baguio City Provisional Jail in the Philippines benefit from recycled spectacles from the WA Clear Vision Project   Photo: Youth With A Mission
______________________________
A spectacle recycling program in Acacia Prison, Western Australia, is bringing better vision to thousands of people in Africa, India, Nepal, China, Burma and the Philippines who are unable to afford spectacles or sunglasses.
Optometrists and their patients are an integral part of the program through their donations of second-hand spectacles and sunglasses placed in collection boxes in more than 50 optometric practices in various locations in Western Australia.
Since the Clear Vision Project began in July 2012, more than 55,000 pairs of spectacles and sunglasses have arrived at Acacia. After cleaning, repair and grading, about 45 per cent of them have been donated back to the community.
Prison manager Colin Verway said prisoners there had the opportunity to repay their debt to society through programs that helped to rehabilitate, educate and prepare them to re-enter the community.
The prisoner who was the driving force behind establishing the program had been involved in a similar spectacle recycling program at another WA prison, Casuarina Prison.
He found it to be a rewarding experience and was keen to set up a similar operation at Acacia so he could use his skills and continue his work.
Realising the importance of recycling but more importantly, of helping those less fortunate in Australia and overseas, he put together a proposal for consideration by the staff at Acacia.
After considerable planning and preparation, Mr Verway put the project into action.
The prison partnered with Youth with a Mission, Optometrists Association WA Division, ARC Optical and Ophthalmic Equipment Supplies to establish a process of collecting second-hand frames, and following repair and grading in the Acacia workshop, distributing them to where they were needed.
The project provides meaningful training and employment for two prisoners who clean and grade the spectacles using a vertometer donated by Ophthalmic Equipment Supplies.
Glasses beyond repair are dismantled for their recyclable components. Sunglasses can also be recycled, which is helpful for some developing countries where sun-related eye damage is a growing problem.
Many of the spectacles and sunglasses have been distributed by Youth with a Mission to those in need in Mozambique, Madagascar, Tanzania, China, India, Nepal, Burma and the Philippines, giving recipients a life-changing experience of clearer vision.
Youth with a Mission is a global, Christian youth-focused movement which is also an aid and development organisation.
Spectacles from the scheme have been donated to remote Australian indigenous communities and to Casuarina Prison, which runs a similar project and has the ability to process new lenses.
Acacia Prison is the only privately-managed prison in Western Australia. It is owned by the Department of Corrective Services which contracts management of it to an external service provider, Serco. Acacia's focus is on rehabilitation.
The Clear Vision Project resulted in prison manager Mr Verway and the prisoner who initiated the project receiving a major award from Serco, the Serco Global Pulse Award for 'Making an Exceptional Impact'.
Mr Verway attended the Serco Asia Pacific award finals in Sydney then travelled to London to receive the Global Pulse award at an annual event for the company's 120,000 employees worldwide that enables them to be recognised for outstanding achievements in their work.
Acacia hopes to continue to partner with organisations in the optometric field to supply recycled glasses to those in need and plans to add equipment to the workshop to enable the edging of lenses for reading glasses.
Optometrists Association Western Australia Division CEO Tony Martella said it was a worthwhile project that ticked all the boxes.
'Optometrists and patients feel good about collecting spectacles, patients like handing in their old glasses for recycling and it is a restorative project for the prisoners as it helps them give back to the community,' he said.
Mr Martella said more than 50 optometrists in WA were taking part in the program and he was encouraging more to become involved.
Abernethy Owens Optometrists are strong supporters of the program, with all six practices involved.
Dispenser Mark Smith from Abernethy Owens's Fremantle practice has also been active in supporting St Patrick's Homeless Centre, one recipient of recycled spectacles from Acacia.
Optometrist Gavin Swartz, a partner in the Fremantle practice, said patients were happy to donate their old spectacles as they knew they were being put to good use.
Mr Verway said: 'Acacia thanks Tony Martella, Harry Varelis from Ophthalmic Equipment Supplies, Anthony Brand from ARC Optical, Suzanne Lenz and Kathryn Kennedy from Youth with a Mission and all optometrists supporting this project.'
Optometrists who would like to be part of the project can contact WA Division for their collection box.
Filed in category:
Uncategorised