Read time:

1:30min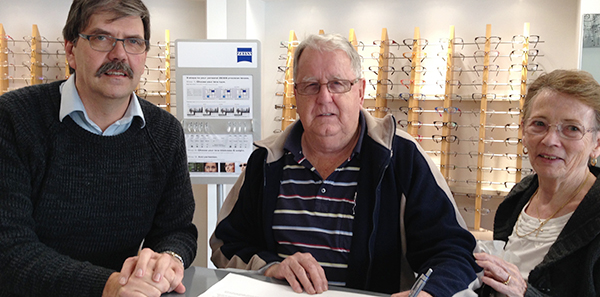 Patients of Penrith optometrist John Molloy (L) sign the petition for fairer Medicare rebates
______________________________
By Rhiannon Riches
The 'Stop the cuts to Medicare for optometry' petition campaign mounted by Optometry Australia gives optometrists' patients the opportunity to support the vision for a sustainable and accessible optometry sector for all.
In response to a call from members, Optometry Australia has launched a petition calling for a reversal of the five per cent Medicare rebate cut, and for the reinstatement of annual indexation of the Medicare optometry schedule that is currently frozen until July 2018.
The petition was launched on 29 May.
Optometry Australia is asking all optometrists, regardless of their membership status, to champion the paper petition at a practice level by promoting it to patients, and inviting them to learn about the issues, and support the campaign by signing the petition.
Optometry Australia CEO Genevieve Quilty said she wanted to raise community awareness of optometrists' concerns over the potential effect of the freeze on indexation and the reduction in the Medicare rebate, as many patients might not be aware of these changes. Through this petition, patients can make known their support for optometric services.
'The more signatures, the greater the impact,' Ms Quilty said. 'We are aiming for more than 50,000 signatures'.
Optometry Australia is planning to table the petition in the House of Representatives in October. Signatures must be original and in hard copy to meet government requirements.
All signed petition forms need to be returned to Optometry Australia through Australia Post or by courier by 25 September.
'Signatures must be collected in hard copy. Members and other supporters can download the petition from our website, and we have also developed resources to support optometrists to successfully obtain signatures from patients, as well as patients' family members—anyone who walks through the practice door,' Ms Quilty said.
Optometry Australia is working with large corporations, asking for their co-operation in getting as many signatures as possible on the petition.
'This is an opportunity for all optometrists, not just those who own or manage a practice. We ask employee optometrists to talk with their employers about why supporting this petition matters,' Ms Quilty said.
She said the petition had two goals. 'We are petitioning for a reversal of the five per cent cut to the Medicare rebate, and to reinstate indexation,' she said.
Optometry Australia will ask a politician to 'champion' the petition and table it in the House of Representatives in October. To draw greater attention to the issue, Optometry Australia will be taking a delegation of optometrists to Parliament House for the tabling.
It has produced a 'Stop the Cuts' A4 poster for practitioners and practice owners to display. Materials can be downloaded from the organisation's website.
'You can help make a difference. Show your patients and community that you care about keeping eye care affordable and accessible for them,' Ms Quilty said.
Filed in category:
Uncategorised