Read time:

1:30min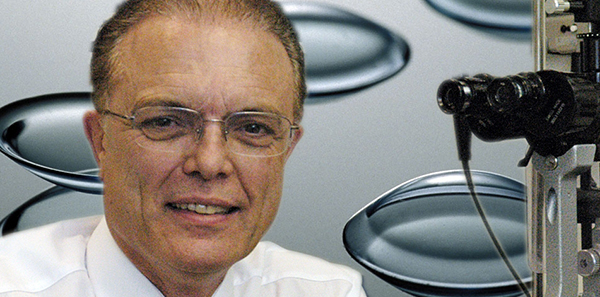 Associate Professor Anthony Phillips
______________________________
By staff journalists
Contact lens award for Phillips
Associate Professor Anthony Phillips will be awarded the 2016 Global Specialty Lens Symposium Award of Excellence in recognition of his outstanding contributions to the contact lens field.
He is head of contact lens teaching at Flinders University School of Optometry and Vision Science, and shares the award with Dr Gerald Lowther and Dr Robert Mandell from the USA.
The 2016 symposium will be held on 21-24 January at Caesar's Palace, Las Vegas, Nevada.
Weisinger's new Specsavers role
High-level leadership changes have been announced at Specsavers. Professor Harrison Weisinger has been appointed to the new role of Director of Professional Services (Global), and Peter Larsen will return to the Specsavers Australia and New Zealand board.
As Foundation Director of Optometry Studies at Deakin University, Professor Weisinger led the establishment of optometry studies in the Faculty of Health. He stepped down from the role in July. His new role with Specsavers will see him working with the company in Australia and New Zealand, as well as in the UK and in Europe.
Peter Larsen rejoins the board in a full-time role as Optometry Director, having held a non-executive consulting role for the past four years.
Dr Ben Ashby will join the Professional Services team, in a role that will focus on the relationship between Specsavers and the universities, and on ongoing clinical skills development.
Specsavers CEO Paul Fussey said that he was delighted that Peter Larsen had agreed to take on the important role in 'exciting and challenging times'.
'I am also pleased to confirm the appointment of Professor Weisinger,' Mr Fussey said. 'Harry's experience as head of Deakin's optometry school, as a practising medical doctor, and a Specsavers optometry partner will prove invaluable.'
Mr Fussey said Specsavers was also investing in a platform, known as Oculo, to promote and improve referral pathways between optometry and ophthalmology. Oculo was conceived in conjunction with the managing director of the Centre for Eye Research Australia, Professor Jonathan Crowston.
Fletcher shares in $630m grants for research
Professor Erica Fletcher from the University of Melbourne has been awarded a development grant worth $366,300 to research novel ways of treating angiogenesis in the eye.
Professor Fletcher is one of more than 2,000 researchers who are sharing in $630 million of investment from the Turnbull Government to support research in science and medicine.
The National Health and Medical Research Grants were announced on 9 November by the federal Minister for Health, Sussan Ley.
'The projects span the full spectrum of health and medical research, from commercialising new ideas to improving health-care delivery, to a basic understanding of diseases at genetic or molecular levels,' Ms Ley said in a media release.
Research in eye health and vision science is strongly represented, with 22 recipients in the 'Ophthalmology and Optometry' category awarded a combined funding of $14,681,358.
Graveson wins funding for LV work
Hobart optometrist with expertise in low vision, Paul Graveson, has been awarded funding from the Tasmanian Optometry Foundation.
Mr Graveson is a regular presenter at the Australian Low Vision Seminar that is held in conjunction with the Tasmanian Lifestyle Congress.
In announcing the award, foundation president Chris Dobson said Mr Graveson planned to use his award to produce a series of articles aimed at improving optometrists' low vision skills.
The articles will be published nationally by Australian Optometry and will be shared on the Optometry Tasmania website.
Applications for 2016 awards will open in January.
Filed in category:
Uncategorised