Read time:

1:30min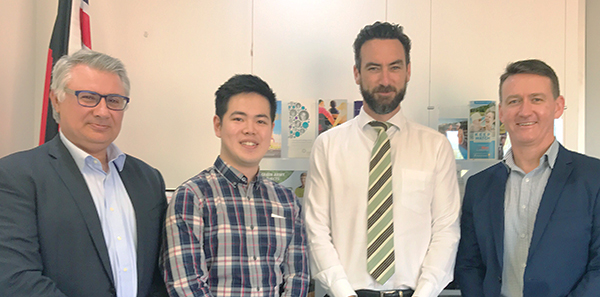 (L-R) Tony Martella, David Hsu, MP Tim Hammond and Darrell Baker
______________________________
By Ashleigh McMillan
Journalist
Western Australian optometrists Darrell Baker and David Hsu met with federal MP Tim Hammond in Perth on Monday, to discuss the importance of reinstating two-yearly eye examinations for Australians aged 40-64 years.
Optometry Western Australia CEO Tony Martella also attended the meeting at which discussion covered the early repeal of the Medicare indexation freeze and the impact of the five per cent cut to scheduled Medicare fees for all optometric consultations, which was instated in the 2014-2015 Federal Budget.
Mr Baker is an Optometry Australia board member and president of Optometry WA. He said the meeting was very positive and reinforced the importance of advocacy as Mr Hammond had not been aware of changes to optometry's indexation or the profession's scope of practice.
'He was somewhat shocked and surprised because he wasn't aware of the changes to Medicare schedules in terms of the two-yearly rebates for 40-64 year-olds,' Mr Baker said. 'He appreciated that rebates have been frozen for optometry and was highly sympathetic, but as most opposition politicians will tell you, there's only so much they can do in opposition.
'Mr Hammond also didn't know that a growing proportion of optometrists are therapeutically endorsed, and he was very impressed at the level of services that optometrists can offer, freeing ophthalmologists and hospitals.
'Now it will be important for us to talk to a member of the Liberal National Party as well. Tony Martella, David Hsu and I were there to really just put forward the position we're in as optometrists, and explain the value and savings we can offer those in government,' Mr Baker said.
Mr Hammond is the Member for Perth and a member of the Australian Labor Party. He practised as a barrister prior to being elected in 2016.
ECO involvement
Mr Hsu is the chair of Early Career Optometrists WA. He said Mr Hammond was receptive to optometry's message and understood the importance of the profession. 
'Mr Hammond has been a patient of optometry services since he was young, having had glasses and contact lenses, so he understands the importance of regular eye health check-ups. It was great to talk to him and have his understanding of the issues reinforced,' Mr Hsu said.
'Since there have been Medicare budget cuts, there's been a big change in optometry, and what we really want to do is reverse those changes to comprehensive eye examinations. Optometry Australia is currently running a 3-2-1 campaign on that issue, and when we shared that with Mr Hammond he seemed really on board.
'The fatal flaw is that in the 40-64 age bracket, that's the time when we can pick up early signs of eye diseases like glaucoma, diabetic retinopathy and macular degeneration. The meeting was also just a great little refresher for him on what optometrists do, our scope of practice and the importance of our work,' Mr Hsu said.
In the 2014-2015 Budget, the Australian Government increased from two years to three to the frequency with which middle-aged Australians considered to be asymptomatic would be able to access a Medicare rebate for a comprehensive eye examination. 
Optometry Australia has launched a 3-2-1 advocacy campaign, signifying the importance of a comprehensive eye examination every three years for younger Australians, every two years for those 40-64 year-olds and every year for those older than 65.
ADVOCACY CAMPAIGN MATERIALS
are available for members to advocate on behalf of their profession.
Filed in category:
Uncategorised