Read time:

1:30min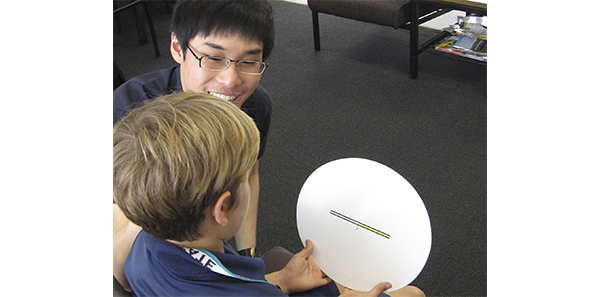 Optometrist Perry Yeow conducting vision testing for the study when he was a student   Photo: QUT
______________________________
By Helen Carter
Journalist
Poor vision affects NAPLAN results
Nearly one-third of grade three children who underwent vision screening in a Queensland study had unsatisfactory or borderline outcomes.
Researchers found that 27 of 109 children screened from three Brisbane schools had unsatisfactory results and a further six had borderline results during vision screening by optometry students, and were referred by supervising optometrists for a full eye examination. The main reasons for referral were refractive error, reduced visual acuity and problems with eye co-ordination.
Children requiring a referral scored significantly lower on NAPLAN tests, Australia's national standardised tests of literacy and numeracy.
The researchers, Professor Joanne Wood, Dr Alexander Black and Shelley Hopkins from Queensland University of Technology School of Optometry and Vision Science, and Dr Sonia White from QUT's Faculty of Education, said findings highlighted the importance of early vision screening in identifying children who may be achieving below their potential.
Contact lens research proposals
Contact lens manufacturer CooperVision is seeking proposals for its award program which explores new areas of advancement in contact lens technology.
The CooperVision Science and Technology Awards Program fosters partnerships between award recipients and CooperVision scientists to explore new areas of technology and enable the transition of concepts into real-world solutions.
Key areas for research proposals for the 2018 awards are research on visual fatigue associated with the use of digital devices, strategies to improve ocular surface and contact lens comfort, and technologies to expand the functionality of contact lenses for applications beyond conventional vision correction.
The program is open to researchers around the world and offers funding up to $500,000. The first part of the application process must be complete by 26 May.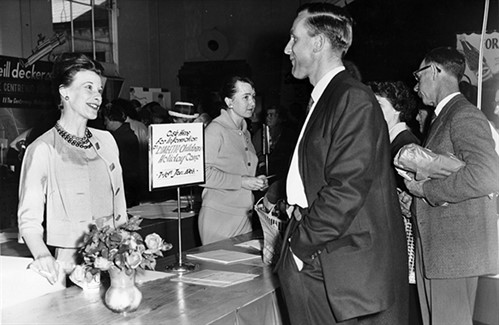 Gwen Scott (L), Australia's first diabetes nurse   Photo: Diabetes Victoria
Diabetes grants available
Funding is available for Victorian optometrists and optometry students to further their training and development in diabetes.
Diabetes Victoria will award a total of $25,000 to health professionals in the 2017 Gwen Scott Grant Program which supports health professionals and students undertaking further education in diabetes.
Applicants must hold a valid Diabetes Victoria Health Professional membership and use the grants to expand their professional development or education in diabetes. Applications close 30 June.
Gwen Scott was Australia's first nurse employed as a specialist in diabetes education and the first employee of the Diabetic Association of Victoria, now Diabetes Victoria.
AMD and stress
The level of stress a patient with AMD experiences does not necessarily correlate with the amount of vision loss they have, preliminary findings from a study suggest.
Ohio State University College of Optometry researchers are examining the link between age-related macular degeneration, stress and treatment outcomes. They found that some patients cope better than others and some using mindfulness techniques had better outcomes than those who did not.
AMD is an inflammatory condition and previous studies have indicated that a patient's level of stress is predictive of inflammation.
In the first part of the study 137 patients, average age 82 years, were asked 10 questions to establish if the Perceived Stress Scale, a method for measuring biological markers of stress, was useful at evaluating the connection between stress and vision loss from AMD.
About half did the test on the day they received anti-VEGF injections for AMD. Nine out of 10 questions used in the scale were useful at evaluating stress levels in AMD patients.
Researchers said more research was needed to determine the role that stress plays and whether it can accelerate progression of AMD.
Filed in category:
Uncategorised