Read time:

1:30min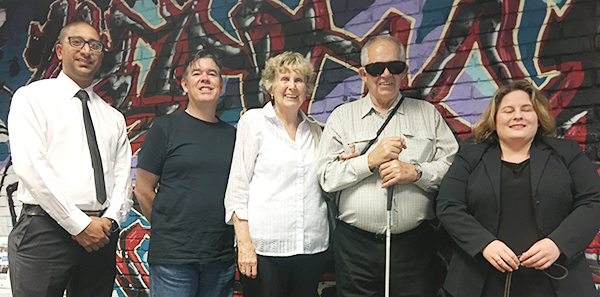 (L-R) Simon Hanna, optometrist Paul Graveson, Mary and Val Simpson and Jaci Armstrong
______________________________
By Rhiannon Riches
Assistant Editor
A recording of 'The Lowdown on Low Vision' webcast hosted by Optometry Australia on 19 April is now available.
National clinical policy adviser Simon Hanna said broadcasting a live webinar about low vision was itself a lesson in low vision.
'It was a logistical challenge for our low vision guests with a guide dog and a cane to navigate through a recording studio with lights, cameras, cables and cords. It demonstrated too the hurdle of communicating without the use of visual cues we might otherwise take for granted, for instance, signalling during the recording that our time was nearly up in the studio,' Mr Hanna said.
Almost 100 optometrists tuned in to the webinar which Mr Hanna hosted with Paul Graveson, an optometrist highly experienced in treating patients with low vision.
Jaci Armstrong, policy advisor at Guide Dogs Australia and a low vision patient, aided by her guide dog Nancy, spoke about her work and the National Disability Insurance Scheme. Guest patient Val Simpson, aided by a cane and his wife Mary, spoke about his 27 years experience of living with low vision.
The webinar recording is 90 minutes duration and offers 3 CPD points with a complete viewing of the webcast.
Filed in category:
Uncategorised