Read time:

1:30min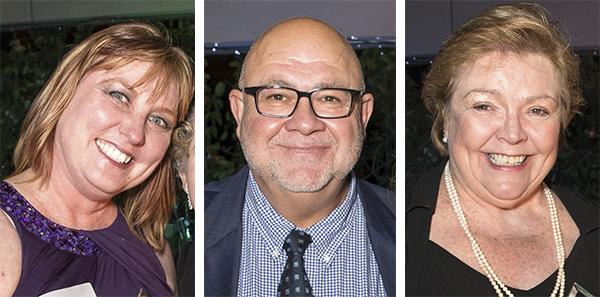 (L-R) Lisa Bakker, Andrew Angeli and Lyndall De Marco
______________________________
By Philip Ritchie
Journalist
Three optometrists and an indigenous community health ambassador have been honoured at the annual VISIONaries awards.
Presented by Optometry Queensland and Northern Territory in Parliament House, Brisbane, on 18 November, the event also recognised reunion members and 24 graduates from Queensland University of Technology for their commitment to studying optometry.
Andrew Angeli won the Hamlyn R Brier Clinical Optometry Award, recognising excellence in clinical optometry practice. He's spent his career working in therapeutics and practises at Vision Optics in Queensland. He has been a board member of Pacific Eye Centre; and president and ocular therapeutics chair for Optometry QLD/NT.
'The award is a wonderful recognition of the value of clinical optometry. I believe that's what the public expects of us. As much as people come to optometrists for spectacles, eye health care needs to come first and foremost,' he said.
Lisa Bakker won the Bill Hayden Optometrist of the Year Award, presented for outstanding contribution to the industry. She a behavioural optometrist who practises and owns Eyes at Narangba in Queensland.
She's been a board member of Optometry QLD/NT for two years, and she's part of the national committee of Optometry Sight Giving, which saw her visit East Timor to train eye care nurses. She recently stepped back from ProVision where she had been a board member for 10 years.
'It's an incredible honour to receive the award and I feel very humbled because there are a lot of very good optometrists out there. I'm proud to be in that group.'
Jo Murphy won the Young Optometrist of the Year Award, presented to an optometrist who has graduated in the past 10 years and displayed outstanding contribution to the profession. He practises in Alice Springs, NT, and delivers eye care to Indigenous communities in the surrounding rural areas.
As an aircraft pilot undergoing further training, he plans to extend his reach and fly to destinations in the Northern Territory, Queensland, Western Australia and South Australia.
'It is a great honour to receive recognition through this award but it is possible only with the support I receive from loyal patients and colleagues throughout the Northern Territory,' Jo said.
Lyndall De Marco took home the Sydney BJ Skertchly Award, for outstanding contribution to optometry by a non-optometrist. She's the former director of the Diamond Jubilee Trust Australia where she led a government-funded initiative to reduce blindness-related sight loss in Indigenous Australians.
To achieve the goal, she created the Indigenous Diabetes Eye and Screening Van in 2013 and works as the CEO. The mobile optometry- and ophthalmology-equipped clinic has screened more than 3000 patients so far.
'I am not from the vision world, so my entry into this sector was quite unexpected. I was so surprised but deeply honoured to receive the award. At times, it has been quite a difficult road spearheading something that challenges the norm,' she said.
'I must especially thank Optometry Australia for its part in making this project happen.'
Filed in category:
Uncategorised