Read time:

1:30min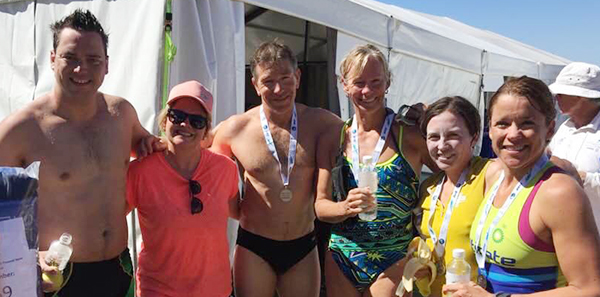 Optometrist Kerrie Stevenson (R) and Jeremy McClure (L) with the support team
______________________________
By Ashleigh McMillan
Journalist
Perth locum optometrist Kerrie Stevenson had her passions of sport and eye health collide when she guided Paralympian Jeremy McClure across the Rottnest Channel on 25 February.
Mr McClure, who is legally blind, is a four time Paralympian and a former world record holder in the S11 men's 50 metre backstroke. Ms Stevenson was one of four guides who rotated swimming alongside Mr McClure during the 19.7 kilometre event.
Ms Stevenson said she had just seven days to prepare, after one of the guides organised for the swim was unable to participate.
'For me it was very short notice but I have been training for an adventure race in March so luckily I had some ocean swimming fitness. We swam only when tethered to Jeremy, using a one-metre bungee cord velcroed to our thighs.
'Jeremy virtually puts his head down and swims, so we were responsible for keeping him straight and in line with the boat, making sure he didn't swim into anything. We also stopped him every half hour for food breaks,' she said.
The team of four swimming guides accompanying Mr McClure initially swapped places every hour, and then every half hour further into the swim. 
'He puts a lot of trust into us as far as directing him on the best possible route, which is so brave. He is amazing, very courageous and after getting to know him, also has a great sense of humour,' Ms Stevenson said.
'He thanked me for swimming with him but really there is no other way I would have preferred to swim to Rottnest.'
Mr McClure completed the crossing from Cottesloe Beach to Rottnest Island in eight hours and 22 minutes. Diagnosed with Lebers hereditary optic neuropathy at the age of 15 years, he began swimming after his diagnosis to continue following his sporting dreams. He competed at the 2004 Athens Olympic Games at the age of 17.
The 2017 Rottnest Channel swim was Mr McClure's second solo crossing. He also completed a 39.4 kilometre return crossing of the course in December 2016, becoming the first legally blind person to do so. 
Filed in category:
Uncategorised