Read time:

1:30min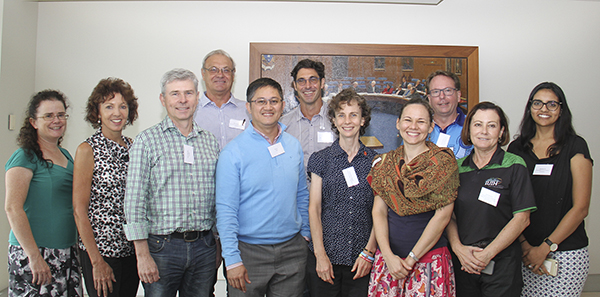 Optometrists at the Close the Gap for Vision by 2020 conference (L-R) Jane Hager, Helen Summers, Peter Murphy, Dr Philip Anderton, Ric Le, Rowan Churchill, Dr Genevieve Napper, Anna Morse, Mitchell Anjou, Lisa Penrose and Mitasha Yu. Also present were Ben Hamlyn, Associate Professor Daryl Guest, Associate Professor Sharon Bentley, Lien Trinh and Tim Fricke.
______________________________
By Helen Carter
Journalist
Sixteen optometrists from around Australia were among more than 120 participants who attended the 2017 Close the Gap for Vision national conference in Melbourne to discuss Indigenous eye care.
They planned a strategy to close the gap for vision by 2020.
The Aboriginal and Torres Strait Islander eye health and vision care sector had set itself a challenging goal: to close the gap for vision by 2020, the conference co-organiser and optometrist, Senior Research Fellow at Indigenous Eye Health, University of Melbourne, Mitchell Anjou said.
Optometry Australia policy and advocacy adviser Tin Nguyen represented Optometry Australia at the conference on 16-17 March, and also at a separate event at Federation Square on 17 March for the re-signing of the Statement of Intent to Close the Gap on Indigenous Health.
Indigenous Allied Health Australia, Allied Health Professions Australia and its member and friend organisations recommitted to the Statement of Intent to improve Aboriginal and Torres Strait Islander health and wellbeing. 
Statement of Intent
It was the first time Optometry Australia had been a signatory to the statement, signed by Optometry Australia president Andrew Hogan.
Mr Hogan said that while there had been significant inroads and gains made improving eye health outcomes for Indigenous Australians, it was important to maintain focus and momentum, given that Indigenous Australians remained at higher risk of eye conditions including diabetic retinopathy, and were less likely to access ongoing care and monitoring.
'There is a number of things we can look at doing as a profession to support improvements to Indigenous eye health,' he said.
'One important way in which we can show leadership is to work with organisations to support Indigenous health-care workers, and to ensure that our own optometry workforce has all it needs to support and provide Indigenous eye health in a culturally aware way.'
Anna Morse, NT Optom @brienholden "Coordination of Indigenous eye care is like a sandwich -you need each layer to make it work! #CloseTheGap pic.twitter.com/Jf3LAWcPEY

— Optometry Australia (@OptometryAus) March 16, 2017
The conference, which coincided with National Close the Gap Day on 16 March, helped identify key areas for action. These included funding and development of sustainable eye-care system reforms, data collection, sharing and analysis, engagement with jurisdictional health departments, and geographically spreading improved eye-care outcomes across the whole of the country.
Mr Anjou told Australian Optometry: 'The conference showcased a remarkable representation of the Indigenous health and eye-care sector initiatives and achievements over the past few years and highlighted the remaining challenges. Optometry was very well represented.
'We heard from many optometry leaders acting to support Roadmap to Close the Gap for Vision initiatives including Lisa Penrose from the Institute for Urban Indigenous Health in South East Queensland, Jane Hager working with NSW Rural Doctors Network in Western NSW, Anna Morse from Brien Holden Vision Institute in the Northern Territory and Tim Fricke from Minne-Merri Consultants in Victoria.
'We know very good progress is being made in Aboriginal eye health as evidenced by the recently published National Eye Health Survey where blindness rates have reduced from six times to three times more common in Indigenous than non-Indigenous Australians.
'The vision loss inequity, though, has remained at three times worse for Indigenous people compared to non-Indigenous Australians, pointing to more work needing to be done over the next four years,' Mr Anjou said.
The 2017 conference was hosted by Indigenous Eye Health, University of Melbourne and was supported by its Roadmap to Close the Gap for Vision partners, Optometry Australia, Vision 2020 Australia, National Aboriginal Community Controlled Health Organisation and the Royal Australian and New Zealand College of Ophthalmologists.
'We appreciate the interest and support of delegates and the broader sectors,' Mr Anjou said. 'The collective enthusiasm, effort and commitment at the meeting were wonderful. We need to grab and enhance this momentum to close the gap for vision over the next four years and leading to 2020.'
Passionate
The manager of Eye Health Services for the Institute for Urban Indigenous Health, optometrist Lisa Penrose said: 'Passionate, determined and extremely focused on the goal of closing the gap by 2020 is how I would describe the delegates at the conference.
'I felt privileged to be invited as a presenter and proud of the progress we have made in south-east Queensland towards closing the gap, and I learned so much from other dedicated people from all sectors and locations around the country. 
'It was refreshing to see optometrists, ophthalmologists, government agencies and non-profit organisations all collaborating and recognising that our goal is the same and it is only through collaboration and partnerships between all sectors that we can reach our goal.
'To attend a meeting full of people all passionate about closing the gap for vision was inspirational. Clinicians, government departments, Aboriginal health workers, co-ordinators and non-profit organisations all working together. With such a dedicated group, I am sure we can aim to close this gap by 2020.
'I was honoured to be asked to do a presentation on our South East Queensland Regional Eye Health Program as an example of a successful urban regional system. Urban, regional or remote, the gap for vision is still significant but through the passion and determination of groups and people like those attending the conference I am convinced we can work together with the aim to close the gap by 2020.'
Professor Hugh Taylor, Laureate Professor of Indigenous Health at the University of Melbourne said: 'We are pleased to welcome more than 100 people who work day to day in Indigenous eye health making a big difference. Progress is being made but more needs to be done to close the gap by 2020.'
At least 18 regions, comprising more than 40 per cent of the Indigenous population, have started implementing Roadmap recommendations, progress has been made and planning is underway in every state and territory.
Filed in category:
Uncategorised