Read time:

1:30min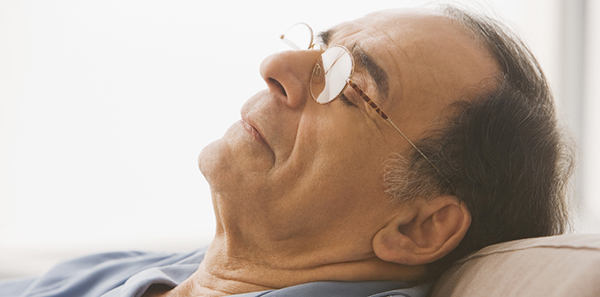 By Rhiannon Riches
Assistant Editor
Sleep apnoea and glaucoma
Japanese scientists who used a sensor similar to a contact lens have measured for the first time the eye pressure of sleeping patients with sleep apnoea and found a correlation with glaucoma.
Obstructive sleep apnoea syndrome patients suffer from glaucoma at a rate about 10 times higher than people without sleep apnoea.
Because it is difficult to continuously measure eye pressure in sleeping people, researchers used the sensor to monitor pressure changes when patients stopped breathing, according to a media release.
Intrathoracic pressure rises when exhaling, resulting in higher eye pressure, but the study found that eye pressure dropped when patients stopped breathing. They tended to stop inhaling due to airway closure, which should lead to lower intrathoracic pressure.
They also experienced hypoxic effects, as cessations in breathing cause blood oxygen saturation levels to drop, possibly triggering optic nerve damage that can lead to glaucoma. The study shows that the optic nerve could be damaged due to hypoxia without a spike in eye pressure, which could help unravel details of glaucoma sufferers with normal eye pressure.
Rural and remote health symposium
Registration is now open for the Rural and Remote Health Scientific Symposium, which will take place on 6 -7 September 2016 at Old Parliament House in Canberra.
Follow #5RRHSS on Facebook and Twitter for news and updates about the symposium.
National Rural Health Conference
The National Rural Health Conference will be held in Cairns on 26-29 April 2017, hosted by the National Rural Health Alliance.
The call for abstracts closes 30 September 2016. Early bird registration opens 1 October 2016 and closes 21 January 2017.
For information visit the conference website.
Payments to health-care professionals
Medicines Australia has introduced changes to the latest edition of its self-regulatory Code of Conduct to provide greater transparency about payments to health-care professionals.
Under the changes, Medicines Australia's member companies, which manufacture and supply medicines and vaccines to the Australian public, are required to publish information about payments and transfers of value made to individual health-care professionals.
Previously, health-care professionals have been able to 'opt in' to having their information published, but from 1 October 2016 reporting will become mandatory for member companies.
Payments will be reported for providing services such as giving a lecture, chairing an educational meeting, and providing advice as a member of an advisory board or as a consultant.
Reporting payments for airfares and accommodation associated with medical education or providing a service, and conference registration fees is also required.
The first reports of this information will be published on Medicines Australia's and member companies' websites on 31 August 2016.
Vale David Wilson
One of Australia's leading educators in optical dispensing, Dr David Wilson, died in Sydney last week.
Dr Wilson ran the optical dispending course for the Open Training and Education Network (OTEN) for more than 20 years prior to joining the Brien Holden Vision Institute as a senior research fellow.
He co-authored two books in optical dispensing, Practical Optical Dispensing, now in its third edition, and Practical Optical Workshop, now in its second edition, before pursuing research.
Dr Wilson was a former president of the International Opticians Association and a member of the Australian Standards committees for spectacles and safety spectacles.
Free staff recruitment guide
Spectrum Optical is offering a free practice staff recruitment guide with tips to help find the most suitable optical staff member for a practice.
The online guide also provides tips for the new employee's first month in a practice. The company says the cost of hiring unsuitable employees is frequently overlooked.
New RANZCO president
Associate Professor Mark Daniell is president elect of the Royal Australian and New Zealand College of Ophthalmologists.
Professor Daniell, a senior consultant ophthalmic surgeon, is head of the corneal service at the Royal Victorian Eye and Ear Hospital, overseeing a team of surgeons performing corneal transplantation, and head of Surgical Research at the Centre for Eye Research Australia.
He will become president in November when his predecessor Dr Bradley Horsburgh stands down.
Pandora shares retail secrets
Pandora jewellery will host a presentation covering merchandising, in-store selling and key selling points at SILMO Sydney Optical Fair in Sydney on 9 March 2017.
Expertise Events managing director Gary Fitz-Roy said Pandora had more than a decade of experience in managing its own concept stores and supplying stock to independent jewellery retailers Australia-wide.
Optometry NSW/ACT will host non-CPD sessions on topical industry issues each day at the fair.
Filed in category:
Uncategorised