Read time:

1:30min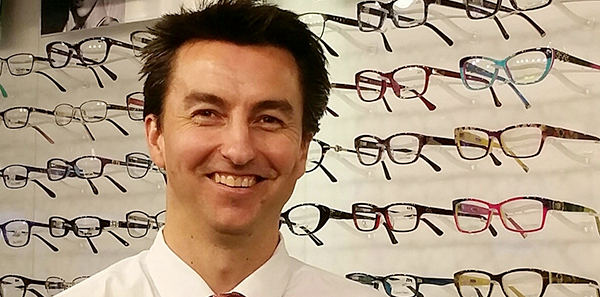 Doug Niproski
______________________________
By Helen Carter
Journalist
When optometrist Doug Niproski bought his first practice last year, he needed expert advice and support to help him update and grow the business.
He had heard good things about Eyecare Plus from friends and colleagues who were members so he decided to give the group of independent practices a go. 
Eyecare Plus is a member-owned unlisted public company that formed in 2000 and comprises a group of 173 clinically-driven optometry practices across Australia. 
Members receive group discounts and benefits on exclusive ranges of good-value frames and high-technology lenses, and receive business and collegiate support. Apart from consistent branding and regular practice promotion, they also share resources for staff education, marketing, advertising and member-only websites for online ordering, and access to resources and downloads. 
Mr Niproski graduated in optometry from the University of Melbourne in 2000 and completed post-graduate therapeutic endorsement through the University of NSW in 2014. He worked for 14 years on the New South Wales south coast in private practice in Batemans Bay and Ulladulla, followed by 18 months with OPSM in the same locations. 
In 2015 when optometrist Steve O'Shea retired from his practice in Moruya, 175 kilometres from Canberra, Mr Niproski bought the practice.
Benefits
'It was a lovely, family oriented, caring, independent practice and the only practice in a town of 4,500 people,' Mr Niproski said. 
'I wanted to continue those themes but when I took ownership, it needed some updating and I wanted to stamp my name on it. The practice became Doug Niproski Eyecare Plus Moruya and we expanded and renovated.
'I could see the benefits of being part of a bigger group of independent practices and of the brand. With that also comes the big benefit of having a "protected territory" of a population of 35,000 around my practice.
'Eyecare Plus gave me a lot of support as a first-time practice owner. I had support from a business point of view from head office, and from the marketing team along the lines of campaigns and branding, and a lot of collegiate support: good chats and emails to friends and colleagues in the group and emails to head office about how to run a business, products and frames.
'Being part of a group, you have a bit more collective collegiate support and interaction, and share ideas.'
Eyecare Plus added his practice to its website and provided his own web pages. The organisation optimised his practice name for Google searches and internet presence.
'We receive industry-best discounts from a wide range of suppliers, discounts that I could not have got otherwise,' he said.
'All that work is done for you because being part of a nationwide group there is better negotiating power. The fee is based on turnover but you get a lot back in discounts, bonuses and rebates by supporting their suppliers.' 
Recommended
Mr Niproski said joining Eyecare Plus had been a great move.
'If starting from scratch, it makes it a lot easier but I would still recommend it if you have been in practice for years,' he said.
'I love independent practice and the freedom and flexibility it brings. Eyecare Plus support this ethos with the added strength of belonging to a larger group of like-minded optometrists.'
All members undergo accreditation and must meet standards of clinical care, qualifications and equipment. Staff attend conferences, workshops, and training and team-building sessions.
Members can choose unbranded, co-branded or branded membership, and receive assistance with business management via systems and procedures, benchmarking tools and on-site practice evaluation and accreditation.
Benefits include flexible and optional buying power, fraternity, peer-to-peer sharing, clinical leadership support, staff training, benchmarking, marketing and advertising initiatives, access to an in-house graphic artist and media planner for practice advertising, member-only websites for online ordering and access to resources and downloads, shared resources such as patient information brochures, common advertising and custom printing.
Visit Doug Niproski Eyecare Plus Moruya
Join Eyecare Plus
Filed in category:
Uncategorised