Read time:

1:30min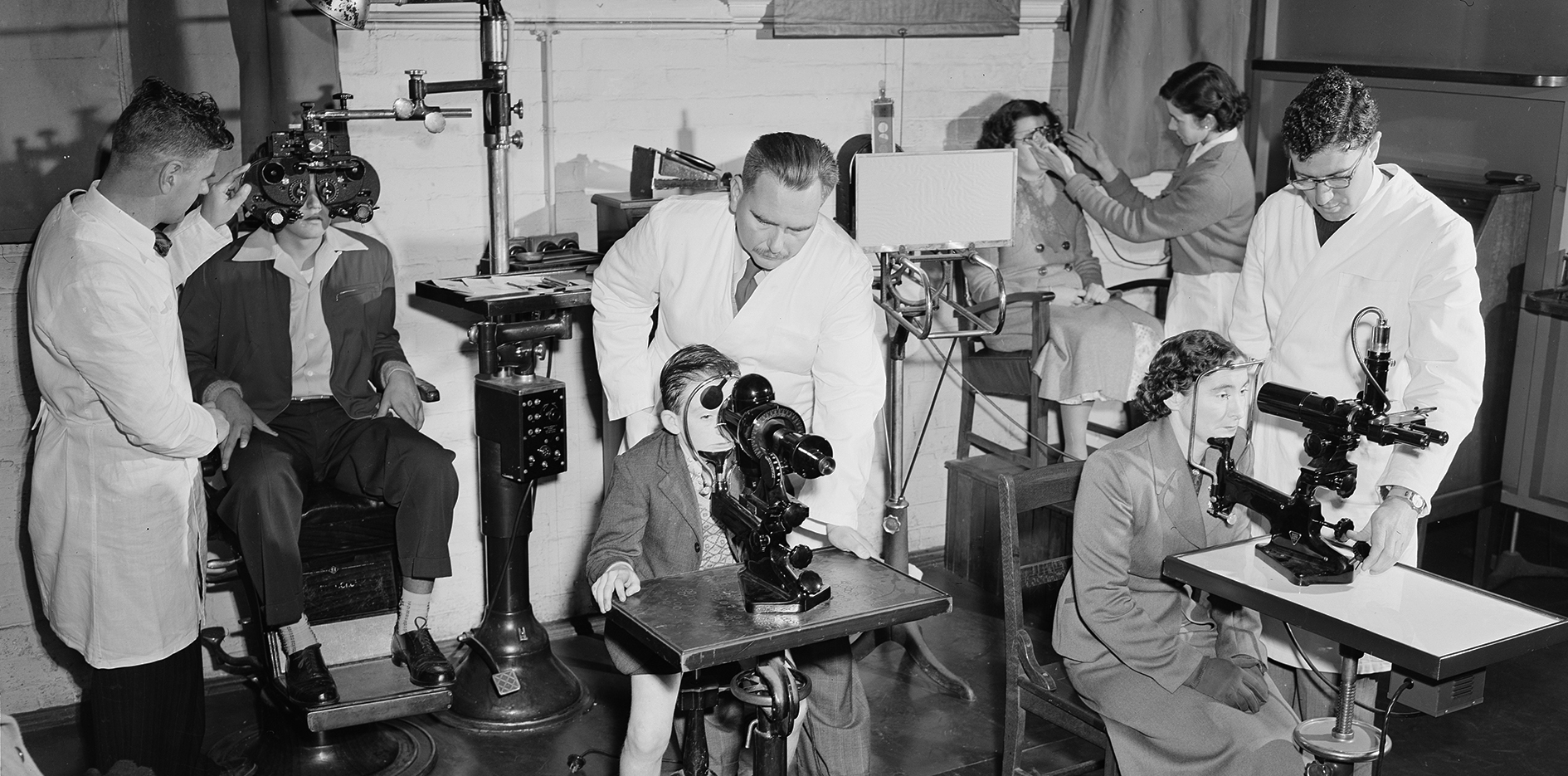 Photo: National Archives of Australia
______________________________
Emeritus Professor Brian Layland
Brien Holden Vision Institute, UNSW
The death of Bill Eames in November 2014 marked an end of an era for optometry. Bill was likely to have been the last of a generation of men who trained in optometry after serving in the Second World War.
In 1944, the Commonwealth of Australia introduced the Commonwealth Reconstruction Training Scheme (CRTS). The aim was to offer vocational or academic training to men and women who had served with the Australian armed services during the Second World War.
Provided they had served for a minimum of six months and had been honourably discharged, ex-servicemen and women were eligible to apply for training under the CRTS, if they met criteria.
•   They were unable to return to their pre-war occupation because of incapacity occasioned due to the war.
•   They enlisted or were called up before they turned 21 years and they were suitable for professional or vocational training.
•   They required a refresher course or wished to complete a course interrupted by service.
•   They were self-employed and unable to resume their business, or
•   They displayed conspicuous ability during their war service and were suitable for professional or vocational training.
The program commenced in March 1944 and applications were received until 30 June 1950. The scheme provided for the payment of tuition and other fees, and included a living allowance for those undertaking full time training.
In New South Wales, a good number of CRTS trainees enrolled in the then four-year part-time Optometry Diploma Course conducted at Sydney Technical College.
It was a difficult period of adaptation for all; some had been ranking officers in the Army, Navy or Air Force. At Sydney Technical College, all were equal.
Most were married, many had children, and all were older than previous students who had gained admission by completing their Leaving Certificate or the Diploma Entrance Examination and were 16 or 17 years of age. Many CRTS students were in their 30s when they graduated.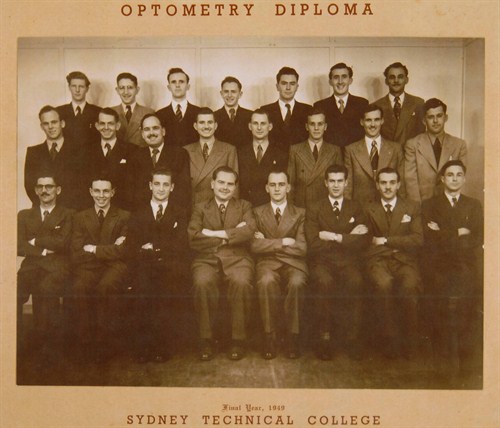 Country squatters
Many country areas lacked a resident optometrist and many CRTS optometrists squatted in country towns; others started to practise in urban areas around Sydney, Newcastle and Wollongong. Geographically, optometry in New South Wales began to expand.
Former Pilot Officer Jack Stewart settled in Deniliquin. He became the 'King of the Castle' and was councillor and mayor. Jack later had his own aircraft and visited many locations in Western NSW.
Stuart Parker squatted in Cooma, home of the Snowy Mountains Scheme. He too became mayor. His life was tragically cut short as a result of a boating accident.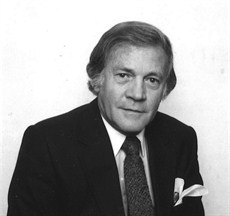 J Lloyd Hewett
Lloyd Hewett, a commando with rank during the war, was for 17 years editor of the Australian Optometrical Association journal (now Clinical and Experimental Optometry). He became a contact lens educator and world-renowned contact lens practitioner.
Ray Proust stood as the candidate for the Democratic Labor Party in the Commonwealth Parliament.
Those who settled in country areas became involved in all sorts of local organisations, as did their wives and children.
In the period leading up to the introduction of Medibank in July 1975, these country optometrists proved to be invaluable as they all knew their local federal Member of Parliament. Many regularly played golf or bowls with them; often the MP and their family were patients. In many instances, these optometrists provided a direct line of communication to Members and Ministers.
Valentine Hugh Eames (Bill) was a CRTS optometrist. In November, Bill, who had been a member of the 2/2 Australian Infantry Battalion, died at the age of 96 years.
Bill was in the same group as the late Professor George Amigo. George Amigo was not a CRTS student; he was a young migrant from Hungary. Throughout the four-year course it was always Amigo or Eames at the top of the class.
George Amigo chose an academic career; Bill went into private practice and for many years worked in the Alex Hale practice.
Theirs was an interesting year that included Ken Bell, who has been involved with the Cornea and Contact Lens Society of Australia since its formation, and John Bromley, who subsequently completed a course in medicine and later ophthalmology.
It is likely that with the passing of Bill Eames we have seen the last of the New South Wales CRTS optometrists.
We owe them a debt, not only for their war service, but for the role they played in the development of optometry geographically and politically in this state and undoubtedly throughout Australia.
Filed in category:
Uncategorised