Read time:

1:30min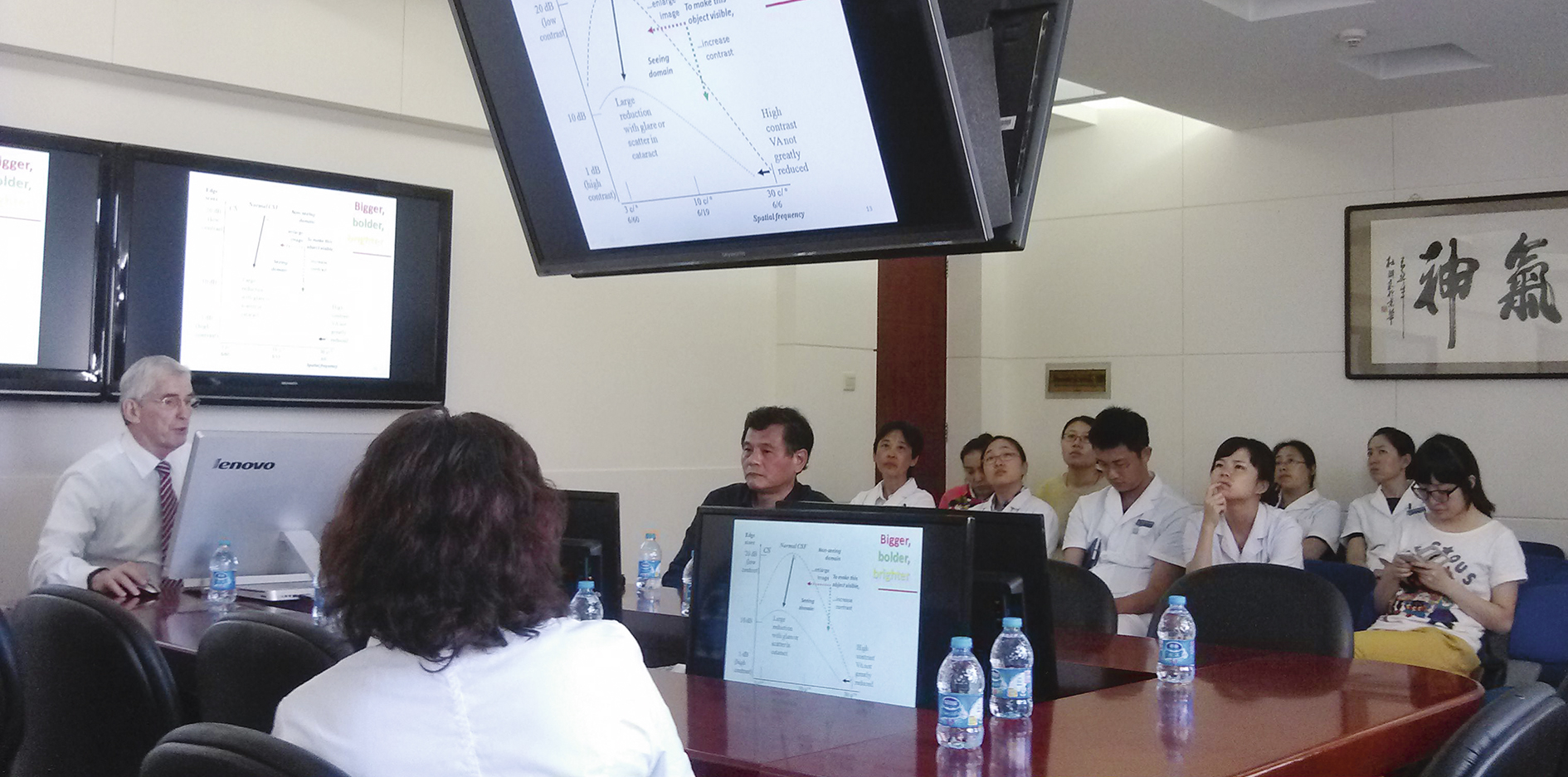 Dr Alan Johnston lecturing in China in 2014
______________________________
By Helen Carter
When Melbourne optometrist Dr Alan Johnston first visited China 30 years ago, he became an essential part of a major crusade to boost low vision services in the land of 2.6 billion eyes.
He has returned about 20 times since to help establish low vision clinics and speak at conferences, describing the Australian approaches to low vision rehabilitation.
Dr Johnston helped to set up low vision clinics in Beijing, Tianjin and Wenzhou, where he also lectured, and lectured in Xian, Shanghai, Guangzhou, Nanning and Guilin.
The walls of his East Melbourne practice feature Chinese calligraphy painted by grateful patients and official plaques recognising his many contributions.
He is now affectionately called Ye-ye (Chinese for Grandpa) and is highly regarded for his work in China, as demonstrated by an anecdote from Ron Hathaway, a former managing director of low vision aids company HumanWare Australasia, when exhibiting at a low vision forum in Beijing in 2009.
'Professor Lu Fan from Wenzhou Medical College presented on the need for the medical profession to work hand in hand with the newly emerging low vision clinics to take care of patients' emotional as well as physical problems,' Mr Hathaway said in an email to Dr Johnston. 'Guess what her opening slide was? You! She cited the work you had done to teach the importance of this to the profession in China.'
Dr Johnston said that from the outset, Chinese optometrists and ophthalmologists recognised the importance of low vision care in their country, which faces a large and growing elderly population.
'It has been gratifying to contribute to a process that has raised the profile of these patients and to see the enlightened attitudes of clinicians to low vision rehabilitation,' he said.
His interest in low vision in China began in 1984 with a telegram from the director of the Hong Kong Society for the Blind, asking him to help set up a low vision clinic.
'I visited Hong Kong just after the Spring Festival and was fascinated by the complex culture in Hong Kong, a mix of stiff-upper-lip British administration and Cantonese pragmatism,' he said.
Later that year, he took his family to Texas on study leave, to experience the US clinical system and prepare for his Low Vision Diplomate examination.
On returning to Australia, he met a visiting Chinese ophthalmologist who invited him to participate in a training course at Beijing's Tongren Hospital Eye Centre, under the auspices of the WHO Collaborating Centre for the Prevention of Blindness.
'Dr Gerald Fonda from St Barnabas Hospital Low Vision Centre in New Jersey and I lectured on alternating days for two exhausting weeks in 1985, to an interested audience but one with limited English skills,' he said. 'Sentence by sentence translation was laborious. By comparison, today's Chinese doctors have good English and communication is greatly improved.'
Tianjin
'My second China visit was in the following year in a United Nations Development Program in China, to the Tianjin Eye Hospital,' Dr Johnston said. 'This was especially rewarding as Tianjin is a sister city to Melbourne and hospital staff were receptive and eager to implement new programs of care.'
Interesting anecdotes from his visits include a visit by the director of the Tianjin Eye Hospital and Dr Johnston to a school for blind children in Tianjin.
'We noticed two albino boys looking at us, obviously inappropriate enrolments for this school,' he said. 'This was our catalyst to begin an intervention program where "blind" children were examined at the eye hospital before school commencement.
'Medical treatment, spectacle and optical aids prescription and other care were provided when necessary so that many children became able to attend local schools.'
Social ophthalmology
'One blind teenage girl with a facial deformity was a beautiful singer, and I suggested to a then junior ophthalmologist that the patient would benefit from plastic surgery to rebuild her face and improve her social opportunities,' Dr Johnston said.
'Although cosmetic surgery offered no vision benefit, we coined the term "social ophthalmology" as one of our care responsibilities. At my visit the following year I was pleased to hear this doctor, Dr Wang Yan, now medical director of the Tianjin Eye Hospital, use this term when discussing their broader ophthalmology platform.
'I hope I helped sow the seed. They now have a huge cosmetic surgery, laser refractive and cataract centre, and seven major hospital centres in Tianjin.'
Dr Johnston has used his lifetime of knowledge and practice in the low vision field in Australia to assist other Asian neighbours, and in 2000 worked in Indonesia with Vision Australia. He took Mandarin classes to help with his Chinese trips, although Chinese colleagues prefer him to speak English so they can practise their English.
'What we do in Australia has worked pretty well, although digital technology is overtaking some of our optical care,' Dr Johnston said.
'What they do is different, but they must accommodate the cultural and lifestyle demands of their diverse patient base. I have a great deal of respect for my colleagues in China who have clear goals and are innovative in meeting them.'
Dr Johnston graduated in optometry from the University of Melbourne in 1963. In his 52nd year of practising, he now consults part-time at his East Melbourne Optometry and Low Vision Centre, and admits to contemplating removing the batteries from the retinoscope.
In his unique practice, he has fitted bioptic telescopes to spectacles for both adults and children from most Australian states. He has bioptic patients in five overseas countries, fitted using remote control to patient photos sent over the internet as a fitting guide.
'Not my preferred method, but for these patients in Abu Dhabi, Argentina, China, Lebanon and Nepal, there has been no alternative when local supply is unavailable and patients cannot visit Australia,' he said.
'Low vision care is about individual advice for each patient and each device we prescribe is task specific. We can make a difference to the lives of our patients and meeting the challenges they set us can be hugely rewarding. I enjoy what I do.'
Dr Johnston encourages optometrists in private practice to take an interest in low vision and said many do, especially in rural areas and speciality clinics.
'There are excellent practice guidelines for the newcomer to the field and good mentors always ready to provide advice,' he said.
Kooyong
His interest in low vision work stemmed from his introduction to the interdisciplinary low vision clinic at Kooyong in 1976.
'Ian Bailey and Jan Lovie had designed the logMAR chart, giving us the most important tool to measure vision and assess needed vision improvement,' he said. 'Trial and error were the catch words in the early days, but the principles of assessment and prescription are now well founded.'
He lectured optometry students on low vision at the University of Melbourne from the late 1970s to 1999.
He has held important roles including a two-year term on the advisory committee of the Optometry Research Center of the Ministry of Public Health in Wenzhou.
In 2005, he worked with graduate students in China to develop and publish a Chinese version of the logMAR near chart and in 2013 addressed the International Low Vision Forum at Tongren about the present and future of low vision, from telescopes to smartphones.
Recent work with Chinese colleagues has included classes on scientific writing for English medical journals and research planning for postgraduate courses. Dr Johnston draws on his previous experience as editor of The Australian Journal of Optometry from 1980 to 1985 and his four-year term as Associate Dean for Research and Graduate Studies in the Faculty of Science at the University of Melbourne.
'China is such an interesting country with phenomenal growth and development. It has been a privilege and an honour to be invited there and to be part of its clinical development,' he said.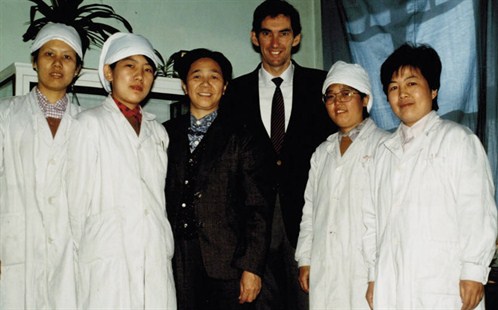 Dr Alan Johnston with ophthalmologists at Tianjin Eye Hospital in 1987, when he lectured as an advisor to the UN Development Project in China.
Second from left is Dr Wang Yan, now director of the hospital.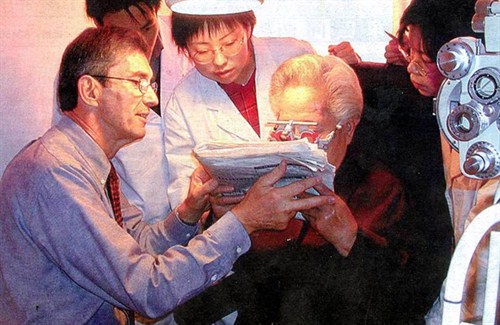 A clipping from a Chinese newspaper, showing Dr Johnston assisting an elderly patient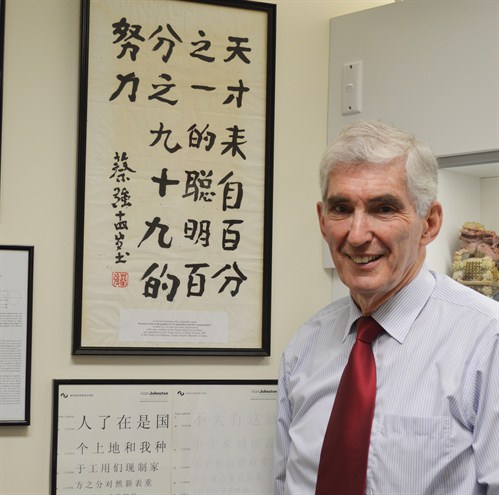 Dr Johnston with a gift of framed calligraphy, from an appreciative boy in China
Filed in category:
Uncategorised