Read time:

1:30min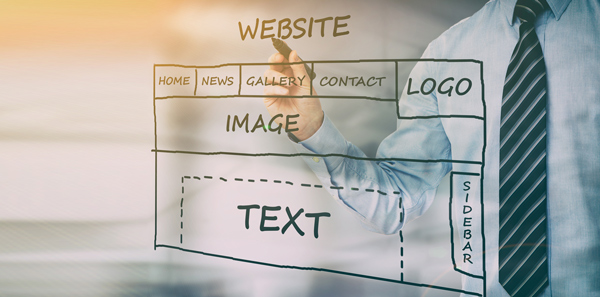 By Leigh Plowman
Optometrist, blogger, digital marketer at Optomly
First impressions matter in eye care. Potential patients are often tired, busy and just want someone to fix their eye problems. These patients bring out their smartphones, desktops and tablets and search for answers online.
When they find your website, you have only a few seconds to describe what you do and how you can help. Your site needs to load quickly, display well on phones and tell patients what they need to do next.
 A heatmap is a method of reporting where people click, look, scroll or otherwise interact with your website, and is widely available as a tool or plug-in.
The areas with the largest number of interactions show up as hot spots and the lowest number show as cold areas. That means the hot areas stand out to your visitors and the cold areas are overlooked.
Using heat-map tools, we can glean insights from three optometry practices with highly-effective websites.  
Kay Street Eyecare's website does a great job of being mobile friendly, it's quick to load and its contact details are highly visible. The page loads in 3.29 seconds and has a 99/100 mobile friendly rating. The colours are consistent and fonts easy to read.
As you can see from the heat-map, the most prominent part of the page is a button saying 'Book An Appointment'. This button creates a real appointment rather than an appointment request. Online appointments allow you to easily track actual appointments. That is, you know how many people made it from your website to your appointment chair. Online appointments also allow visitors to book even when your practice is closed.
This practice's website introduces the team, which helps visitors form a connection to the people behind it. From this, a busy patient knows that they will get the one-on-one attention they need.
Kay Street Eyecare has done a great job with its site. It gives a fresh, professional and warm introduction for their potential patients.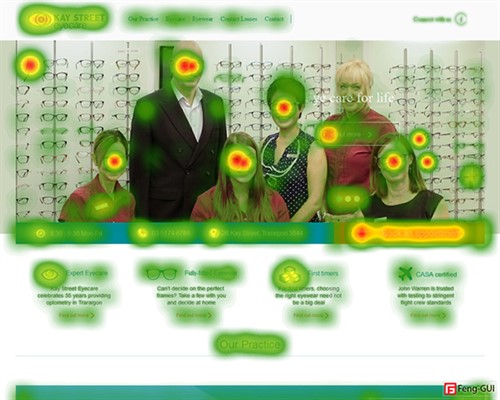 Kay Street Eyecare
Port Adelaide Eyewear's website is clean and fresh. It's quick to load and gives a professional introduction to its general optometry practice.
Instead of a team photo, Port Adelaide Eyewear chose to present an image of a smiling patient wearing glasses. This approach shows visitors an example of the positive experience at the practice, inviting them to make the same assumption about their visit.
Port Adelaide Eyewear doesn't appear to offer online appointments but the practice's phone number is tappable and trackable in Google Analytics. This means that it can see how many phone calls are made from smartphones to its practice from its website.
Note the prominent dot points on the right. These dot points are easy to read and quickly tell visitors that this eye-care provider is experienced and professional and has quality products.
The paragraphs on the lower half of the screen are written for potential patients. It's conversational and easy to read; it feels like the author is speaking directly to the website visitor.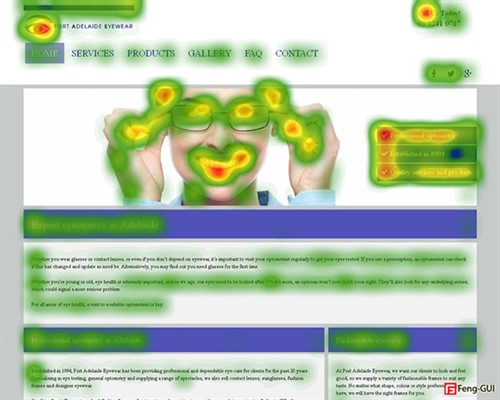 Port Adelaide Eyewear
Eyecare Kids knows that the majority of visitors to its website are parents of school-age children. Mindful of the time constraints most parents have, they use their friendly, professional website to bring parents up to speed quickly about the importance of an eye examination.
Eyecare Kids' website shows a smiling child cartoon-character wearing glasses. The two most prominent buttons are 'Book an Appointment' and 'Learn More'. Fonts are happy; colours are fresh and consistent throughout.
Eyecare Kids has a fast load time of 3.15 seconds and an excellent mobile-friendly score (99/100). Unlike the other two sites, its website has a small snippet of website code. This enables the practice to attract visitors back to its website through Facebook ads.
Cleverly, Eyecare Kids' social media icons are shown on the site but not highlighted. This encourages visitors to stay on the Eyecare Kids website, rather than drift into the distractions to social media.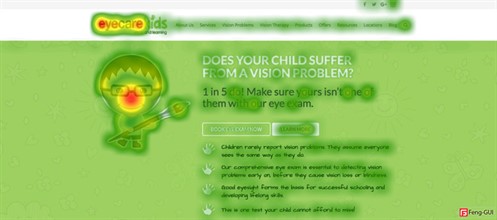 Eyecare Kids
Summary
Potential patients have limited time to spend looking at your website. By having a clean, fresh and quick-loading website, you're giving yourself the best chance of creating new appointments and helping your practice to thrive. 
Want to heatmap your site? I recommend these sites.
Free demo showing the first three seconds of viewer's attention; US$25 for 25 full analyses
Feng-Gui was used to prepare heatmaps shown in this article. Simply type a web address and analyse it. Feng-Gui also works on images, such as your logo, print advertisement or other images. I recommend this software for its ease of use.
US$9/month
Crazy Egg records actual visitor clicks on your website. The more clicks, the hotter the heatmap. Crazy Egg also shows how far down visitors are scrolling through your website. Crazy Egg works well if you have a steady stream of visitors to your website. If you don't have a steady stream of visitors, plan on letting the tool work in the background for a couple of months. CrazyEgg helps you see how small changes to your website can make it highly effective.
USD$29/month
Mouseflow puts your website analysis in top gear. You can see actual recordings of how visitors interact with your site. Watch mouse movements form your visitors, including things that they hover over, read or click on. This gives even better insight into how visitors use your website. Data is collected anonymously.
Test your website with one of these tools. You may be surprised how subtle adjustments to your site can make a big difference.
Filed in category:
Uncategorised