Read time:

1:30min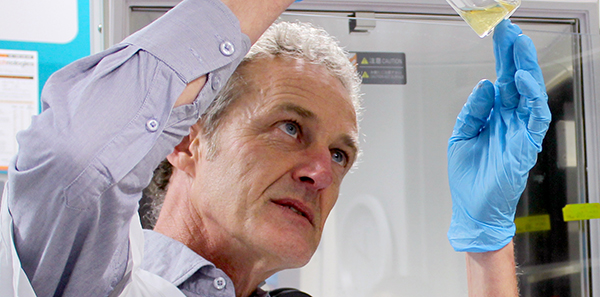 Associate Professor Ian Trounce   Photo: CERA
______________________________
By Helen Carter
Journalist
US research dubbed 'an exciting breakthrough' by a Melbourne vision scientist shows that vitamin B3 or nicotinamide can prevent glaucoma and stop progression of existing disease in animals.
Although Associate Professor Ian Trounce from the Centre for Eye Research Australia described the findings as amazing, he suggested that optometrists should advise patients with glaucoma and those enquiring about glaucoma prevention against rushing out to buy the vitamin until trials in humans provided more answers.
The research was published in Science, in the lead up to World Glaucoma Week next week.
Professor Trounce, principal investigator at CERA's Mitochondria Lab, and CERA's managing director, glaucoma specialist Professor Jonathan Crowston were asked to write a commentary because of their research showing mitochondria changes in glaucoma cells.
'They show that two interventions arrest disease progression in a mouse model of glaucoma,' the professors wrote.
Six months treatment as a preventive regime or three months as an interventional regime in those with glaucoma showed remarkable results at maintaining vision, they wrote.
The US researchers reported that vitamin B3 prevented eye degeneration and glaucoma in glaucoma-prone mice. Supplementing diets of young mice with B3 averted early signs of glaucoma and halted further glaucoma development in aged mice showing signs of the disease.
They identified decline in nicotinamide adenine dinucleotide (NAD+), a molecule vital to energy metabolism in neurons, as a key age-dependent risk factor and showed that restoration with long-term dietary supplementation or gene therapy robustly protects against neuronal degeneration.
'We show that mitochondrial abnormalities are an early driver of neuronal dysfunction, occurring before detectable degeneration. Retinal levels of NAD+ and/or gene therapy were protective both prophylactically and as an intervention,' they wrote.
Vitamin B3 treatments (nicotinamide, an amide form of vitamin B3) boosted the metabolic reliability of ageing retinal ganglion cells, keeping them healthier for longer. Because the cells remain healthy and metabolically robust, even when high intraocular pressure turns on, they better resist damaging processes, they said.
'At the highest dose tested, 93 per cent of eyes did not develop glaucoma. This supports therapeutic use of vitamin B3 in glaucoma and potentially other age-related neurodegenerations,' they wrote.
Very high dose supplementation increased the proportion of untreated eyes with no glaucomatous changes from under 70 per cent to 93 per cent and presented no safety concerns.
One injection of gene therapy into the eye reversed degenerative changes in more than 70 per cent of treated eyes and was one of the first examples of gene therapy having a robust effect in a complex disease. 
Exciting breakthrough
Professor Trounce told Australian Optometry: 'I am averse to using this term but once I read the paper and saw there was no down-side, I would call it a breakthrough. It does seem really exciting and there appear to be no toxic down-sides.
'It is a good mouse model of human-like glaucoma where at 12 months the mouse is in mid-life and develops very high pressure, making it prone to glaucoma. Mice were given vitamin B3 at nine months when the high pressure begins, a comparable age to glaucoma diagnosis in humans.
'Results were remarkable, preventing development of glaucomatous changes, and when changes were noticed in mice, the glaucomatous changes were reversed after three months treatment. Mice at six months were also treated for six months and this was found to provide even better protection.'
A second higher dose gave as good protection in preventing glaucoma, without toxic problems, but also reduced IOP.
Gene therapy into the eye had the same effect as the supplement and when used with supplements led to a slightly better result than supplements alone. If developed, this may provide long-term or even life-long protection, Professor Trounce said.
High doses
Professor Trounce said doses equivalent to about 40 grams per day for an average weight human were given and no toxic effects were seen. Nicotinamide supplements for human use generally range from one-half to two grams per day, he said.
'In the near future, if it holds up, there might be a high dose formula so people don't have to take many capsules a day,' he said.
'The last thing we need is to be telling people to take massive doses of nicotinamide. It's a common vitamin and we don't want people clearing out the supermarket shelves. We need multicentre human trials to confirm findings in humans and ensure such high doses don't have toxic effects.
'The distinction between the nicotinamide form and Vitamin B3, also known as niacin, is important because taking large doses of niacin is known to cause discomforting skin rashes in many people. Nicotinamide does not have this problem.
'Optometrists could tell patients they cannot recommend taking high doses because human trials have not been done but they can't stop people taking multivitamins containing nicotinamide or including dietary sources.'
Dietary sources of vitamin B3 include turkey, chicken breast, peanuts, mushrooms, liver, tuna, green peas, grass-fed beef, sunflower seeds and avocado.
Professors Trounce and Crowston wrote that treatments that specifically target retinal ganglion cells or the effects of ageing on glaucoma susceptibility are lacking.
They said the researchers reported 'substantial advances toward filling these gaps by identifying NAD+ decline as a key age-dependent risk factor and showing that restoration with long-term dietary supplementation or gene therapy robustly protect from neuronal degeneration.'
Unprecedented protection
They wrote that the researchers 'reveal unprecedented protection by a single molecule against a complex neurodegenerative disease.'
They said the higher dietary dose reversed the ageing phenotype in the retina and protected retinal ganglion cells when eye pressure was increased but also decreased eye pressure in the glaucoma mouse model.
'The widespread availability of NAD supplements and good tolerability make this a highly attractive treatment for translating into the clinic to augment existing therapies for decreasing eye pressure,' they wrote.
Professor Trounce said that for four years he had been gripped by increasing research showing profound positive effects of nicotinamide on mitochondria and he believed it may have more wide-ranging effects on general diseases of ageing, not just the ageing eye.
'Mitochondria were struggling and disorganised in untreated mice but healthy in treated mice,' he said.
He said vitamin B3 could potentially be an adjunct therapy to IOP drops or surgery.
The US researchers are pursuing clinical partnerships to test the therapy in glaucoma patients.
Vitamin B3 modulates mitochondrial vulnerability and prevents glaucoma in aged mice
Glaucoma Australia encourages people to plan their own BIG (Beat Invisible Glaucoma) Breakfast during World Glaucoma Week from 12 to 18 March.
Filed in category:
Uncategorised