Read time:

1:30min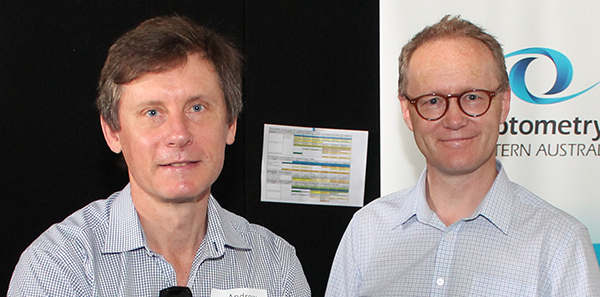 (L-R) Perth optometrist Andrew Young and Fremantle optometrist David Shanahan
_______________________________
By Helen Carter
Journalist
A team of 19 people, including 12 optometrists, have volunteered their optometric services to more than 60 homeless people at a 'one stop shop' in Perth.
The Homeless Connect Project, held annually by The City of Perth and Volunteering WA, enables business and community groups to come together to provide free services to homeless people for one day.
Food, clothes, toiletries and toys were provided and many services were volunteered. Other health services were provides by GPs, dentists, podiatrists, mental health workers, masseurs and natural therapists.
Optometry Western Australia CEO Tony Martella said the state's optometrists had been volunteering for Homeless Connect since it began in 2008.
'The optometry service is always highly valued and in demand and is very beneficial in terms of outcomes,' he said.
Perth optometrist Bernie Eastwood organised the optometry team for the event at Russell Square, Northbridge on 11 November. Ms Eastwood, who also volunteered last year, said it was a great way to help local people who may be living in desperate circumstances.
She said many who took advantage of eye checks were older people with spectacle requirements, while others had diabetes eye checks. Essilor donated lenses and many optometrists donated frames.
Optometrists also provided advice and support if mental health medication or drug addiction were affecting vision.
It was the first time Perth optometrist Annabel Fothergill had volunteered for the event.
'It was my day off and I thought: why not do something useful and help out?' she said.
'It was a good team and we were very busy. Most needed new glasses or had lost them and couldn't afford to get new ones. It really made a difference to people's lives. One patient in particular was very thankful and said it was great as she couldn't afford glasses.'
Other volunteer optometrists on the day were Kevin Adams, Gary Crerie, Ernie Hawes, sisters Debbie and Cheryl Lee, Tina Perez, Deepa Shah, David Shanahan, Lily Wall and Andrew Young.
Others team members were Optometry WA CEO Tony Martella, dispensers Fiona Hawes, Brett Willis, Marian Lazarev and Jeff Gorton from VisionTech, and Sharon and Kiara Gorton.
Optometry WA also runs a regular monthly Optometry Homeless Clinic at St Patrick's Community Centre, Fremantle and has been running this clinic since 2008.
Optometrists, dispensers and other volunteers interested in helping at either clinic can contact admin@optometrywa.org.au.
Filed in category:
Uncategorised