Read time:

1:30min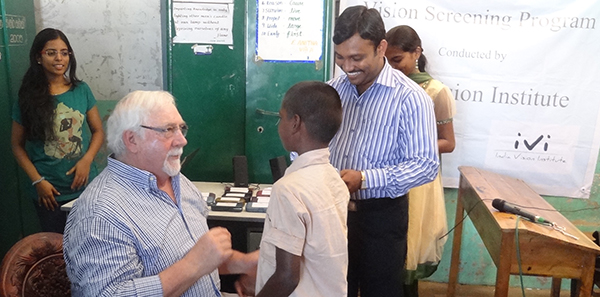 The late Professor Brien Holden conducting vision screening for the IVI   Photo: India Vision Institute
______________________________
By Helen Carter
Journalist
The India Vision Institute is appealing to Australian optometrists and optometry students to volunteer and help conduct free vision screenings and education in India.
The institute, an independent, not-for-profit trust, was jointly established in 2011 by the late Professor Brien Holden from Brien Holden Vision Institute, Sydney and Dr GN Rao from LV Prasad Eye Institute, Hyderabad.
Since then, the institute has screened more than 85,000 underprivileged people including more than 47,000 children, and distributed more than 8,000 pairs of free spectacles to them. This year the institute will organise vision screenings or spectacle distributions every working day.
CEO of India Vision Institute and chairman of AusHeritage, Vinod Daniel said that IVI aimed to develop optometry in India.
'The establishment of India Vision Institute is transforming the optometry landscape in India,' he told Australian Optometry.
'In 20 years from now, this initiative will be recognised as a key pillar in establishing Indian optometry and Professor Brien Holden will be part of Indian optometry history. Meanwhile, thousands of underprivileged Indians are getting the gift of good vision through IVI's vision screening programs on a weekly basis,' he said.
'It would be great to have Australian optometrists and optometry students come to India and work with IVI in either our educational initiatives or our vision screening projects. Also many of the optometry schools can benefit from equipment, teaching support materials and journals if any equipment companies, schools or optometrists can donate these items.'
Mr Daniel said India currently had about one-third of the optometrists needed for its population, or about 40,000 instead of the required 120,000.
He said the institute aimed to help boost the number of optometrists to sufficiently cater for India's 1.27 billion people, provide vision screenings and influence development of a sustainable approach at a municipality or state level.
Free eye checks
The institute provides free eye checks and spectacles for underprivileged children and adults in more than 10 states and the program is expanding. It aims to reach millions of underprivileged children over the next four years.
'The IVI is committed to making a difference to the lives of millions of people in India who have uncorrected refractive error,' Mr Daniel said.
Through its outreach activities, IVI is co-ordinating a national eye health screening program for more than 10 million Indians as part of the global Our Children's Vision campaign founded by Brien Holden Vision Institute and Vision for Life – Essilor. IVI also co-ordinates twin national campaigns, Eye See & I Learn which provides vision testing and free spectacles for underprivileged children, and Eye See & I Work, which provides the same services for underprivileged adults. 
The institute has worked with more than 35 partners to benefit more than 4,800 optometry professionals and will this year initiate a development program for six optometry schools.  It provides continuous education for optometrists, a young leaders program, online seminars, faculty support, workshops and a low vision awareness program.
Mr Daniel said the average cost of vision screening was AU$1 per child, including the provision of free spectacles if required. Last year the institute also brought blind tennis to children in India.
* Enquire about volunteering or donating by emailing ivi@indiavisioninstitute.org.
Visit India Vision Institute
Filed in category:
Uncategorised