Read time:

1:30min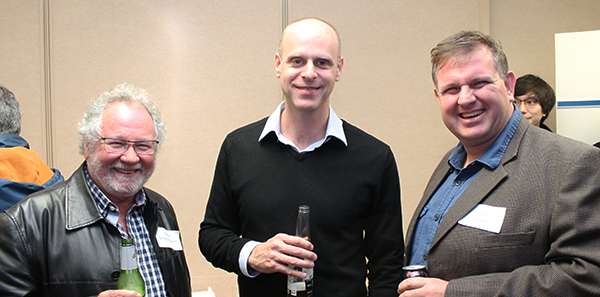 Dr Michael Wertheim (centre) with optometrists George Vaugh Davies (L) and Carl Slabber at the CPD event in Waikiki last week
______________________________
By Helen Carter
Journalist
Optometry Western Australia has this year increased five-fold the number of CPD events offered to members in regional locations.
Ten CPD events will be held in rural areas this year compared with two last year. A total of four CPD events will be offered in Bunbury, Mandurah, Busselton and Waikiki, and six CPD sessions will be held in Albany under a new ophthalmology initiative.
The initiative offers up to 18 therapeutic points for optometrists who attend a series of sessions presented by Lions Eye Institute consultant ophthalmologist Associate Professor Angus Turner.
Rural HealthWest, in partnership with Lions Outback Vision and Optometry WA, is running the Ophthalmology 101 series of six 1.5-hour sessions delivered throughout 2016 at The Rural Clinical School of Western Australia in Albany.
Three have occurred covering telehealth, red eye and sudden vision loss. Three more will be run: paediatrics and neurological eye conditions on 21 July, chronic eye conditions on 15 September, and an interactive session with Lions Outback Vision Van on 10 November.
Optometry WA CEO Tony Martella said that increased demand for more education and better partnerships with medicine were reasons for the expanded CPD program. He said events had been well attended this year.
Both optometrists and GPs attended the free regional sessions in Albany, which Mr Martella said helped optometrists network with local GPs.
The most recent Optometry WA CPD regional event was conducted on 27 June. Ophthalmic surgeon Dr Michael Wertheim, who founded Perth Eye Clinic, spoke at Waikiki Private Hospital, Waikiki.
His talk focused on pattern recognition through case presentations; common and not so common eye disease that optometrists might see in their practice; the role of optometrist, ophthalmologist and comanagement; and when to refer, watch or treat.
Eight metropolitan CPD events, including WAVE, are scheduled for Perth this year, of which four have taken place. WAVE will be held on 13-14 August, and CPD evenings will be at the FJ Clarke Lecture Theatre building in the Queen Elizabeth II Medical Centre, Nedlands on 12 September, 10 October and 8 November.
Mr Martella said the CPD events with the exception of WAVE were free for Optometry WA members, and that registration for WAVE was open and places were filling fast. Members receive discounted registration for WAVE.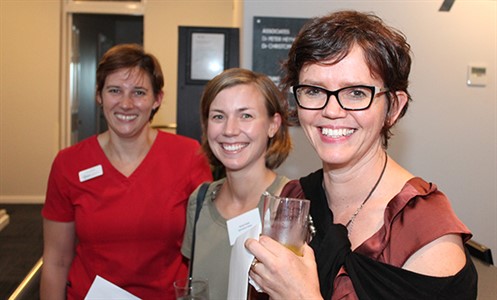 (L-R) Southwest Eye Surgeons nurse Liz Okely with optometrists Renae Snape and Jenny Nicholson at the CPD event in Bunbury in March
Filed in category:
Uncategorised