Read time:

1:30min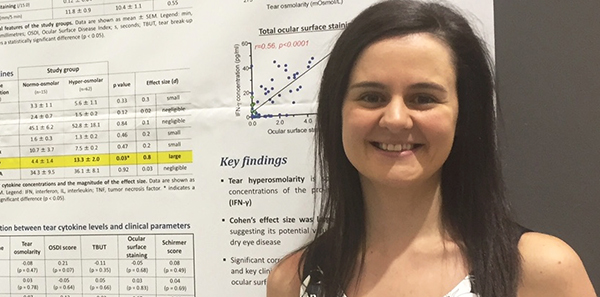 Dr Laura Downie presenting a dry eye poster at the Association for Research in Vision and Ophthalmology conference in May 2016
______________________________
By Helen Carter
Journalist
Melbourne optometrist Dr Laura Downie has won a travel award to attend an international conference for her research on omega-3 essential fatty acid supplements for treating dry eye.
She will attend the International Conference of the Tear Film and Ocular Surface Society in Montpellier, France on 7-10 September. Its theme is basic science and clinical relevance.
Dr Downie is a lecturer, clinical leader and NHMRC Translating Research Into Practice (TRIP) Fellow in the University of Melbourne's Department of Optometry and Vision Sciences. She is the only Australian among 16 recipients worldwide to receive the award.
The travel award is worth $2,680 and is accompanied by waiver of the conference registration fee.
The award provides partial travel support to young investigators who demonstrate significant achievements in the field of tear film and ocular surface research. Winners will co-chair a conference platform or poster session.
'The award relates to submission of a scientific abstract, based on a recent investigator-initiated clinical trial completed in my research laboratory, the Downie Anterior Eye, Clinical Trials and Research Translation Unit, investigating the efficacy of different forms of omega-3 essential fatty acid supplements for treating dry eye disease,' Dr Downie said.
The clinical trial also looked at the effectiveness of a new omega-3 supplement. It was hypothesised that this particular form of omega-3 supplement would have an enhanced efficacy for treating the signs and symptoms of ocular inflammation, compared with more traditional forms of omega-3 fatty acids.
Results of the oral supplements were measured by assessing changes to patient symptoms and clinical signs, and assaying tear immunology.
Dr Downie will present the findings of the trial in a poster presentation at the conference in France.
She and several other Australians are involved in the International Dry Eye WorkShop II (DEWS II) expert committee. The TFOS (Tear Film and Ocular Surface Society) DEWS II Update, which will lead to global consensus on dry eye disease, will be revealed at the conference.
TFOS DEWS II will update the definition, classification and diagnosis of dry eye disease, critically assess the aetiology, mechanism, distribution and global impact of this disorder, and address its management and therapy.
The December 2016 issue of Optometry Australia's Pharma will include an overview of the conference and a summary of various presentations including DEWS II.
Filed in category:
Uncategorised