Read time:

1:30min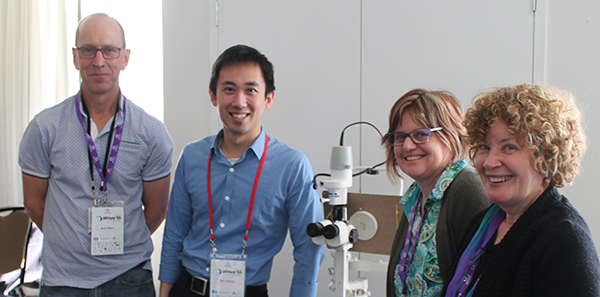 (L-R) Brad Mann, instructor of the foreign body workshop Eric Cheng, Katie Jorgensen and Sandy McKenzie
________________________________________
By Helen Carter
Journalist
WAVE a hit
The new venue for the Western Australian Vision Education conference, the Rendezvous Scarborough Beach Hotel, was warmly welcomed by delegates and exhibitors last weekend, 13-14 August, as they enjoyed the ocean-front location and expansive views.
Optometry Western Australia CEO Tony Martella said 220 optometrists attended, of whom about 10 per cent were from interstate.
Delegates benefitted from high-quality speakers delivering clinical workshops and lectures, and enjoyed a trade exhibition. The Saturday evening drinks function sponsored by CR Surfacing was held in a room in which vast windows captured a magnificent view of the sun setting into the Indian Ocean.
The theme throughout the conference was Optometry Western Australia's centenary year.
An Optometry Western Australia Graduate Group (OWAGG) lecture series afternoon on Friday 12 August was attended by 25 early career optometrists.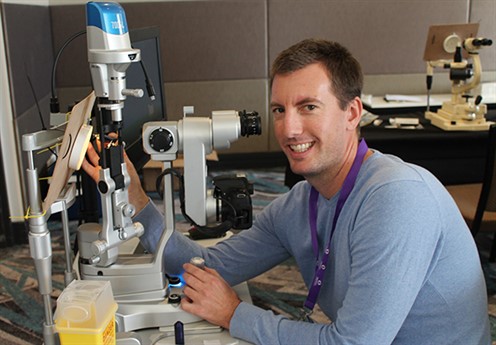 Chris Robinson at the foreign body clinical workshop
Fish oil could stop diabetic blindness
Eating oily fish twice a week or consuming 500 mg of omega-3-fatty acids per day could stop older type two diabetes patients from becoming blind, a new study claims.
Researchers found that consuming this amount of omega-3s reduced by half the risk of study participants developing diabetic retinopathy.
The Spanish study of 3,482 middle-aged or older people with type 2 diabetes was published online in JAMA Ophthalmology.
Call for laser ban
Melbourne researchers are calling on the Australian Government to consider banning green laser pointers because they can cause 'catastrophic retinal damage.'
The RMIT University researchers tested four models of green and four models of red laser pointers. They found green lasers were the most dangerous, with all four models tested failing Australian standards, being 51 to 127 times over the one milliwatt government safety limit.
Three of the four red lasers were within safety limits. The researchers said blinking and turning away from those was usually enough to avoid permanent damage.
Co-author, ophthalmologist and Adjunct Associate Professor Marc Sarossy, said green lasers produced more infrared radiation, were more focused and had a higher risk of damaging the retina.
They presented results as a poster at the annual International Conference of the IEEE Engineering in Medicine and Biology Society in Florida yesterday, 19 August.
Accreditation standards
The Optometry Council of Australia and New Zealand's new Accreditation Standards and Evidence Guide for Entry-Level Optometry Program will take effect on 1 January 2017.
The Accreditation manual for optometry programs in Australia and New Zealand – Part 2 – Standards April 2006 will remain in effect until then.
The OCANZ has completed public consultation on its review of accreditation standards for the program and the Optometry Board of Australia approved the new standards at its July meeting.
The new standards will be available on the OBA's accreditation webpage soon.
Blue light awakens
Blue light keeps mice awake longer while green light puts them to sleep easily, a study has found.
Both elevated levels of the stress hormone corticosterone in the blood but levels were higher in those exposed to blue light.
The Oxford University researchers said their findings, reported in PLOS Biology, show that species that awake during the night, such as mice, and species that are awake during the day, such as humans, share a common 'alert' response to blue light.
They said the findings showed the extent to which light affects our physiology, have implications for design and use of artificial light sources, and raise important questions about how artificial light may alter behaviour in work and domestic settings.
Ocular burns in kids
Children aged one and two years are at the highest risk of chemical ocular burns, new research reported in JAMA Ophthalmology suggests.
The study of nearly 145,000 emergency department presentations at American hospitals from 2010 to 2013 found that injury rates to eyes from chemicals were highest among infants aged one to two years.
Adults aged 18 to 64 years also had these injuries at an increased rate, although this rate was half that of infants.
Researchers said the previous belief was that working-age adults were at the most risk but the study was the first to show that toddlers are at greatest risk due to improperly stored household cleaners and especially from spray bottles.
Report pinpoints vision burden
Hearing and vision problems accounted for four per cent of the disease burden in Australia in 2011, a new report shows.

The Australian Institute of Health and Welfare report, the Australian Burden of Disease Study, Impact and causes of illness and death in Australia 2011 was released on 5 August.
The disease groups that contribute the most burden, accounting for two-thirds of the disease burden, were cancer, cardiovascular diseases, mental and substance use disorders, musculoskeletal conditions and injuries.
Filed in category:
Uncategorised