Read time:

1:30min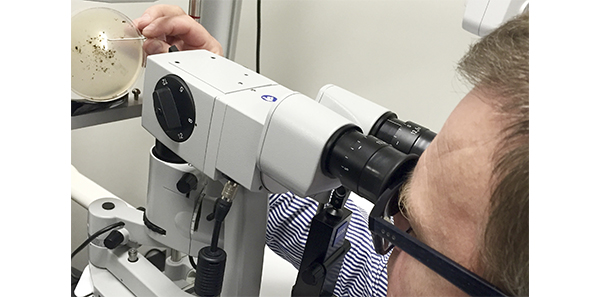 Optometrist Jason Booth from Flinders Vision clinic demonstrates CFB removal at the Flinders workshop
______________________________
By Helen Carter
Journalist
Corneal foreign body workshops have become popular following the introduction of Medicare item 10944 in the Optometrical Schedule of Services on 1 September, for removal of embedded foreign bodies by optometrists.
Nineteen optometrists from across South Australia attended a CFB removal workshop at Flinders University and 14 Victorian optometrists attended a similar workshop in Warrnambool in October.
The item is the first procedural item for the profession. It carries a full scheduled fee of $72.15 and enables optometrists to claim an 85 per cent MBS fee of $61.35 for the complete removal of an embedded foreign body from the cornea, not more than once on the same day by the same practitioner, excluding after-care.
Optometrists from Mount Gambier to Berri attended the South Australia lecture and practicum at the evening workshop at Flinders Vision Clinic on 19 October. Organisers hope to hold more workshops.
Presenters Jason Booth from Flinders Vision clinic and Flinders University Optometry associate lecturer Ben Hamlyn presented a practical skills-focused workshop that included the removal of rusted steel foreign bodies from simulated corneal tissue.
They explained the different tools and techniques of foreign body removal and the post-removal care of a corneal injury.
The lecture also covered how to prepare optometric practices to deal with emergency cases, the triage of emergency cases and the associated legal responsibilities.
Sales of OptiMed's foreign body removal kit have also increased since item 10944 was introduced.
OptiMed sponsored the Flinders workshop and Zoran Pajkovski and Tanya Samson from OptiMed attended.
'It was very successful. Workshops are a great way for the optometrists to learn about unfamiliar treatments and gain access to special deals for instruments relating to these workshops,' Ms Samson said.
'OptiMed has had a foreign body removal kit, also known as an anterior segment kit, on offer to optometrists for a number of years but since the Medicare item came in, the interest in our inexpensive instruments has grown significantly.'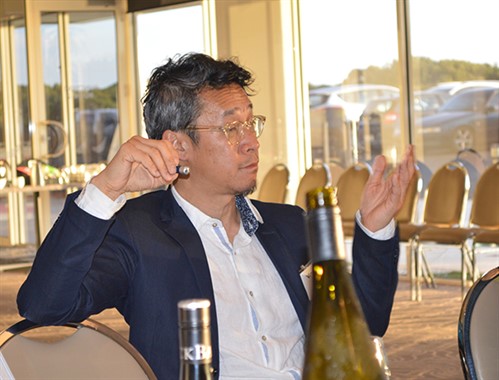 Dr Vincent Lee during his presentation in Warrnambool
Warrnambool ophthalmologist Dr Vincent Lee from South West Eye Surgery gave a presentation on techniques and principles of foreign body removal at the Warrnambool workshop.
Optometry Victoria CEO Pete Haydon facilitated the event, which was organised by and free of charge for Optometry Victoria members.
Optometry Victoria member services and policy advisor Michelle Marven said they wanted to ensure that their members were able to access all the information they needed on the new Medicare item numbers for foreign body removal and telehealth, as well as updates on other relevant clinical matters such as current PBS drugs.
'While all of the attendees were very experienced in foreign body removal, many appreciated the update and presentation of information from a new perspective. The workshop also offered local members the chance to get together professionally, network and catch up,' Ms Marven said.
Optometry Australia clinical policy advisor Simon Hanna spoke about the CFB Medicare item number, new Medicare telehealth items, practice implications and other clinical updates including PBS optometric items and visual fields assessment for driving.
Both workshops attracted CPD points.
Information
The CFB item is not to be billed on the same occasion as MBS items 10905, 10907, 10910, 10911, 10912, 10913, 10914, 10915, 10916 or 10918. When the embedded CFB has not been completely removed, benefits are payable only under item 10916.
Optometry Australia has also developed a Clinical Practice Note on the CFB item. Go to the Optometry Australia website.
For information on the OptiMed foreign body removal kit call 1300 657 720
1300 657 720.
Filed in category:
Uncategorised