Read time:

1:30min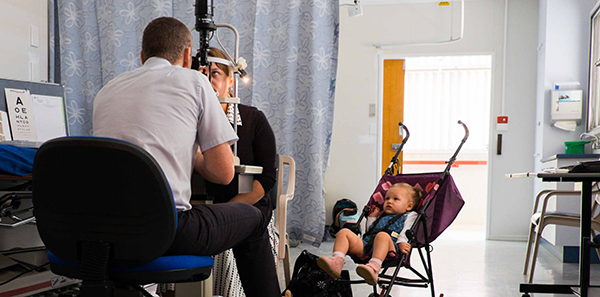 Martin Hodgson consulting on an outreach trip   Photo: Lara Hodgson
______________________________
By Rhiannon Riches
Assistant Editor
Patients in Richmond who cannot make the 700-kilometre round trip to the nearest optometrist in North Queensland are fortunate to have Martin Hodgson come to them.
He says there is need for visiting optometrists 'out west' in North Queensland and he has just returned from a three-day trip to Richmond, population 554, and Hughenden, population 1,154. About 115 kilometres of the Flinders Highway separate the two towns in sheep and cattle farming country, 498 and 382 kilometres, respectively, from Townsville.
Mr Hodgson has been travelling to Richmond and Hughenden for 12 months as part of the Visiting Optometrists Scheme (VOS). 'It's a 1,000-kilometre round trip out west,' he said.
The VOS supports optometrists to deliver outreach optometric services to regional, rural, remote and very remote locations with an identified need. The scheme reimburses a range of expenses incurred by optometrists providing outreach services.
He says many families on cattle stations are on welfare benefits, usually due to the drought.
'Most of my dispensing, about 75 per cent, is paid for with the Queensland Government's Medical Aids Subsidy Scheme. I'm trying to charge prices that locals can afford,' he said.
For 15 years he has also been going to Palm Island, an Aboriginal community located on Great Palm Island to the north of Townsville on the Great Barrier Reef. 'I fly to Palm Island for the day from Townsville. I live five minutes from Townsville Airport and it's a 20-minute flight so I can get there in an hour,' he said.
He makes six trips a year to Palm Island, and four trips a year to Richmond and Hughenden.
Mr Hodgson works in Queensland Health facilities at all three locations. He said Palm Island's set-up is slightly more sophisticated, as he visits with Townsville ophthalmologist Dr William Talbot twice a year, with the support of a team from Townsville Hospital.
'We've both been going to Palm Island for more than 15 years. We co-ordinate our visits,' he said. Mr Hodgson does not receive VOS funding for his trips to Palm Island but the hospital pays for his flights.
In Richmond and Hughenden, the Queensland Health facilities provide an eye chart and slitlamp, and book patient appointments ahead of his visit.
 'VOS funding runs out in June 2017, and with the Medicare rebate cut and indexation frozen, the future of outreach visits is uncertain.
'If I gave up on the trips, I don't think anyone would rush to take my place. The Queensland Health local hospital staff, although grateful when I turn up, doesn't seem to actively seek visiting optometry services when nobody volunteers,' Mr Hodgson said.
'The interest in offering VOS services comes from the optometrists. Darwin optometrist Ian Smith was servicing Richmond and Hughenden. Last year he said he couldn't do it any more and asked me if I wanted to take it up,' he said.
He consults four days a week at an Optical Superstore practice in Townsville, and works at a Guide Dogs QLD Low Vision Clinic and at James Cook University.
'The outback communities have been doing it tough. They're struggling on cattle stations after years of drought. Some residents can't afford to make the 400-kilometre trip to Charters Towers, the nearest town, to see an optometrist. There is a real need for visiting optometrists,' he said.
Mr Hodgson wrote to his local Member of Parliament, Cathy O'Toole, in September:
My wife Steph and I have been optometrists in Townsville for 17 years. Steph runs a weekly clinic at Townsville Aboriginal and Islander Health Service and in addition to my regular days in commercial practice, I've been a regular visitor to Palm Island for over 15 years and recently resumed visits out west to Hughenden and Richmond. These services are vital to the communities they serve. We have a lot of work to do to close the gap on indigenous eye health and there are a surprising number of patients out west who are too elderly or lack the finances to travel to Charters Towers or Townsville for eye care.
Funding for my services comes mainly from Medicare; however optometry rebates have been cut and now frozen by successive governments. Funding to make my trips out west viable recently came through from the Visiting Optometrists Scheme. Today I learned that 'VOS funding runs out at the end of this financial year' (see article).
Optometry services to regional areas play a vital role in preventing avoidable blindness. Please help us to keep them viable by campaigning for the extension of VOS funding and an end to the MBS rebate freeze.
'These visits are some of the most rewarding work I do. The patients really are in dire need but don't have a voice to tell of it,' he said.
Photo: Lara Hodgson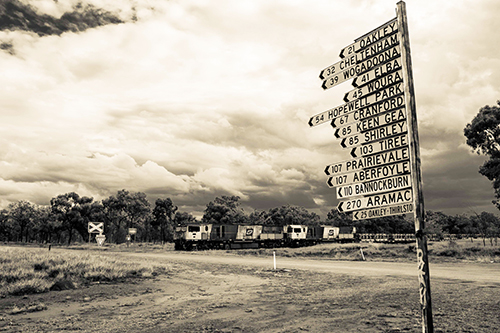 Photo: Lara Hodgson
Filed in category:
Uncategorised