Read time:

1:30min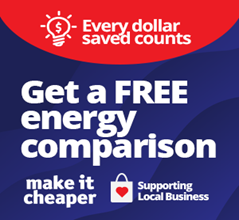 By Make it Cheaper
Our energy expert partner, Make it Cheaper, has found average savings of $1,164 for members of Optometry Australia*
We know that our members have had a tough start to 2020 and we wanted to be able to help you get through this unprecedented time.
For a lot of businesses energy bills can be a significant cost, so we reached out to our energy partner Make it Cheaper to see what relief there is for your business during COVID-19.
Here are some good insights to help you save money on your energy bills:
There is some good news for businesses when it comes to energy cost savings.
The Federal Government has announced a new electricity and gas relief package , this spares small businesses from paying gas or electricity network charges from April to June if their consumption is less than 25% of what it would typically be. From the information available currently, businesses will need to apply directly with their retailer to receive this discount and the usage charges are still in place and must be paid.
Some retailers have launched very aggressive plans which are up to 26% cheaper than the default market offer, we believe that every dollar saved counts, we encourage our members  to get a free energy comparison to see what savings can be achieved for their business.
A lot of people will be working from home and their energy consumption is likely to increase, they can find out if there are better energy rates available for their household with a free energy comparison- also people should note for the time they are working at home, there are tax deductions to be had of utility bills.
Click here to find out what you can save.
Contact details  (02) 8880 1478 or visit the website
* $1,164 was the average annual savings found for Optometry Australia SME customers using Make it Cheaper from July-December 2019
Filed in category:
Coronavirus
,
Marketing
,
Workplace
Tagged as:
Advantage program
,
COVID-19
,
Marketing