Read time:

1:30min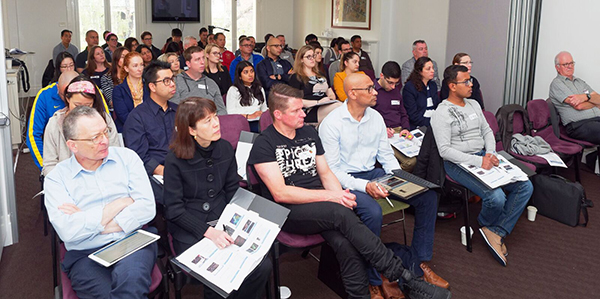 Optometrists at the CASA course. Photo, Neil Murray.
______________________________
By Helen Carter
Journalist
Optometry Australia has run a successful course to qualify practitioners as credentialed optometrists, enabling them to provide the comprehensive eye examinations required for pilots.
The course is run every three years in conjunction with the Civil Aviation Safety Authority (CASA), the government body that regulates Australian aviation safety.
Practitioners become credentialed optometrists, or 'COs', and are then registered with CASA to be eligible to perform aviation eye examinations.
Forty-eight optometrists from every state and territory attended this month's course at Optometry Victoria's offices, boosting the number of potential credentialed optometrists nationwide to about 130. They received 18 CPD points.
The course provides an opportunity for experienced optometrists to refresh their occupational vision knowledge and apply their clinical skills to ensure that the vision of aircrew is of standard, contributing to the high standards of public safety in aviation services.
Credentialed optometrists are required to sign a statutory declaration that they meet best practice standards, including competency requirements such as gonioscopy. They also need to own a comprehensive list of optometric equipment, including a contrast sensitivity chart.
The course was organised by Optometry Australia National Professional Services advisor Sophie Koh with assistance from Professional Development Administrator Rounak Moshfegh and Administration, Member Support and Classifieds Co-ordinator Helen Podbury.
'Pilots' tasks are very specific and require superior vision,' Sophie said today. 'CASA is grateful that Optometry Australia offers this course enabling optometrists to cover the unique requirements for examining pilots' eyes as their vision is important to ensure public safety.'
Presenters included CASA's acting principal medical officer and former fighter pilot, GP Dr Peter Clem, and Optometry Australia members Dr Phil Anderton from NSW, Neil Murray from SA, and Tony Gibson and Sophie Koh from VIC.
The recent course was filmed for an upcoming refresher course for optometrists who completed the course four years ago. Credentialed optometrists are required to refresh their knowledge every four years.
Optometry Australia will offer the refresher as an online course in future to save optometrists time and money travelling from interstate.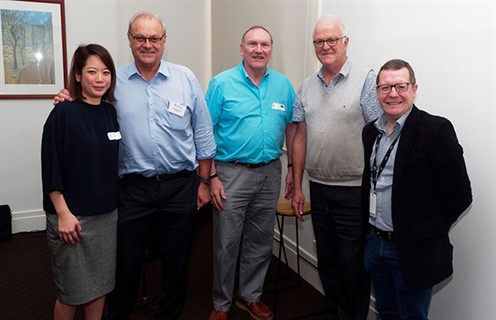 CAPTION: Presenters, L-R, optometrists Sophie Koh from Optometry Australia, Dr Phil Anderton, Neil Murray and Tony Gibson, and CASA deputy principal medical officer, GP Dr Peter Clem
 All pilots, air traffic controllers and flight service officers are required by law to undergo eye examinations. In accordance with Medicare guidelines, aviation eye exams cannot be bulk-billed.
The course is in high demand. Optometry Australia prioritises optometrists who practise near airfields, and those on the waiting list, to ensure that there is not an overload of credentialed optometrists in one geographical area.
The course was developed in 2011 when CASA Aviation Medicine and Optometry Australia signed an MOU to formalise training in vision testing of aircrew and the Credentialed Optometry course was created. Tony Gibson was instrumental in having this course introduced, advocating since 1996 for vision testing services as part of pilot medical examinations.
Filed in category:
CPD, conferences & events
Tagged as:
Aviation & CASA