Read time:

1:30min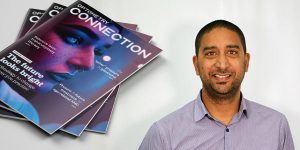 By Natanael Bloch
National Communications Manager
Optometry Australia has announced the appointment of Simon Hanna as Education Editor of its new flagship publication Optometry Connection.
Simon, Optometry Australia's Professional Development and Clinical Policy Manager, joins Optometry Connection's Editor, Jeff Megahan and Clinical Editor, Kerryn Hart.
His role is to ensure alignment of the educational content of Optometry Connection with Optometry Australia's expanding program of quality CPD which also includes regular webcasts and Optometry Virtually Connected.
'Optometry Connection has been created specifically for members, with their needs in mind and its aim is to support optometrists in their day-to-day patient and clinical care decision making. I am very excited to take this new responsibility of Education Editor and join the Optometry Connection team', said Simon.
Optometry Connection will provide at least two hours of quality education each issue with content themes reflected in webcasts from time-to-time to give members more extensive education on particular subjects.
Optometry Connection is due to be distributed to members in the first week of December. The publication replaces Pharma and Equipment magazines.
'Optometry Connection represents a new era in how Optometry Australia delivers quality content to meet contemporary education standards aligned to the OBA's new registration standards and associated CPD guidelines for optometrists', said Optometry Australia CEO Lyn Brodie.
'The publication will take a holistic view of clinical aspects of modern optometric practise. Each issue will include quality articles from top clinicians and researchers, as well as case studies and interviews of leading optometry luminaries. Each issue will be created as a powerhouse of ideas and inspiration', added Lyn.
From 2021, Optometry Connection will be distributed each March, May, July, September and November.
What's in the inaugural issue of Optometry Connection
The inaugural issue of Optometry Connection explores how long-established health care models are being upended by the COVID-19 pandemic.
In response, Clinical Editor Kerryn Hart explores the topic of telehealth and optometry in a comprehensive Q&A session with José Estevez, Optometrist at Flinders University's ophthalmology department, and Enoch Chan, Clinical Director, Optometry at the Teachers' Health Centre (Surry Hills, NSW).
The inaugural issue of Optometry Connection will also include the 21st annual contact lens prescribing trends survey results by Professors Efron, Morgan and Woods. Among the findings the authors found that even in this 'COVID-affected' year, the dominance of silicone hydrogel materials continues to rise.
This December issue will also feature an easy-to-read PBS list lift-out including an updated list of topical scheduled 2, 3 and 4 medicines that can be prescribed by optometrists.
Therapeutic highlights include Dr Katrina Schmid's useful overview on fluoroquinoles in which she notes that while fluoroquinoles are considered the most effective of all the topical ocular antibiotics, and generally safe to use, ocular side effects have been reported, and there are potential risks that need to be considered.
Accessing back issues of Pharma
September's issue of Pharma was the final issue. At the end of 2020 CPD year, members can still access back issues of Pharma with soft copies archived on the Institute of Excellence's online learning platform accessible indefinitely. They will also be available for members to complete time-based CPD.
Filed in category:
CPD, conferences & events
,
General news
,
Guidelines & practice notes
,
Member resources
,
National & State initiatives
,
Registration
,
Sector news
Tagged as:
AHPRA & OBA
,
Leadership
,
Member services
,
Pharma
,
Sector changes