Read time:

1:30min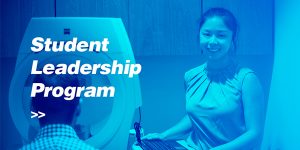 By Optometry Australia
Applications to participate in the Optometry Australia 2021 Student Leadership Program are now open.
This program will give students the opportunity to build their understanding of the purpose of different models of leadership, as well as helping to identify and clarify their individual leadership strengths and values.
Successful applicants will create and develop networks with other attendees in both formal and informal settings, and have the opportunity to meet and network with a variety of inspiring sector leaders and influencers. Students who have attended this program in previous years have called it "life-changing", "invaluable" and the opportunity to be "future-ready". Watch their testimonials here.
Applications are due by Friday 16 April 2021. Interested students are invited to draft a brief one-page application, responding to the below questions:
What do you think being a leader means?
What leadership experience have you had?
Why do you think you would benefit from participating in the Optometry Australia Student Leadership Program?
Student have to email their application, along with a brief (100-200 words) written referral from a lecturer or tutor at their university, to our Policy and Advocacy Manager Sarah Davies, at policy@optometry.org.au.
Successful candidates will be notified shortly afterwards and Optometry Australia will provide funding support for meals, accommodation and travel to attend.
Filed in category:
ECOs & students
,
General news
,
National & State initiatives
Tagged as:
Awards - honours - grants-bursaries
,
Future
,
Leadership
,
Students
,
Universities