Read time:

1:30min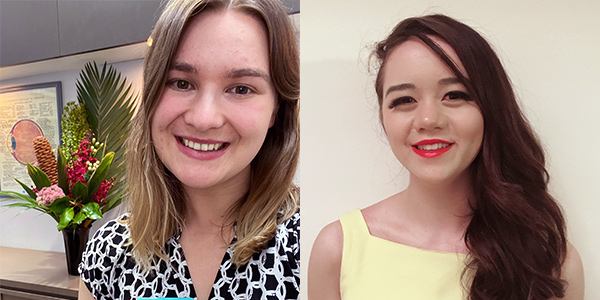 By Natanael Bloch
Acting Communications Manager
For International Women's Day, two young leaders have accepted to answer a few questions. Tori Halsey is a an early career optometrist from Tasmania, Director for Optometry Tasmania and Director at Optometry Australia . Briana Tsang is an optometry student from Queensland University of Technology and a 2020 participant to the student leadership program.
Do you think your generation is more concerned/aware of questions regarding gender-balance in the workplace, women empowerment?
Tori: Women have always been aware of not only the gender imbalance in the workplace but also the power imbalance. Until more recent times women have been under represented, be that in industry, practice or leadership roles. Minority groups are restricted in how much change they can initiate.  Women in generations before have made it possible for my generation to be in the position to bring awareness to female empowerment and we're seeing a movement in such a way.
Briana: I do believe that my generation is more aware of gender-balance in the workplace, however, I am personally not concerned as a final year optometry student soon to enter the optometric workplace. That is, it is apparent to me that the optometry profession is predominantly female as of 2014, my cohort being at least 60% female. With this increased female presence, more support systems and resources are being set up by organisations like Optometry Australia and more females are rising into leadership positions to further potentiate this trend.
Are there females who are a source of inspiration for you? Inside and outside of the optometry world? And why?
Tori: I'm very blessed to have a group of strong female friends (who happen to also be optometrists) that are a constant inspiration to me in all they achieve and do. I've been lucky that there have been women in positions of power throughout my optometry career, university lecturers, clinical supervisors and board mentors – who have paved the way and given women the representation we require to thrive. The importance of seeing women in positions of influence has a flow on effect – Empowered women empower women.
Briana: There are many female lecturers at QUT who inspire me with their dedication and scope such as Dr Shelley Hopkins who I saw win the Peter J Montgomery Award for Social Justice last year and Associate Professor Katrina Schmid who has done amazing research on myopia who I was also very luck to have as my research project supervisor. In addition, I found it extremely insightful to meet Sophie Koh at the 2020 Optometry Australia Leadership Program who, in addition to having extensive experience in the optometric field having worked in the Northern Territory, travelled overseas to places like Papua New Guinea, also works for Optometry Australia, supporting optometrists with queries related to professional practice, adjunctive to following her singer-song writer passion! There are many more who I could name too! In short, I find it inspirational to read about and witness the incredible female and male optometrists who continue to shape and challenge optometry.
As an ECO what are you advise to be a female leader?
Tori: I strongly would urge any female optometrist to reach out to other female optometrists in their local community/area. By building networks and connections it can help you find and develop your own opportunities and support others in doing so as well.
Briana: I was lucky enough to have the opportunity to be Vice-President for the Queensland Optometry Student Society based at QUT in addition to attending the Optometry Australia Student Leadership program and I would like to think that these opportunities have come to me because of who I am as a person and professional. Therefore my advice would be to always be the best version of yourself and no one else, do what you are passionate about and don't let opportunities slip by.
Filed in category:
ECOs & students
Tagged as:
Future
,
Leadership
,
Students