Read time:

2:0min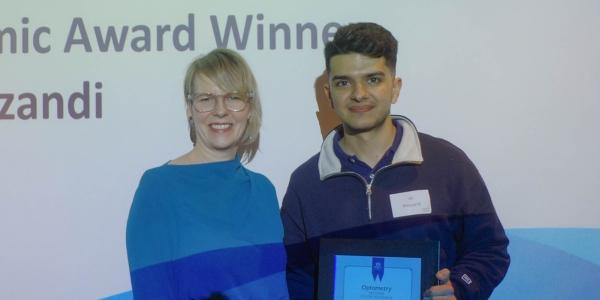 After struggling to find his groove early in his optometry studies, Ali credits his friends with giving him the push he needed to emerge at the end of fifth year as a top performer, delving into outreach work and earning the 2022 OV/SA Flinders University Academic Award for final year students.
After finishing high school in 2016, Ali Khazandi had no clear idea of what to do next. After planning a gap year and considering dentistry, he ended up being accepted into an optometry course at Flinders University halfway through the year.
'At school I was more interested in economics and finance, but my parents were pushing me towards medicine. I met them in the middle and decided to do optometry,' said Ali.
One factor that led to the decision was the desire for financial stability in his career. Having emigrated from Iran with his family when he was just five years old, he saw his father, who had previously administrated universities, working at a chicken farm to make ends meet.
'As a kid, I never noticed we were struggling. That just shows how hard my parents worked.'
But optometry wasn't immediately a hit for Ali – for the first three years, the academic focus was more generalised, and he found it hard to find a groove he was comfortable with. He made it through to the Master's course, but it was only when he met a group of friends passionate about the profession did he start to feel inspired about the potential.
'When I started it just felt like classes, but they pushed me to really apply myself. Once I started appreciating what optometry had to offer, the motivation started to come from within. I studied up to ten or more hours a day, and when it came to seeing patients in fifth year, I gave the best possible care I could. It was a struggle at first, but then I started loving it. I think my teachers were a bit surprised!'
Ali's hard work paid off, and by the end of his studies in 2022, he had topped the class and earned the 2022 OV/SA Flinders University Academic Award. In February, he began working at Bupa Optical Marion, the same place he'd been working as an optical dispenser during his study, particularly in the first few years when the university workload was lighter.
Ali notes that he's experienced the full run of the clinic over the five years he's been working, moving from the front to the back, and his familiarity with the staff there has made the transition to a full-time optometrist much smoother. But one aspect of the clinic that he particularly appreciates is the receptiveness to his desire for rural work.
'I told them I'm intrigued with rural work, and when I put my hand up, I got it. I've now done a few different outreach trips. I completed a three-week stint with the South Australia Health and Medical Research Institute, and I managed to get up to Indulkana and Mimilli in the APY lands to do eye tests for Indigenous people as part of the Visiting Optometrists Scheme, given they don't have a regular optometrist or ophthalmologist up there. I'm looking forward to doing another outreach trip to the APY lands in November to do the same sort of thing,' he said.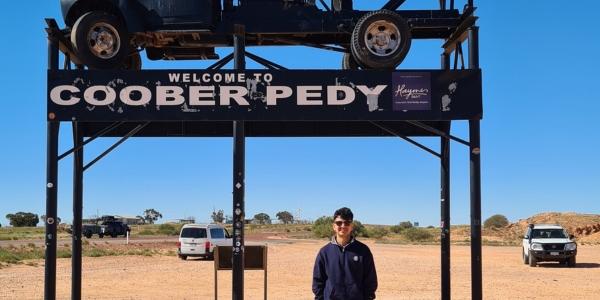 Ali credits lecturer José Estevez from Flinders University for encouraging his outreach ambitions, but when it comes to patient care, Ali's inspiration comes from closer to home.
'My grandma was a good influence on me. She was the one who told me to treat every patient like they're a family member, which put things into perspective when I was in fifth year. I've since learned that everyone who comes through is different, from what medications they're on to what opinions they have. You have to manage that, but it's a learnable skill,' said Ali.
The balance of optometry
Now that Ali has discovered the opportunities in optometry and settled into his work, he reports that the lifestyle is much to his liking.
'Work-life balance is important to me. When I was studying it was a seven-day roster, but now that I've graduated, I can go out with friends and family, get to the gym, spend time with my girlfriend. The job allows for that kind of balance, which I'm grateful for. And it's important not to overwork yourself and recharge your social battery, because that's what you bring back to your patients,' he said.
Ali also stresses the importance of meeting different kinds of people, and part of that is travelling as widely as he can. Besides visiting relatives in Iran, he has been all around Australia, visited Malaysia and Korea, and is currently planning a three-week trip to Japan in January.
That said, Ali finds a solace in Adelaide.
'I really like Adelaide. It's nice and quiet. Not much traffic, a nice day-to-day. Plus, the wineries are amazing.'
But Ali's ambitions are not so quiet, and he wants to see and do as much as he can.
'I only know a tiny fraction of what there is to know. I want to take optometry to its full extension. I want to work with ophthalmology to learn more, and one day run my own practice with its own outreach programs. At Bupa, we have a new machine learning program that scans retinas, and in the United States they're doing some interesting things with lasers. I'd also love for optometrists to have access to oral therapeutics, because I know some rural practices that could really benefit,' he said.
'It's a changing field, and there's always a lot going on. My attitude about new things is to simply go for it and see if I can make it work.'
This story was created and shared by OV/SA.
Filed in category:
ECOs & students
,
General news
Tagged as:
award winner
,
flinders
,
flinders university
,
graduates
,
regional