Read time:

1:30min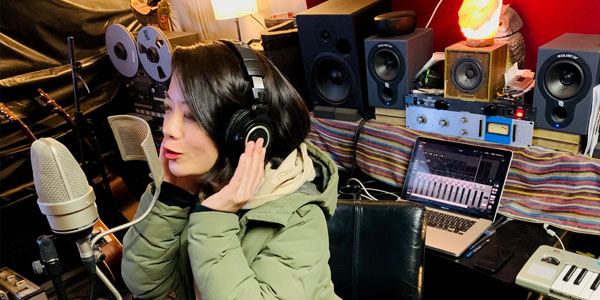 By Natanael Bloch
National Communications Manager
In May we called on all our creative members to participate in a fun and collaborative project that will become the inaugural Optometry Australia music video and virtual choir.
We invited members to share their reflections, stories and poems to help shape and inspire a song. Thank you to all those members who shared their thoughts and creativity with us.
Today we invite all those who would like to be in our inaugural music video. Do you like to dance, sing, lip-sync or TikTok?
Join us for a collective social Zoom session on Thursday 11 June at 8 pm AEST for a briefing on how you can star in our music video and virtual choir.
You will have the opportunity to contribute, to be one of the first people to hear the brandnew song, and to know more details about the final release of the video project.
This creative project is being directed by our very own National Professional Services Advisor and talented professional singer/songwriter Sophie Koh. Here are Sophie's answers to some questions we had about the project.
What is your link to music?
I have played instruments and loved singing all my life. I studied classical piano at the Melbourne Conservatorium of Music before entering optometry. My interest in music diverted into the pop songwriting, and ultimately won Triple J UnEarthed competition in 2003 with one of my first original songs. I have released 4 independent studio albums since and have dabbled in most fields of music, from classical to pop, jazz to cabaret.
How did you come up with this project?
The leadership team at Optometry Australia first suggested that we should do something fun and social that aims to bring our members and optometrist community together during COVID19. Some brainstorming led to the team tapping me on the shoulder to lead this musical project.
Do you see similarities between optometry and art?
I often view optometry as not purely science, but a continuum of science and art. The art in eyecare can span from the purest form when looking through a microscope at a single cell structure, to how as health practitioners we often don't have exact answers or solutions for patients and the community, but need creative ways to solve or communicate a scientific/clinical case or manage a business.
What would you say to members to encourage them to participate to this project and join you for the collective social and briefing session on Zoom Thursday 11 June at 8 pm AEST?
As optometrists, we often sit in dark rooms and work within small teams. Let's join forces to create something unique together. We know there are many creative optometrists across the country who love to sing, play air guitar or have long dreamed of taking part in a music video –now is your time.
If you have any questions, please contact Sophie via policy@optometry.org.au or (03) 9668 8500.
We know these are challenging times but we are constantly impressed by the creativity and resilience of our members. We cannot wait to see what we create together. Rendez-vous Thursday 11 June at 8 pm AEST.
Filed in category:
General news
,
Marketing
,
National & State initiatives
Tagged as:
Leadership
,
Marketing