Read time:

1:30min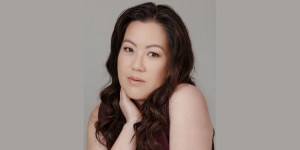 Meet Tsu Shan Chambers, a Sydney-based optometrist who wears many different hats – she is also an actor, writer and producer, a public health advocate, a production company owner, and a mother to three children.
While Tsu Shan's passion for storytelling and optometry may seem like two different pursuits, she has found a way to balance both, and is currently in the process of producing her upcoming film, My Eyes, which tells a poignant story about eye health and the realities of unavoidable blindness.
Her passion for the creative arts
'I have always loved the arts,' Tsu Shan explains. 'I was that typical Asian cliché though – I got into both medicine and musical theatre upon graduating, but I wasn't allowed to pursue acting. Back in high school, I worked casually at an optometry practice, and I always knew that I wanted to help people. So, I decided that if I had to pick any part of the body to look at every day, the eyes would be it!'
With a Master of Public Health degree and a Graduate Certificate in University Learning and Teaching under her belt, Tsu Shan reveals that her interest in public health first ignited in high school when she discovered a passion for volunteering and serving her community. This motivated her to volunteer at the time as an optometrist in regional Australia, and in several developing countries around the world.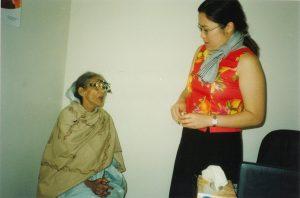 'Whilst volunteering, I formed an incredible bond particularly with the women in each country. I knew back then that I wanted to make a positive difference, one life at a time, particularly in the lives of women and minority groups.
'When my third child turned one, I started to follow my creative dreams and merge my social impact goals with my love for storytelling. At the time, I was actually looking for something for my kids to do during the school holidays. I came across the National Institute of Dramatic Arts (NIDA) and decided that I wanted to do something for myself. I auditioned for one of their programs, got in and the rest is history, as they say.
'My work in the creative arts, telling stories about issues that matter – it's a privilege. It keeps me curious and compassionate about the human condition, about life and what makes us authentically flawed. I need to constantly think outside of the box and be adaptable when working creatively and that helps with my optometry work, especially when I work in many different locations in any given week. It makes for great conversations in the consult room, that's for sure!'
Taking moments for self-care
During her career, Tsu Shan has worked at executive levels in various major corporations. She also managed her own integrative health centre for women. While both came with their own challenges, she says these experiences have taught her the value of perseverance and discipline, and how to operate at an extremely high capacity.
'I learned the importance of self-care. As a woman, it is so common to put yourself last, but you do need to look after yourself and keep your cup full so that you can be there for others, especially your family.'
Right now, Tsu Shan splits her time between optometry and her film and TV production company, Wise Goat Productions. Through the art of storytelling, Wise Goat Productions aims to bring awareness to issues that matter, a cause she is wholeheartedly devoted to.
'Seven years on, I still work casually as an optometrist, mostly spending time screening kids' eyes in disadvantaged schools in lower socio-economic areas. Developing a feature film or TV show costs a lot of money and can take many years, so until I get my 'break', I'm grateful I have that option to work as an optometrist.'
Tsu Shan was recently picked as one of the Producers on Inside Film (IF) Magazine's 'Rising Talent List 2023' and was included in the inaugural AA122 (Asian Australian) List of 2022, which recognises Asian Australians who've had the most impact on Australian culture, society and institutions over the past year.
'This comes from enjoying what I do, and being willing to give back,' she said.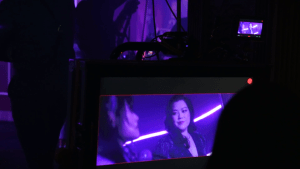 Achieving a healthy work-life balance
The secret to achieving a healthy work-life balance that works? It's firstly knowing what your 'right for you' goals are; Tsu Shan says.
'Every morning, I practice yoga before I start my day and love long walks. I am very particular about my health, not just because I'm an actor, but because my days are very long and I need to keep well, physically and mentally, so I can continue to do what I do.
'It is easier now that my kids are older, but my days have always been long because I choose to spend time with my family and work when they aren't home or are asleep. I do work really hard – but it's really important to also be kind to yourself. It's okay if you don't get everything done or the house is a mess. It is okay if you just want to binge three episodes of TV and do nothing for a while. Listen to what you need.'
Overcoming tough challenges
'When I had my first child nearly 16 years ago, I was working as an executive in a large optical corporation. I had planned to go back to work after six weeks and had painstakingly frozen litres of breastmilk so that my husband could then stay at home and feed our baby. However, my baby refused to drink the expressed milk from the bottle as she associated the breastmilk with me. My employer wouldn't let me breastfeed on demand and allow my husband to bring my baby to me at work. So, I ended up needing to step-down from my position and find other options to work from home.
'When I was about to have my second child, I remember being told by another senior executive that he "did not believe that women should be paid not to work". When I came to the realisation that I wasn't going to receive any maternity leave being self-employed, I ended up taking myself up to regional Queensland where I worked at eight months pregnant, full-time, for a month. This enabled me to have the money to stay home with my baby after giving birth for at least six weeks. Needless to say, I am so pleased times have changed somewhat and there are really good maternity and paternity leave policies in most places.'
My Eyes – A project that unites Tsu Shan's passions
 'My next feature film, My Eyes, is truly a project that merges my background in optometry with the creative. It is a romance drama inspired by true events of my life when I volunteered at the Sydney 2000 Paralympic Games. My Eyes is made by women, for women, and is culturally and linguistically diverse (CALD) and disability led. We want audiences to follow their true heart's desire. My Eyes is about reclaiming one's soul and to not be afraid of second chances.
'From a social impact perspective, the film is inclusive both behind and in front of the camera, representing diversity across culture, language, gender and ability.  There is a focus on ability as opposed to disability.'
Tsu Shan's film My Eyes aims to raise awareness about eye care and the prevention of avoidable blindness. It has an exciting international cast, and is set for production in Melbourne in July of 2023. For more information on how to support Tsu Shan's exciting new project, find out more about it here.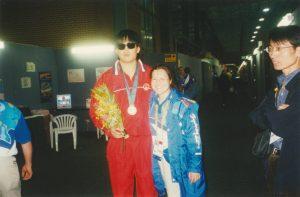 ---
Do you know someone who is pushing boundaries or challenging the norm?
This year, the theme of International Women's Day is 'Cracking the Code: Innovation for a gender-equal future'. In line with this theme, Optometry Australia is recognising leaders and changemakers within our sector who are 'Cracking the Code' and using innovative approaches to shape new social, economic and cultural codes.
Like Tsu Shan Chambers, if you know someone in our sector who is challenging the norm, and embracing new ideas, technologies or innovations, we ask you to help us celebrate them by nominating them to share their story and journey. Simply send an email to community@optometry.org.au, and let us know how they are 'Cracking the Code'.

Filed in category:
General news
,
Members & member initiatives
Tagged as:
IWD
,
members