Read time:

1:30min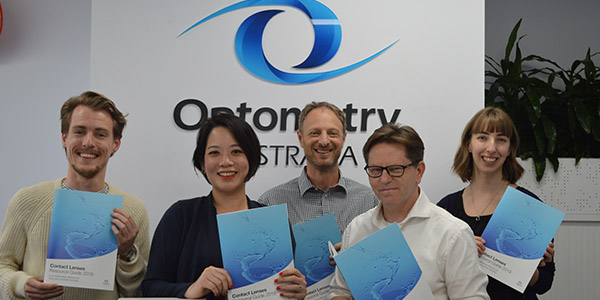 The Optometry Australia team who worked on the contact lens guide, L-R, Optometry Australia brand custodian and multimedia designer and designer of the guide Lachlan Hessing, national professional services adviser and clinical editor of the guide, Sophie Koh, business development manager Michael Schiller, features editor and editor of the guide, Jeff Megahan and publications and digital manager Jess Donald proudly show the finished product. Absent, the guide's assistant clinical editor Lisa Ho.
By Helen Carter
Journalist
Optometry Australia has produced a clinical resource guide on contact lenses for members to keep and use in their every-day practice.
By now all members should have received a hard copy in the mail of The Contact Lenses Resource Guide 2019, A comprehensive reference for Optometry Australia members. An electronic version can also be found online under the clinical areas of interest section.
The reference will help keep practitioners up to date with contact lens parameters, materials and modalities. Most contact lenses, excluding novelty lenses, are included.
The guide has also been mailed to all student members at Australian optometry schools.
Its project leader, Optometry Australia's National Professional Services Adviser Sophie Koh, said the guide was last published by us in 2013 and since then many new products have debuted on the Australian market, and many have been removed.
'I used to look forward to receiving this guide every year as it was a reference I would use on a daily basis with my patients and guided me through my student days to get a grasp of what contact lens options were available,' Sophie said.
It addresses important developments in contact lenses including the expansion of silicone hydrogel lenses, toric and multifocal options, orthokeratology and soft myopia control lenses.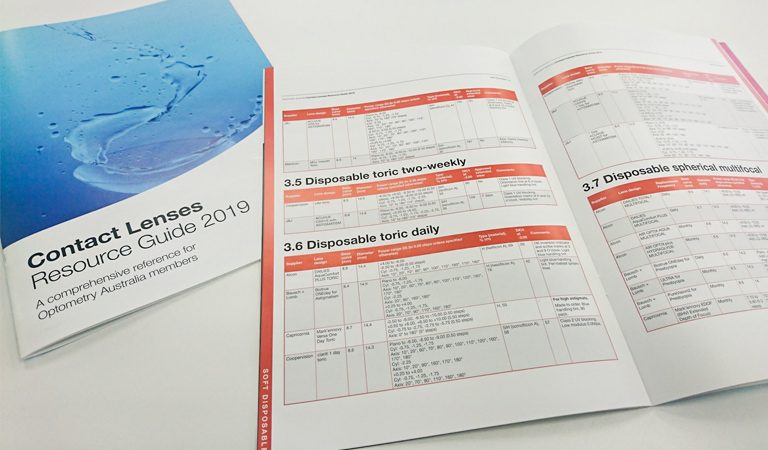 'Our guide provides clinical data for prescribing and fitting, making it clinical data-centric more than brand-centric,' she said.
'We spent a year working on the guide and liaising with contact lens companies and are pleased to bring this important resource to our members.
'Its release follows strong demand from members which is understandable given the complexity and range of products available today and the need for optometrists to routinely consider lens parameters and materials to best suit each patient in their chair.'
Practitioners can easily compare like-for-like and have an accessible and efficient chair-side overview to support decision-making.
'The guide also provides optometry students, new graduates, early-career optometrists or optometrists returning to the workforce, with an updated summary of contact lenses in a comprehensive, educational and portable format, without bias,' Sophie said.
'We believe that there is nothing quite like it out there. It's my contact lens anchor point.'
The guide features colour-coded easy-to-find sections on:
Contact lens solutions
Rigid gas permeable (RGP) designs, materials, Ortho-Keratology designs and hybrid designs.
Soft disposables – spherical monthly, two-weekly and daily, toric monthly, two-weekly and daily, spherical multifocal, toric multifocal, myopia control and cosmetic tinted.
Soft conventionals – spherical, toric, multifocal/bifocal, specialty and cosmetic tinted.
Support and advice – contact details for 10 companies to trouble-shoot problems.
Back vertex distance tables
Lens warranty information
Industry news is also covered.
Apart from the Optometry Australia team pictured above who worked on the guide, optometrist Lisa Ho, the guide's assistant clinical editor, helped collate and summarise data and bring the guide to reality. Lisa is the South Australian president of the Cornea and Contact Lens Society of Australia.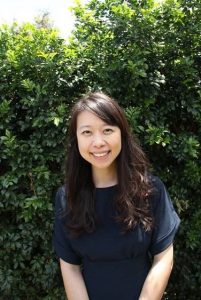 Lisa Ho
To continue this resource for future years, we would like members to give us their feedback by emailing comments to national@optometry.org.au
Filed in category:
Guidelines & practice notes
,
Member resources
,
Patient care & management
Tagged as:
Clinical practice guides
,
Contact lenses
,
Eye examinations
,
Member services
,
Myopia
,
Patient management
,
Practice notes