Read time:

1:30min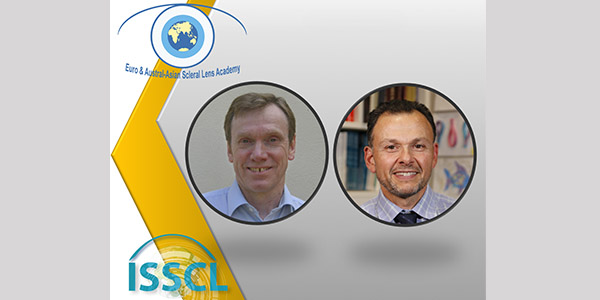 Scleral lens pioneer Ken Pullam from the UK, left, and Damon Ezekiel
By Helen Carter
Journalist
A boom in scleral contact lenses and the need for education to promote the lenses and help optometrists with their fitting has led to the formation of a new scleral lens organisation.
Perth optometrist and Optometry WA member Damon Ezekiel is a founding member of The Euro and Austral-Asian Scleral Lens Academy or EASLA.
He said the scientific educational association was established because there was a scleral lens foundation in America but not much scleral lens education outside of the US.
The non-profit association aims to promote the development and knowledge of scleral contact lenses and related disciplines to the public and eye care practitioners in Europe, Oceania and Asia, and in countries where there is not a local association of scleral lenses.
The academy aims to help practitioners gain insight and education in fitting of the specialised lenses which can be used for 17 different indications including keratoconus, dry eye, presbyopia, Sjogren's Syndrome and post LASIK and corneal transplant.
Its website includes definitions of the lenses, handouts, guides and articles as downloadable pdfs, do's and don'ts with scleral lens wear and registration to become a member.
Mr Ezekiel is the education chair of the academy, which he founded with its president, lens designer and contact lens specialist Daddi Fadel from Italy, vice-president, optometry lecturer and scleral lens specialist Dr Elena Belousova from Moscow and optometrist Carmen Abesamis-Dichoso from the Philippines whose practice focuses on speciality contact lens design and myopia control.
Mr Ezekiel is also the first Australian president of the International Society of Contact Lens Specialists and owns contact lens and general optometry practice Ezekiel Eyes in Perth.
Spread the word about benefits
'Scleral lenses are so good for so many people and we need more people to spread the word, and educate more optometrists about their benefits,' he said. 'There's a boom at the moment. They went out of fashion when other contact lenses came along but now, they're coming back into fashion because they're so comfortable and good for vision.
'Some people can't tolerate other contact lenses or may have compromised vision with other contact lenses, such as for keratoconus or post LASIK surgery.
'There is growing interest for special contact lens fitting. Sclerals are fantastic for people such as miners and farmers who often get dust in their eyes but they're not for everyone.
'They're a bit challenging to fit and take a bit of chair time with patient nuances to work out. Patients have to come back for alterations and you need a different trial set but we can learn off each other and help each other and it's worth it for the patients.'
Mr Ezekiel's optometrist father Don is a scleral lens pioneer, known as the father of gas permeable scleral contact lenses. Don established his own practice in Perth in 1970, specialising in contact lenses and as he could not source the contact lenses he wanted, he began designing and making them for his patients. He started his own contact lens manufacturing company, Western Australian Contact Lens Manufacturing, later renamed Gelflex Laboratories.
In 1997 Don was awarded a Member of the Order of Australia for his contribution to the development of contact lenses including researching and developing the IOGEL intraocular lens, the gas permeable scleral lens, and the soft translating bifocal lens.
Damon and Don will speak at the International Summit of Specialty Contact Lenses in Rome in November, along with Optometry Australia treasurer and board director Gavin O'Callaghan, Associate Professor Stephen Vincent from QUT and principal optometrist in the scleral lens service at Moorfields, Oxford Eye Hospitals Dr Ken Pullman pictured above.
Eye care practitioners, educators, researchers and industry partners with an interest in specialty contact lenses can register to become EASLA members.
Filed in category:
General news
,
Patient care & management
Tagged as:
Contact lenses
,
Patient management