Read time:

1:30min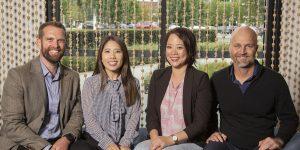 (Image) Optometrist advisors: (L-R) Ben Hamlyn,
Lyn Hsieh, Sophie Koh, Dom Willson
Whether you are a recent graduate, an employee or employer, a locum, a practice owner or looking to settle down and retire, optometry can present its fair share of challenges.
At times, certain situations may require expert advice, such as managing patient conflicts or navigating legal and regulatory minefields. In these instances, as a member of Optometry Australia, you can take advantage of our Optometry Advisor Help Desk, a valuable resource that can assist you in all facets of your day-to-day work.
From combing the fine print of complex employment contracts to providing guidance on the right Medicare item number to bill, optometrist advisors Luke Arundel, Ben Hamlyn, Lyn Hsieh, Sophie Koh and Dom Willson are ready to support you with independent and unbiased advice in complete confidentiality and without judgement. This member-only service is available Monday to Friday, and is only an email or phone call away.
In addition to the Help Desk, members also have access to free basic queries with our HR partner Industry Legal Group (ILG), led by Emma Dalley and her team of lawyers with specialised knowledge of the optometry profession and employment conditions.
How can the Help Desk assist me?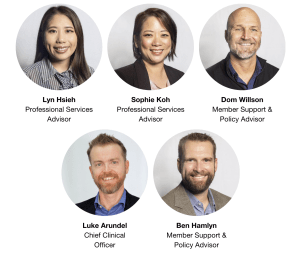 –
Regardless of whatever stage you are at in your optometry career, there may come a time where you encounter a tricky or unfamiliar situation, or just need some reassurance.
"A patient is becoming abusive – can I refuse to see them? What steps can I take to protect myself from being held liable? How can I handle a patient's refund request for specs? Help! I've been audited, what do I now? I'm about to sign my first contract – what exactly does the post-employment restraint mean? What kind of salary should I expect?"
No matter the query, the Help Desk and ILG can provide support and advice on various matters, such as:
Employment contract reviews, including post-employment restraints
Patient management, referrals, patient complaints, reporting patients who are unfit to drive
Billing the correct Medicare item number
Record keeping, privacy and medico-legal issues
Locuming – rates, finding work, superannuation, insurance etc.
Buying an existing practice or starting a new practice
Medicare, Ahpra, or Health Fund audits
Introducing private billing in your practice
Employer rights and obligations
Managing tricky employees
HR and workplace issues
Parental leave and taking a career break
CPD, Ahpra registration and returning to work after a career break
Salary expectations and approaching the 'pay rise' topic
General career advice
You can also find the most frequently asked questions from members under our FAQ page here.
Testimonials from our members
Those who have used the Help Desk have consistently given it a 98% satisfaction rating, praising the quality of the advice they've received. One member expressed their gratitude by saying, 'My advisor provided prompt, friendly and reliable professional support on a range of clinical questions which will aid in the future care of patients', while another said they were 'so thankful for the confidential, wise advice I received from a colleague who just wants the best for me.'
National Professional Services Advisor, Sophie Koh, recalls one instance where she worked with ILG to help a member receive her entitled long service leave.
'We had a member who had worked at her company for seven years and had taken 12 months of unpaid parental leave during that time. She was incorrectly informed by her employer that she wasn't eligible for long service leave due to the time she had taken off.
'ILG was able to assist the member, clarifying that she was legally entitled to long service leave in her state, despite taking parental leave.
'This was a great outcome; many employee and employer optometrists may not be aware of their entitlements in the workplace. This is why Optometry Australia provides this service, so members have access to a team of experts that can help them to navigate such situations and ensure that they receive the correct advice and support.'
Complete confidentiality
Member Support & Policy Advisor, Dom Willson, said all enquiries, whether it be clinical, ethical or professional, remain completely confidential within the team.
'We've assisted many members throughout different stages of their career. Some situations can be difficult to handle alone – if you ever feel isolated or overwhelmed, know that we are here to help.
'We understand the importance of privacy, and your enquiries will always remain confidential within the team. You can trust us to create a safe and supportive space where you can discuss any queries or concerns you have with the confidence that we will never notify your employer that you've reached out to us.'
All Optometry Australia members can reach the Optometry Advisor National Help Desk from Monday to Friday via email at national@optometry.org.au or phone (03) 9668 8500.
Filed in category:
Member resources
Tagged as:
Member services