Read time:

1:30min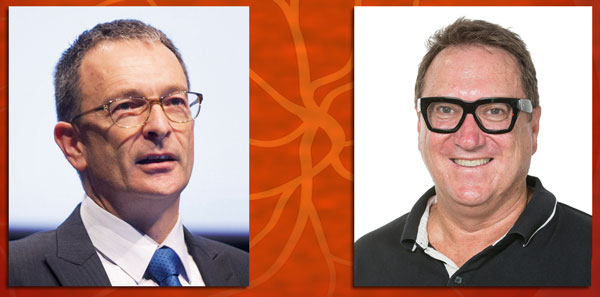 Associate Professor Mark Roth
BSc(Pharmacology) BAppSc(Optom) PGCertOcTher NEWENCO FAAO OAM
Associate Professor Leo Hartley
MBBS DipAppScOptom FACBO FACO GradCertHltProfEd GradCertOcTh
University of Melbourne, University of Sunshine Coast
Associate Professor Mark Roth OAM, clinical editor of Pharma interviews Associate Professor Leo Hartley, one of Australia's most prominent optometrists who has also completed a medical degree. His dual qualifications and clinical experience provides a rare insight into the commonality of medicine and optometry.
Roth: Firstly, congratulations on your obstructive sleep apnoea (OSA) article, published in this issue of Pharma. It's a massive work and it covers the topic comprehensively. Why do you believe it's an important topic for optometrists?
Hartley: It's my opinion that optometrists, as primary care health professionals, should be aware of what ophthalmic conditions can signal systemic conditions in our patients. OSA has emerged as an important risk factor for many systemic associations.
Roth: I was surprised to read of the broad range of ophthalmic associations of sleep apnoea, such as non-arteritic ischaemic optic neuropathy and central serous chorio-retinopathy. Is there sufficient evidence to include glaucoma?
Hartley: The literature provides mounting evidence that, at the very least, OSA contributes to faster rates of progressive field loss and retinal ganglion cell loss. Obviously, larger studies will need to be conducted to reveal the mechanism of damage that may be exacerbating (or even causing) primary open-angle glaucoma (POAG) and normal tension glaucoma (NTG).
We know that optic nerve dysfunction results from hypoxia, acidosis, hypercarbia and airway obstruction, frequently observed in patients with OSA. The mechanism I've reported on is reperfusion injury as a result of these factors.
Roth: I certainly will be including signs and symptoms of OSA in my history taking. This condition is yet another example of how optometry can work more closely with medicine. Do you think optometrists are under-recognised with their clinical skills and expertise and the part they can play in the health system?
Hartley: The increased use of the 'doctor' title by optometrists (in my opinion, rightly) reflects the increased role that optometrists play as true primary care health professionals. Optometrists have excellent undergraduate (and in some cases, postgraduate) training in basic sciences, medicinal systemic and eye health which form the important STEM knowledge needed to stay updated in this rapidly-expanding profession.
Roth: What would you suggest to early career optometrists who are interested in taking greater responsibilities in managing their patients? How can they build bridges with medical practitioners and specialists?
Hartley: Communication is the key. A routine eye examination report to GPs builds confidence that you know what you're talking about. Recognition by the government that optometrists can diagnose and expedite referrals for diabetic retinopathy has given optometry greater credibility in the eyes of GPs. Of course, there is no substitute for face-to-face visits when you're trying to establish yourself in an area. Visiting pharmacists is also very valuable, as they can refer patients to you and also feel comfortable calling you when they need advice.
Phoning the local ophthalmologist when you first refer a patient will help establish a good rapport.
Roth: Hypertension is also a focus of this edition of Pharma, which includes another excellent chair-side reference in a series from the Centre for Eye Health. As the introductory article from Paula Katalinic and Gonzalo Jacome states: 'hypertension significantly increases the risk of cardiovascular disease.' What is the front line General Practitioner perspective and main challenges of hypertension and cardiovascular health?
Hartley: Risk factors for cardio-vascular health should be determined. These can be modifiable and non-modifiable. Risk calculators have been developed for this purpose. The first challenge GPs often have is getting patients to take care of themselves (and that means taking responsibility for their diet, exercise, alcohol intake and of course, smoking).
Brief interventions and referrals to allied health professionals (exercise physiologists, nutritionists), with GP follow-up, can really help to get patients to change. A healthy diet (with minimal salt and an emphasis on unprocessed foods, particularly vegetables and some lower-fructose fruits) can go a long way to decrease body fat and minimise reliance on antihypertensive drugs. Cutting down on established drinking and smoking habits (which are, effectively, self-medications) takes considerable commitment from patients.
As you know, depression is a significant risk factor for heart disease, so a healthy diet leading to a healthy gut biome has been shown to decrease reliance on medication for depression.
It can be frustrating (albeit essential, in many cases) having to rely on medications to control patients' blood pressure. Also, of course, several studies have shown (as with glaucoma) quite poor medication adherence 12 months after initiation.
Roth: On the positive side, there is strong evidence that controlling hypertension leads to reduced cardiovascular disease-related morbidity and mortality. Is it as simple as that?
Hartley: Obesity, and dietary salt intake of course, lead to hypertension, cardiovascular disease and diabetes. These conditions, if left untreated, lead to a cascade of events that include renal disease, stroke and heart attack.
My emphasis is on the whole patient. That is: encouraging the patient to work with me to take charge of their health as a whole and to see me as their health coach (who has a wide armamentarium of advice, other health professionals and medications to help in that process). Just as optometrists do when helping patients make appropriate lens choices, I try not to just prescribe treatments without the patient's involvement in the decision making. Although, sometimes in cases where patients refuse to be actively involved in their own care ('just fix me doc') that is necessary.
Roth: Hypertension is not like a dial where you can turn pressure up and down accurately. What drugs are mainly used and are there new advances in medical therapy?
Hartley: Firstly, just as in glaucoma, we want to assess the risk of morbidity before commencing treatment. See Table 1 below for a list of hypertension drugs.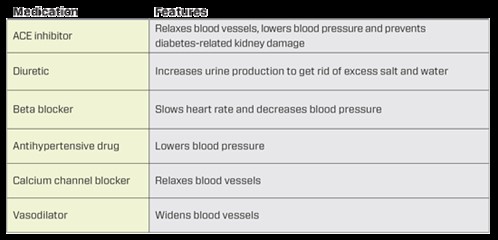 Table 1. List of hypertension drugs
Roth: All drugs come with potential side-effects. This is why an initial case history of ALL the drugs a patient is taking is so vital. Several vascular medications come with significant ocular effects. For example: Digoxin for atrial fibrillation can cause xanthopsia, or yellowing vision. What are the main CV drugs for optometrists to look out for?
Hartley: Digoxin is fortunately not used that often these days. Most of the beta-blockers will have an effect on IOP and may cause dry eye (so may need tear lubricants concomitantly). I usually don't start a glaucoma patient on a topical beta-blocker if they're on a systemic beta-blocker already. That's not to say it won't have an additive effect, because it may.
Roth: What are your views regarding optometrists measuring their patients' blood pressure? Perhaps using a digital sphygmomanometer?
Hartley: I believe there is certainly no harm in checking blood pressure and doing a random blood sugar test. In some cases where the patient has never consulted a GP, it can be a game changer. For others, the more times a patient is reminded that they need to look after themselves, the better.
Before starting patients on antihypertensive medication, I usually encourage them to buy a digital sphygmomanometer and measure their BP twice daily (just after waking and before dinner) for at least five days. That is far more accurate than doing it in our rooms.
As I mentioned, having the patient really involved in their care increases the chance of adherence to the health measures we are trying to achieve (taking medication, better weight management, ceasing smoking or cutting down on alcohol).
Roth: Professor Hartley, thanks again for your great article and contribution to our discussion.
Filed in category:
CPD, conferences & events
,
Member resources
Tagged as:
Patient management
,
Pharma
,
Scope of practice