Read time:

1:30min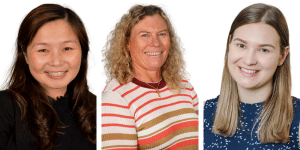 Margaret Lam has been appointed the 40th President of Optometry Australia and Fiona Moore, Deputy President. Their appointments were ratified at a national board meeting on Tuesday 28 June 2022.
They join Tori Halsey in these leadership positions. Ms Halsey was re-appointed Treasurer in November 2021.
Dr Lam (Optom) (pictured top left) and Ms Halsey (pictured top right) joined the national board in 2019. Ms Halsey assumed the role of Treasurer in 2020 and Dr Lam was appointed Deputy President in November 2021. Mrs Moore (pictured top middle) joined in December 2021.
Dr Lam and Mrs Moore's appointments come after former President Murray Smith stepped down and off the national board on 27 June 2022. His resignation, and Dr Lam's subsequent election, opens up a vacancy on the national board with Optometry NSW/ACT now able to nominate a replacement. This replacement is yet to be announced.
Female leadership team
While Dr Lam is only the third female optometrist to be appointed President of Optometry Australia in the organisation's 103-year history, never before have there been three women simultaneously in the roles of President, Deputy President and Treasurer.
'We are excited to assume these roles in a sector that now supports 6,497 optometrists of which 57.6% are female and 42.4%, male,' Dr Lam said.
Dr Lam also explained that having an increasingly feminised sector carries challenges from a multitude of biases.
'In reality, it should not matter what gender you are in terms of your role or responsibilities. I stand against discrimination of any nature and I applaud Optometry Australia for having the courage to investigate its prevalence in our sector and its ongoing commitment to developing programs aimed at eliminating it.
'The results of our recent #BreaktheBias survey highlighted that there are many in our sector who feel that there are not enough leadership positions in optometry as a result of gender.  Fiona, Tori and I feel that our appointments stand in recognition of merit and leadership without discrimination. Within our board, and the five state divisional boards, 63% are female directors, so I am delighted we lead a progressive organisation.'
Members first
Working on the national board after many years on the Optometry NSW/ACT board, has shown Dr Lam how boards work through operations, strategic planning, advocacy and resources investment to develop increased scope of practice to support our optometry members at the coalface.
Dr Lam said that she is humbled to lead an organisation in challenging times, where she has seen some amazing initiatives in member support with both national and state organisations coming together impressively to provide member support in some really difficult times through COVID.
'While we will always have challenges ahead, it is important that we continue to move in a direction towards unification of the national and state bodies to produce the best results possible for our members.
'I have seen the national board oversee these many challenges and responsibilities to lead this organisation, and the national board will always remain fiercely member focused to future proof our profession in all of our decision making,' Dr Lam said.
Exemplary governance
All national directors are required to complete the Australian Institute of Company Directors, Company Directors Course, an intense multi-day program in governance.
As a result, Dr Lam said that the national board operates at a very strategic level and works at the highest levels of governance.
'Having sound governance structures provides for robust decision-making ensuring we are meeting our corporate goals as outlined in the shared strategic plan.
'By meeting our goals, we ensure that we are always keeping the interests of our members at the forefront of all decisions that we make and through this, support the sustainability of our profession.
'These structures have been strengthened over the years under different national presidents and I too look forward to leading the board's decision making under these best-practice protocols.'
Murray Smith's legacy
Dr Lam said that she, and her fellow board directors, were saddened by the resignation of Murray Smith from the Presidency and from the national board.
'I am sure that you join with me in paying our respects to Murray and thanking him for his tremendous leadership of the national body both as President, Deputy President and national director since 2018. Murray's legacy in Victoria is also etched in history when, as President of Optometry Victoria, he steered the successful amalgamation of this division with Optometry South Australia.'
Unification agenda
Dr Lam explained that in the past few years the national board has been keen to bring about unification of the federation with the goal of reducing the level of duplication that now occurs across our six organisations.
'The national board believes that transformation of our current operating model is critical to achieving consistent, quality services that are accessible to all members, irrespective of where you live. We also see it as essential to guiding the future direction of our profession as it will enable optometrists to have a strong, united and uniform approach to government, healthcare and sector advocacy.
'As highlighted by Murray, we are delighted that the state divisions have committed to structural reform and we look forward to working with them in the spirit of genuine consultation and collaboration so that together, we can continue to provide services that are of value to you, our members, and to the profession of optometry.
'Optometry Australia employs highly talented and skilled staff and we are fortunate to have staff that work exceptionally hard for our members. Every single one of our team performs vital and essential services, and I look forward to working with them more closely to lead our sector forward in the year ahead. Optometry Australia is committed to broadening the scope of practice to build the framework for optometrists to grow in the future,' Dr Lam said.
About Dr Lam
Dr Lam joined the national board in late 2019 and has had a long history as a director on the board of Optometry NSW/ACT. She is also the National President of the Cornea and Contact Lens Society of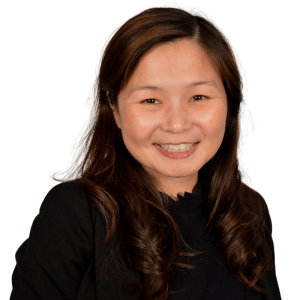 Australia, bringing a combined 12 years of governance experience to her new national leadership position.
She sees the role of the national board as one which will ensure the growth and evolution of the optometry profession.
Dr Lam is a 2001 graduate from the School of Optometry and Vision Sciences at the University of New South Wales and she started her independent Sydney-based optometry practices, theeyecarecompany by George and Matilda, in 2005. She practises full scope optometry and has extensive expertise in keratoconus, orthokeratology and specialty contact lenses.
She also holds the role of Head of Optometry Services with George and Matilda Eyecare and is Adjunct Senior Lecturer for the School of Optometry and Vision Science at the University of New South Wales. Dr Lam also mentors and teaches Undergraduate and Postgraduate Masters Students in Advanced Contact Lenses.
Dr Lam is a past recipient of the Neville Fulthorpe Award for Clinical Excellence.
About Deputy President, Fiona Moore
Mrs Moore said that she was highly motivated about stepping into the role of Deputy President, providing support to Dr Lam and continuing to make a solid contribution to national board decisions.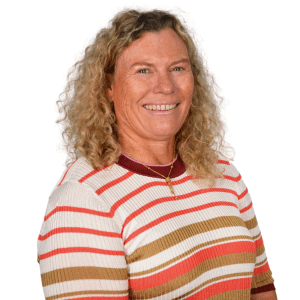 'Our goal first and foremost, is to ensure that we are on track delivering our shared strategic plan commitments.
'This plan was developed to ensure the ongoing sustainability of optometry; hence it places members front and centre of every decision we make.'
Mrs Moore, with her husband Tom, are the owners of Moore Eyes, based in Rockhampton with a sister practice in Yeppoon, both in central Queensland.
She is a 1989 graduate of QUT Bachelor of Applied Science Optometry. Mrs Moore has worked in both public and private health settings and previously took a lead role in the Rockhampton Base Hospital Eye Outpatients' Clinic.
She has extensive ophthalmology experience working closely with an ophthalmology practice during her earlier career in Brisbane and then through working for an ophthalmologist in private practice in Rockhampton.
Mrs Moore gained her therapeutic certification in 2005 and a Masters in Public Health in 2013. She is also registered to practise in the United Kingdom and Ireland where she worked in the 1990s.
About Treasurer, Tori Halsey
'Being Treasurer of Optometry Australia carries tremendous responsibility and I'm pleased that I have this role within an organisation that is so financially responsible and diligent in its budgeting.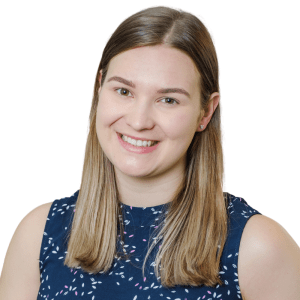 'Astute financial management and a focus on raising revenue from alternative sources has allowed Optometry Australia to enhance services to members considerably.
'The national organisation can provide a service that is accessible to the entire membership of approximately 5,000 optometrists, often for a similar amount that would need to be expended in delivering the same service to a smaller portion of members. This also ensures that we can provide a consistent level of service to members, regardless of where they live and work,' she said.
Ms Halsey graduated from Deakin University in 2016 following completion of her Bachelor of Science (2014) and subsequently, her Master of Optometry. She is currently employed at Look of Australia, a Hobart-based independent practice.
Born in the UK, Ms Halsey has lived in Tasmania since she was 14 and moved back immediately after studying at university in Victoria. In returning, she recognised that there would be opportunity to create a network for young optometrists and through her work, she co-founded Tasmania's Early Career Optometrist chapter.
She was subsequently appointed a director of the Optometry Tasmania Board and in 2019, a director of Optometry Australia.
Ms Halsey, who is therapeutically endorsed, has worked across corporate and independent environments, believing that as a core component in community health, along with medical and allied health professionals, optometrists are well positioned to treat, manage and prevent numerous eye conditions and to make a strong contribution to community health and wellbeing.
Filed in category:
Appointments
,
Members & member initiatives
,
National & State initiatives
,
Sector news
Tagged as:
Career
,
Leadership
,
Member services