Read time:

1:30min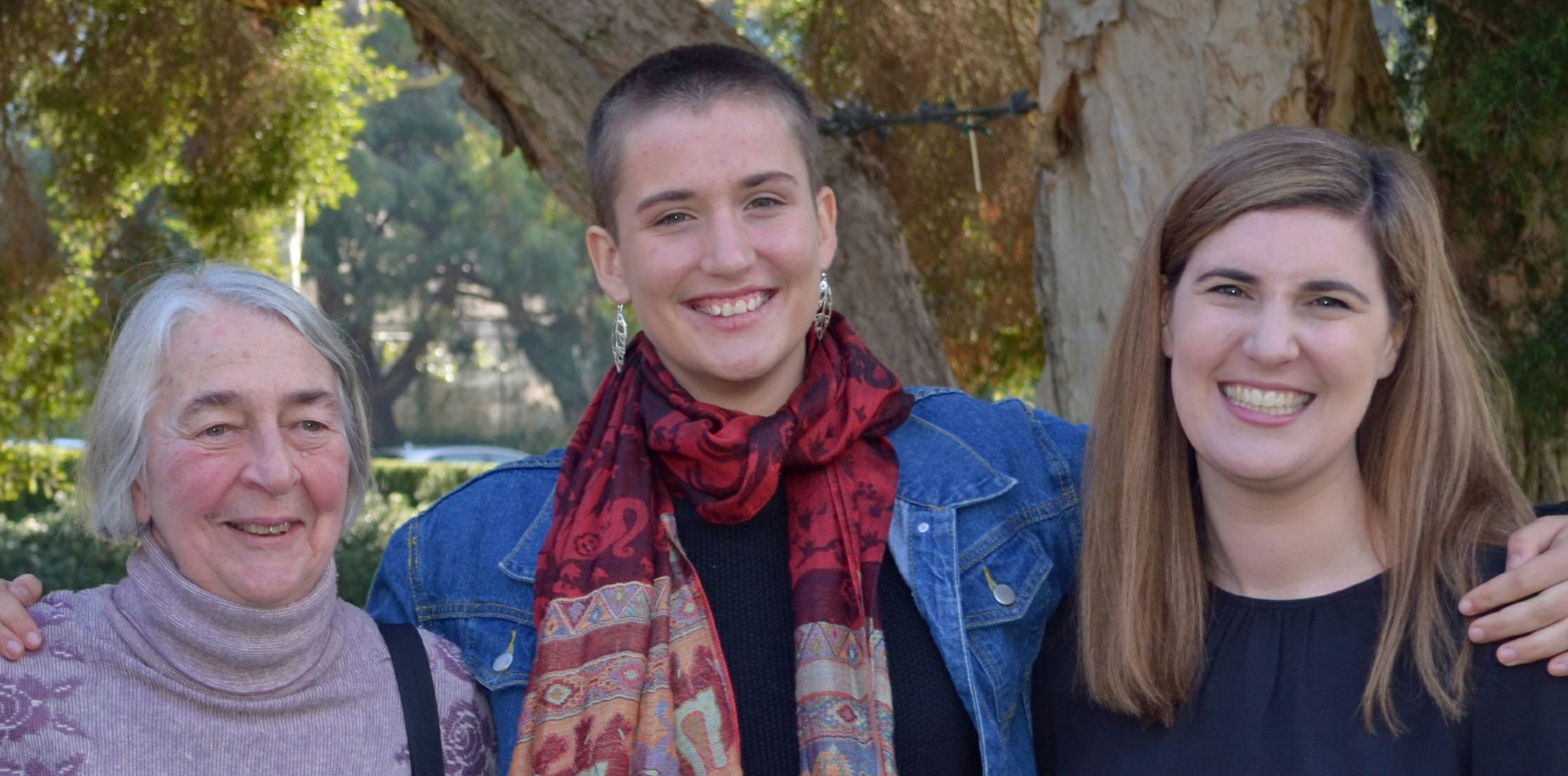 L-R, Dr Jenneth Sasse who instigated the bursary and her granddaughter Claire, with Jacqueline Kirkman at the Graduate Women Victoria 2018 award ceremony.
Photo, Alexis Bennett.
_____________________________
By Helen Carter
Journalist
Jacqueline Kirkman's inspirational journey has seen her overcome major obstacles to become an award winning optometrist.
Her latest achievement is a Graduate Women Victoria bursary for a PhD student who has been or is overcoming disadvantage in pursuing their studies.
'The award recognises women who are working through their higher degree, have achieved academic success and have leadership potential but who have had a difficult educational journey,' Ms Kirkman said.
She previously received a Deakin University Vice Chancellor's Medal in 2016 for Recognising Excellence in recognition of her ability to overcome hardship to achieve academic excellence and make a positive contribution to the local optometry community.
During her secondary schooling, Ms Kirkman, her mother and two brothers were full-time carers for her father Ian who had multiple sclerosis. She failed three years of high school before performing in her school's top VCE results.
She began studying to become a paramedic but had to withdraw when diagnosed with the autoimmune neuromuscular disease myasthenia gravis.
Ms Kirkman changed her career path to optometry, and her dedication, persistence and hard work paid off when she graduated with Deakin University's first optometry cohort in 2015.
She has since been working as an optometrist at Gutteridge, Douglas and Wells Optometrists in Hampton and now works there on Tuesdays and studies for her PhD at Deakin the rest of the week.
Profound impact
The influence of optometrist Ian Gutteridge in her life has been pivotal. He has not only been her optometrist since she was five, but he suggested she consider optometry when her paramedic studies fell through, and later employed her.
'I was a patient of Ian's from age five as I have quite a high degree of myopia and got my first glasses at six,' she said. 'I saw him every six months and my family are his patients.
'It's comforting working there because I feel like I've grown up with him. It's a really nice practice and a great place to work. The practice has a very dedicated and loyal patient base and we see a range of ages from kids to older people. I love them both.
'I've been working there for nearly three years and you see patients return which is special as you form a bond. I really like the human aspect of optometry.
'The practice's other partners, Ian Douglas and Matthew Wells, have also been amazing mentors. While I have known Ian Gutteridge my entire life, Matthew and Ian Douglas have also played a significant role in my journey to become an optometrist and have been the best mentors and friends. Ian Douglas even chauffeured me to my wedding in his beautiful old red Mercedes.'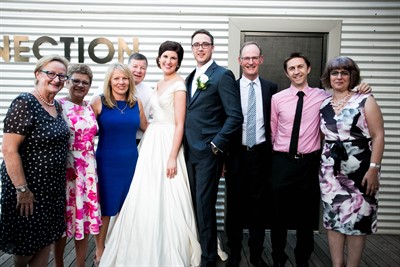 Some of the practice staff at Jac's wedding, L-R,  Virginia, Andrea, Yvette, optometrist Ian Douglas, Jacqueline, her husband James, optometrists Ian Gutteridge and Matthew Wells, and Marianthi.
Support from feminist fathers
Ms Kirkman's PhD supervisor, Deakin University's Optometry Course Director, Associate Professor James Armitage alerted her to the Graduate Women Victoria scholarships which support women to seek further education, especially higher degrees in research.
The $4,000 Research Higher Degree Bursary in Memory of Feminist Fathers will support her in her PhD.
'The award is funded by donors and my bursary was funded by the Sasse family. Jenneth Sasse was encouraged by her father to pursue a university education in an era when it was not the norm for women to do so,' Ms Kirkman said.
'She completed her PhD and was successful in her field. The award is in memory of feminist fathers as her father encouraged her to pursue university and it is appropriate for me because my father also encouraged my education. I have a lot to thank him for in my academic achievements.'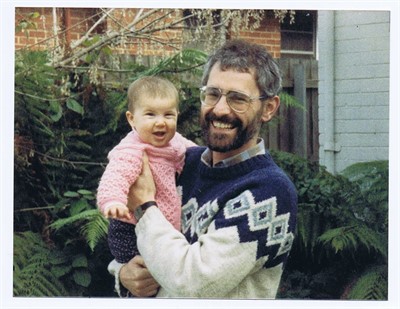 Ian Kirkman and baby Jacqueline
Family and personal illness
Ian Kirkman died in 2016, a year after his daughter graduated in optometry.
'My parents were both teachers but I had a difficult education journey because my mum and my two brothers and I were full-time carers for Dad. It wasn't just the physical side, but the increased mental load throughout high school which was difficult and I failed year 10 twice and year 11,' Jac said.
'At one point I thought I can't do this, I'm not going to finish high school, but I did and I achieved my VCE in the top 10 per cent of my school. Dad was so proud. He really encouraged me.
'I was studying to be a paramedic when I was diagnosed with the autoimmune condition, myasthenia gravis. I had to withdraw from my course and didn't know what I was going to do.
'I saw my optometrist Ian Gutteridge and he suggested I study optometry. I was a bit older because I had repeated high school so I wanted to get it done as quickly as possible and Deakin's accelerated course appealed.
'Dad had also struggled with his tertiary education because he was diagnosed with MS when he was 20 and studying science at university. I thought 'if he can do it, I can.'
'It hasn't been easy but I have good resilience and have had great mentors in life and at Deakin. At one point when I was sick in my first year former Deakin lecturer Professor Sharon Bentley said "you can do this, just keep going," and that changed my life.'
PhD on rural optometry
Ms Kirkman's PhD is examining whether recruiting more optometry students from rural areas and exposing them to extended rural clinical placements translates to them practising in country areas and helps address maldistribution in rural areas. She is also studying barriers to rural placements.
'Rural Australians are half as likely as people in cities to have an eye examination,' she said.
Her interviews with students so far have elicited positive comments including that Deakin's three month rural placements are leading to more students being open to consider practising in the bush.
Her PhD is supervised by Professor Craig Woods, Professor Sharon Bentley, who is now Head of the School of Optometry and Vision Science at QUT, and Associate Professor James Armitage.
Professor Armitage said: 'Jac has a passion for so many facets of optometry; clinical, public health, research and teaching. Her enthusiasm is infectious. It's satisfying to see that her hard work and achievements are being recognised and I hope that her story inspires others to also push hard and achieve their true potential.'
Ms Kirkman added: 'I hope my story helps other students. When I was at high school I felt like I was the only one who kept failing. I tell students now that sometimes their journey may not be as straightforward as others but it doesn't matter because the route you take is irrelevant if you get there in the end. It is character building and builds resilience, so don't give up.'
Filed in category:
Members & member initiatives
Tagged as:
Awards - honours - grants-bursaries