Read time:

1:30min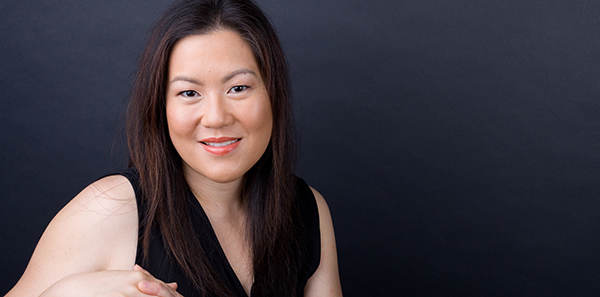 By Rhiannon Riches
Communications Manager
Sydney optometrist, and actor and producer, Tsu Shan Chambers is heading to LA in April to attend the 2018 Los Angeles Web Series Festival where an Australian project she was involved in is nominated for nine awards.
The Australian three-part web series, The Wild Orchards, was originally written by Tsu Shan as a proof of concept for a longer form contemporary action series currently under development.
Filmed at the Chinese Garden of Friendship in Darling Harbour at the end of 2016, the series stars Marcus Rivera (Miss Saigon, The King and I) and Tsu Shan, who have each been nominated in the Outstanding Actor and Outstanding Actress categories.
Tsu Shan is also nominated as creator and producer in the Outstanding Drama category for The Wild Orchards.
The Wild Orchards trailer
'It's an honour for our self-funded series to be nominated for so many awards. It was a tough shoot in the heart of the Australian summer and I am very grateful for how our team pulled together to create a story with a strong female protagonist, ethnic diversity and some fun action sequences,' Tsu Shan said.
Tsu Shan has been working as an actor and producer only the past four years, said she couldn't pass up the opportunity to go to LA for the awards.
'My love of musical theatre started from a young age. My parents would take me to see a lot of shows and I fell in love with that world. I had a chance to study musical theatre full-time after high school but pursued a more 'traditionally approved' profession first,' she said.
'It was not until I had my three children and was looking for something for them to do during the school holidays that I decided to do something for myself too and auditioned for NIDA (National Institute of Dramatic Art). I got in and it was the best thing I ever did. It changed my life,' she said.
Tsu Shan graduated with honours in optometry from the University of New South Wales.
She has worked in private practice, not-for-profit organisations, and large corporate companies, in cities, rural Australia, interstate and in third-world countries.
Tsu Shan has also completed a Master of Public Health and a Graduate Certificate in University Learning and Teaching. She is currently completing a Graduate Certificate in Creative Producing at the Australian Film, Television and Radio School in Sydney.
'Producing was a natural progression from my business experience. I've always been passionate about bringing awareness to issues that matter, aligning my head and my heart as an actor/producer and making a difference through telling provoking stories,' she said.
Tsu Shan won the Golden World Award for Best Producer and World Awards of Merit for Best International Film and Best Ensemble of Cast for her film about domestic violence, Tragic Enough, at the 2016 World Film Awards.
'I have always taken a holistic and integrative approach to medicine, health and wellbeing. I'm also a qualified yoga teacher and established an integrative health centre on the Sunshine Coast, specialising in women and family health,' she said.
She won the Sunshine Coast Outstanding Business Woman of the Year award in 2013, and was a Queensland finalist in the Telstra Business Awards in 2014.
'I try and work smart, incredibly hard and know my values and priorities to make the right sacrifices,' she said.
The 2018 Los Angeles Web Series Festival (LAWEBFEST) will be held at Sony Pictures Entertainment 27-29 April, 2018.
Filed in category:
Members & member initiatives
Tagged as:
Awards - honours - grants-bursaries
,
International