Read time:

1:30min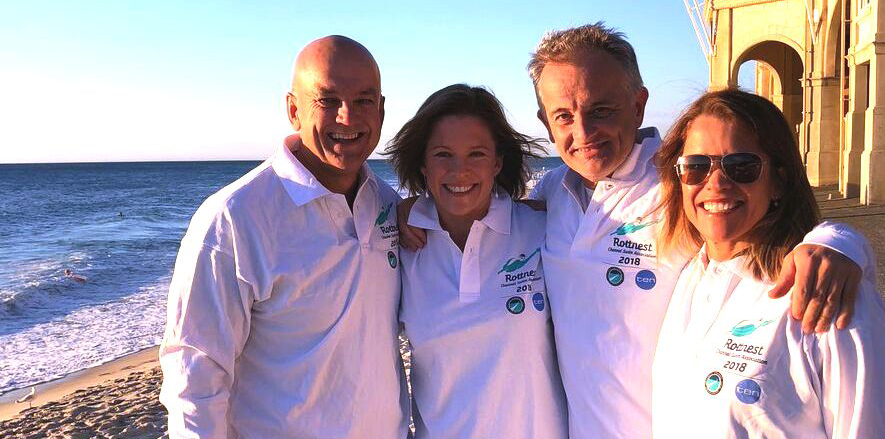 Swimming for charity, L-R: Garry Fitzpatrick, Louise Winkler, Peter Larsen and Kerrie Stevenson
By Helen Carter
Journalist
Four optometrists dodged a great white shark during a long distance swim to raise money for a proposed eye health hub to service remote areas of Western Australia.
The plans for a Lions Outback Vision North West Eye Health Hub based in Broome would facilitate regular trips by optometrists and ophthalmologists to remote communities in the Kimberley and Pilbara regions.
Lions Outback Vision manager Christine Stott said this would result in a more cost-effective and efficient service for North West patients than is currently provided by the Perth-based outreach model.
Optometrists Louise Winkler from Nowra, NSW, her twin sister Kerrie Stevenson from Perth, a mobile optometrist who visits nursing homes and works as a locum in private practices, and Specsavers optometrists and executives, Peter Larsen and Garry Fitzpatrick formed a charity team which conquered the 2018 Rottnest Channel Swim.
During the 19.7 kilometre swim from Cottesloe Beach to Rottnest Island in February, a three to four metre great white shark was spotted, prompting organisers to remove some swimmers. Fortunately the optometrists were far enough ahead of the shark that they were allowed to stay and finish the swim.
Ironically the team had earlier named itself SPECtacular Sharkbait on the entry form.
'The swim is something I've wanted to do for a long time,' Louise said. 'Kerrie had done it twice before including last year when she guided a legally blind Paralympian.'
Louise, who owns two Specsavers practices in Nowra, decided to do the swim with Kerrie, and told Optometry Director at Specsavers Peter Larsen who also joined the team along with Senior Optometry Consultant for Specsavers and Optometry Board of Australia board member Garry Fitzpatrick.
'It was my idea to get a team of optometrists together and enter as a charity team,' Louise said. 'We wanted the money raised to go to eye care in the west, and Kerrie and I had heard ophthalmologist Professor Angus Turner from Lions Outback Vision talking at optometry conferences so thought that would be a worthy cause.
'Kerrie had also used the Lions facilities in the past for telehealth conferencing.'
Shark alert
Louise said: 'About the 12 kilometre mark we heard an alarm but it didn't register it was the shark alarm until we heard the radio news from the boat that swimmers were being pulled out of the water.
'The shark was spotted around the 11 kilometre mark and they were removing swimmers who were within one kilometre of it. We just missed being pulled out and I'm glad we weren't because if would have been disappointing not to have finished.
'I felt really safe because there were so many swimmers, paddlers and boats in the water.'
The team took five hours, 50 minutes to complete the event. Each optometrist swam 15 minutes together at the start before converting to a relay with swimmers taking it in turns to swim eight minutes before returning to the boat, then reducing to seven, five and four minute stints.
The team swam the last leg of 750 metres together.
'I loved the swim. It was a really good team and a good cause,' Louise said.
Broome centre
The team raised $8,500 for the Lions Outback Vision hub in Broome.
Lions Outback Vision manager Christine Stott said it planned to apply for government and philanthropic grants for the proposed $20 million centralised hub.
'Optometrists and ophthalmologists would use the hub to do outreach services at least once every month to enable monthly injections for diabetic retinopathy and AMD,' she said.
'There would also be quarterly services including clinics, regular check-ups and surgery appointments. Optometrists in the Visiting Optometrists Scheme would continue to do telehealth consultations with ophthalmologists,' she said.
'We hope to attract an ophthalmologist to work full-time from Broome. Having the hub and a full-time ophthalmologist in Broome instead of relying on ophthalmologists from Perth would reduce costs and increase reach.'
Over the past year consultation with stakeholders including Aboriginal Medical Services, local optometrists, ophthalmologists and optometry and diabetes associations had occurred to ensure the hub was needed, Ms Stott said.
'They all ask when we can do it,' she said. 'We are also looking at the concept of making it a centralised health hub working with other health professionals who deliver diabetes and renal care for example to Indigenous people. Having spare rooms that consultants and specialists could use would also take pressure off Broome Hospital.'
Mr Larsen said: 'Lions Outback Vision is a more than worthy cause for our fundraising. The work it does to deliver the best eye health care to regional, remote and Indigenous communities is exemplary and it has a positive and measureable impact on lives every day.'
In 2017 Kerrie was one of four swimmers who helped guide Paralympian Jeremy McClure across the Rottnest Channel. Mr McClure is legally blind due to Lebers hereditary optic neuropathy. The guides rotated swimming alongside him, tethered to him with a one-metre bungee cord velcroed to their thighs.
In 2015 Louise and Kerrie also featured in an Optometry Australia story about optometrists who are twins. Louise joked in the story: 'I always thought we would own a practice called Seeing Double, although I'm not sure how successful it would have been!'
The SPECtacular shark-bait team raised $8,500 towards its $10,000 goal for the Broome hub, including a $1,000 donation from Specsavers.
Filed in category:
Members & member initiatives
Tagged as:
Leadership