Read time:

1:30min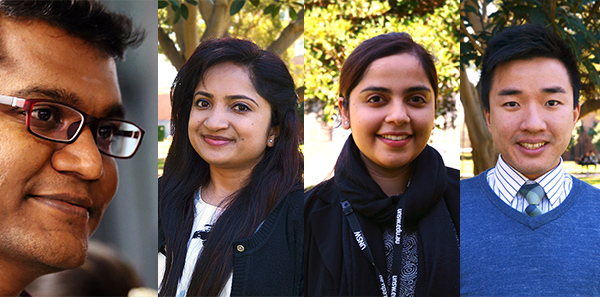 L-R, Parthu Kalaiselvan, Sidra Sarwat, Memoona Arshad, and Kam (Terry) Ho. Photo, UNSW.
______________________________
By Helen Carter
Journalist
Four students from the University of New South Wales' School of Optometry and Vision Science have received travel fellowships to attend the American Academy of Optometry's annual meeting.
The fellowships will allow them to attend Academy 2018 San Antonio, Texas from 7-10 November, 2018 to present their research and exchange ideas.
Parthasarathi (Parthu) Kalaiselvan's American Academy of Optometry Student Travel Fellowship was funded by the academy, while educational grants from Johnson and Johnson Vision funded the fellowships for his colleagues Sidra Sarwat, Memoona Arshad and Kam (Terry) Ho.
They said their peers and supervisors motivated them to apply and it was an honour to receive the awards.
They thanked donors and encouraged others to apply, saying it helps showcase their research findings, facilitates feedback on their work from renowned clinicians, academics and scientists and enables them to learn latest optometry advancements.
Sidra Sarwat. Photo, UNSW
Postgraduate research student Sidra Sarwat is an international student doing her Master of Optometry by research at UNSW.
Her project on imaging of tear film using quantum dots aims to study the dynamics of tear film at the molecular level using nanotechnology and she will present her findings for the first time as a scientific poster at the meeting.
'I am experimenting to find out optimal concentration and fluorescence detection range of quantum dots (nanoparticles) for their safe application on the ocular surface,' she said. 'I have found that quantum dots are safe and exhibit fluorescence much brighter and more stable than organic dyes.
'This may be indicative of novel diagnostic techniques to study ocular tissues at nano-scale in the future.
'My research fellows who received travel awards from the academy inspired me to apply for this grant. It is a great encouragement for early research students like me as it helps to explore research expertise at the meeting, share my work and get feedback from scientists and clinicians.'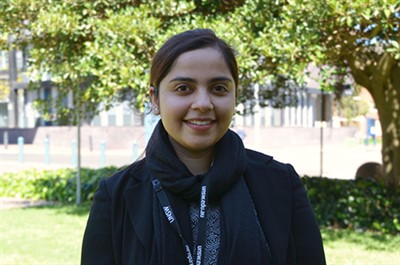 Memoona Arshad. Photo, UNSW
PhD candidate Memoona Arshad who is in the third year of her PhD program said she aspires to continue her research work at post-doctoral level, but would also like to be affiliated with a clinical practice as she feels more connected to clinical research.
'Being part of the School of Optometry and Vision Science and its healthy research environment, we are always encouraged by our supervisors and peers to apply for such opportunities. This was my main motivation behind applying for this scholarship,' she said.
Memoona started her doctoral research in 2015 to investigate risk factors in contact lens-related disease and will present her project as a talk in the contact lens section of the meeting.
'I worked in the lab to develop a novel and suitable method to assess contact lens case contamination for large clinical samples,' she said.
'I am conducting a randomised controlled trial on behavioural habits of contact lens wearers and the impact of water education on contact lens wearers' behaviours and case contamination.'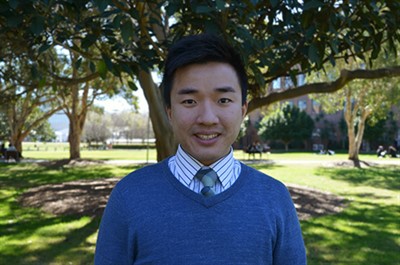 Terry Ho. Photo, UNSW  
Terry Ho has practised as an optometrist for five years, but says the challenges and satisfaction he experienced in completing a research project have swayed him towards a career in research.
He has just submitted his PhD thesis which aimed to measure the appropriateness of eye care delivery against sets of clinical indicators for preventative, glaucoma and diabetic eye care in Australia.
Terry will present his work as a talk on 8 November in the public health and eye care delivery session.
'In this project, I conducted 1,260 onsite record reviews at 42 optometry practices across four Australian states,' he said.
Results led him to conclude that better structuring of patient records might help to facilitate the delivery of appropriate care and he suggested that future educational interventions be targetted to address areas where the poorest compliance was measured.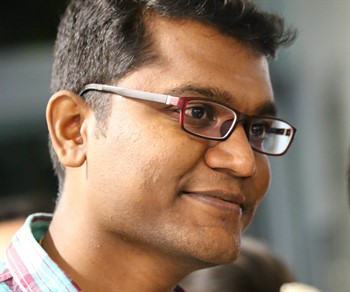 Parthu Kalaiselvan. Photo, UNSW 
Parthu, an international student from India, is in the third year of his PhD program in optometry. He will present his work, which involves teams from UNSW and L V Prasad Eye Institute, Hyderabad, India as a talk in the contact lens session and a poster.
'I started my PhD in 2015 to evaluate the ability of antimicrobial contact lenses to reduce the incidence of corneal infiltrative events during extended wear,' he said.
'Our clinical trial in humans found that these lenses can reduce corneal infiltrative events by 50 per cent compared to commercial contact lens wear during extended wear.
'Mel4-coated contact lens wear is safe for prolonged human wear and does not interfere with the healthy ocular commensal bacteria. Extended Mel4-coated lens wear is highly comfortable and comparable to commercial lens wear.
'However, Mel4-coated contact lenses retain antimicrobial activity against bacteria for three nights of wear but lose the activity at six nights.'
He is currently working to quantify amounts of protein and lipid that deposits on worn Mel4-coated contact lens surfaces and to investigate whether these deposits correlate with loss of antimicrobial activity of the worn Mel4-coated contact lenses.
______________________________
Filed in category:
ECOs & students
,
Members & member initiatives
Tagged as:
Students
,
Universities