Read time:

1:30min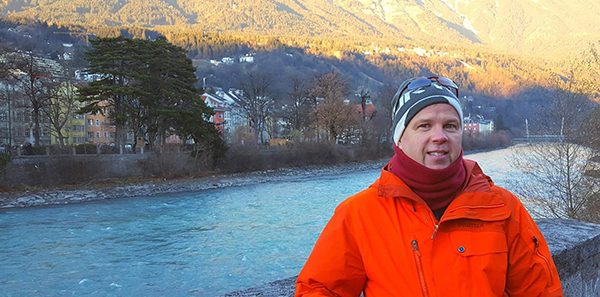 Dr Blair Lonsberry
______________________________
By Helen Carter
Journalist
Canadian-trained optometrist who has been teaching in the US for 20 years, Dr Blair Lonsberry, will discuss antibiotics for eye conditions and management of ocular pain at SA Blue Sky Congress next month.
Optometry South Australia's SA Blue Sky Congress will be from 9-10 November, 2018 at Adelaide Hills Convention Centre, Hahndorf.
Dr Lonsberry, the keynote speaker, is a professor at Pacific University, Oregon, USA. His talks will cover pain management, systemic antibiotics, patient history, imaging interpretations and grand rounds.
'The systemic antibiotics lecture will focus on the use of oral antibiotics for the treatment of eye conditions,' he said.
'I know that Australian optometrists don't yet have those privileges but almost all the US states and many of the Canadian provinces do. Even if you don't have those privileges I still think optometrists need to know antibiotics are available for treatment of eye-related conditions.
'Understanding what is going to be prescribed and for what gives the optometrist more confidence in managing patients.
'Depending on where the optometrist is located, ophthalmology might not be convenient for a patient and they will be getting care from their medical physician who may ask the optometrist what they would recommend for treatment.
'We deal with primarily soft tissue conditions so it is important to understand what is going to work for specific conditions and as new information comes out about resistance, the bugs that are involved with ocular infections do have differences from those same bugs systemically.'
For example, he said a recent resistance study on ocular bacteria had shown that azythromycin has very low activity against staphylococcus, which is commonly prescribed by primary care physicians but might not be the best option for an optometrist to prescribe for an eye-related infection.
'I want to emphasise the various groups of antibiotics and how some of the more common eye-related infections could be treated so even if they are not actively prescribing, optometrists would have a broad understanding of what is available and what might be the most effective in treatment,' Dr Lonsberry said.
Pain management
He feels it important that optometrists understand pain management and what patients are taking.
'Ocular pain is an important reason why patients seek care, especially on an emergent basis,' he said. 'While Australian optometrists are not likely to be prescribing prescription-based pain medications, they can take measures to help treat patients with ocular pain by suggesting over the counter medications.
'They can also understand what the various groups of pain medications are and how they could be used to help manage patient pain.
'I will focus on the use of pain medications in ocular conditions such as ulcers, abrasions and herpetic infections.
'I have the ability to prescribe pain medications as strong as opioids and most of the states in the US and even some provinces in Canada now require that optometrists do pain management courses to help curb the opioid epidemic.'
Attendees will learn common ocular conditions that may require pain management and about over the counter pain management medications and dosing including how NSAIDs help manage inflammation and pain.
Hear from an optometrist/practice owner who regularly attends SA Blue Sky Congress
Case histories and imaging
Another lecture will focus on making the most out of case histories and aims to help practitioners think through case history in helping to diagnose a patient.
'How the patient presents with their case history may help or distract from what the final diagnosis will be,' Dr Lonsberry said.
'I will have case histories of certain ocular conditions that might be helped or potentially confused by the case history and plan to work through them with the audience.'
His lecture on imaging interpretation will focus on the latest OCT imaging equipment and how that can be incorporated into practices to help in the diagnosis and management of patients.
'I will review some of the latest advances in OCT technology and run through cases where the OCT is crucial in the diagnosis and proper management of a patient,' Dr Lonsberry said.
It will provide an overview of interpretation and diagnostics in retina and glaucoma management using OCT and perimetry, will help them recognise the signs and symptoms of a patient undergoing hydroxychloroquine toxicity and the importance of OCT technology and perimetry in management and review new hydroxychloroquine screening guidelines.
His grand rounds talks will work through anterior segment, glaucoma, posterior segment and emergent cases with the audience, incorporating latest diagnostic and management techniques.
SA Blue Sky Congress features include a free on-site creche open for children up to 12-years-old until 6.30pm, a free sundowner on the Friday evening, a trade show, everything on a memory stick to take home, formative interactive learning, and a shuttle bus between the resort and airport.
The congress offers 36.5 CPD points including 32.5 ocular therapeutic and non-clinical points.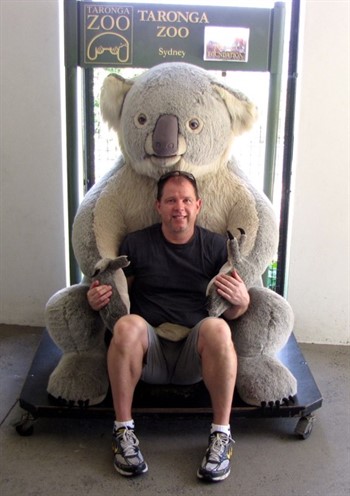 Dr Blair Lonsberry at Taronga Zoo, Sydney
______________________________
Filed in category:
CPD, conferences & events
,
Patient care & management
Tagged as:
Blue Sky SA
,
Patient management