Read time:

1:30min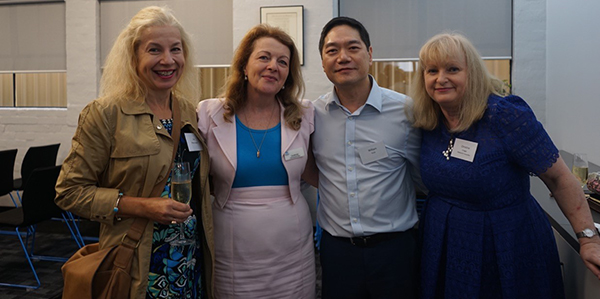 Pictured at the launch, L-R, Lily Wegrzynowski, Optometry Australia CEO Lyn Brodie, William Trinh and Christine Craigie. Photo, Mivision.
______________________________
Optometry NSW/ACT has officially opened its newly renovated headquarters in Sydney's inner west suburb of Five Dock. The office has been purpose designed to suit the evolving needs of the association, with multi-purpose spaces that can be configured, as required, for meetings and training sessions of all sizes.
Over 60 people attended the launch, including John Sidoti, local member for Drummoyne, Lyn Brodie CEO of Optometry Australia, members of the Optometry Australia NSW/ACT board and Association.
In his address, O NSW/ACT President Luke Cahill welcomed members to their "new home" which he said, depicts the future of the Association – fresh, progressive and dynamic.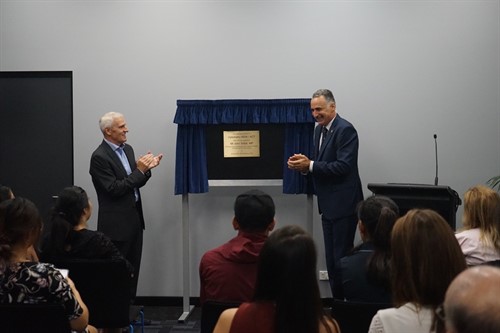 Optometry NSW/ACT President Luke Cahill, left, and John Sidoti
Lyn Brodie spoke to attendees about Optometry Australia's 2040 strategy, launched at Parliament House in Canberra in December 2018. Ms Brodie outlined the process undertaken to develop the 2040 strategy, described optometrists' identified preferred future for the profession, and spoke about steps the Association is already taking to implement the strategy. These include working on clinical research, funding model research, optometry's evolving scope of practice, competency standards, data collection, flexible workplaces, and developing tools, systems and processes to support face to face and online CPD offerings and support.
Mr Sidoti described optometry and the Association as integral to the Five Dock community. He and Andrew McKinnon, CEO of Optometry NSW/ACT unveiled a plaque to commemorate the opening of the office.
Mr McKinnon said the renovation was long overdue. "We started out with a building that was built for another time – and that time was long past!
"Looking ahead we wanted to turn the building from a pure office into something that would enable the members to form a greater connection to their Association. The redesign means that more than two thirds of the building space is now available for use for meetings, seminars and the like," he said. "Already groups like ProVision, ACBO and our optical dispensing colleagues have booked the space – and all at no charge for members.
James Gibbins, founder and director of the Australasian College of Optical Dispensers said his organisation had made use of the space to provide optical dispensing training. With retractable walls, he said the room works well. "We can have a large group undertaking training in the main room and a smaller group working more intimately in the breakout room."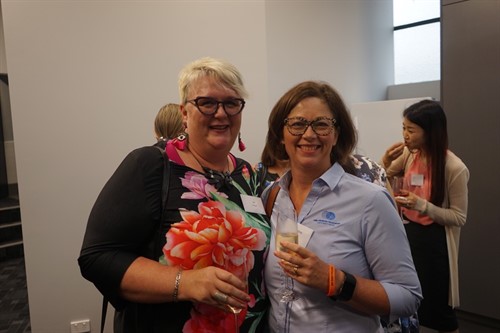 Liz Jackson, left and Caroline McIlvin
Optometrist Liz Jackson said the new premises would be a welcome cost saving for the Association, because meetings and training sessions can now be held onsite. "I think the renovations have been beautifully done and it is a much more useful space. Savings on venue hire can be used to deliver other important member services," she said.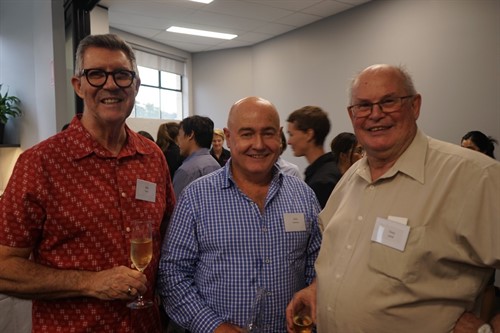 L-R, Tim Thurn, Chris McMahon and Tony Long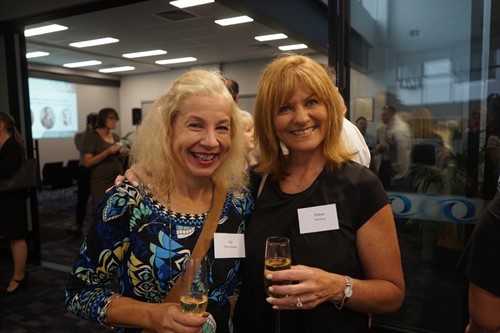 Lily Wegrzynowski and Robyn Weinberg 
This article has been republished courtesy of mivision.

Filed in category:
National & State initiatives