Read time:

1:30min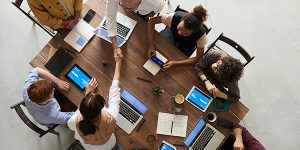 Optometry Australia launches its new Governance, Oversight, Leadership and Development program – GOLD.
In its commitment to ensure its members have the opportunity to drive change and play a role in leading the optometry profession, Optometry Australia has announced its new GOLD program and invites you to apply to take part.
Optometry Australia President, Mr Murray Smith said, 'Governance structures provide the guiding principles for robust decision making and are required for organisations such as ours, and the state divisions, to be sustainable, successful and to ensure that we are creating value for members and the profession. GOLD recognises that we all operate in complex governance environments, with a multitude of regulations, rules, principles, processes and relationships.
'GOLD also recognises that, as a profession, we need to have a cohort of optometrists who have the skills and commitment to hold leadership roles on Boards within the optometry sector. We also want these skills to extend beyond optometry into the broader health sector, to leadership positions on the Boards of health organisations, locally and nationally.'
He also said, 'My fellow OA Board directors and I are strong advocates for leadership development, as we understand that the future of our sector is in the hands of our membership. We are committed to creating opportunities that support our successors and to creating a cohort of great and skilled optometry leaders and governance specialists.'
Details of the GOLD program
The GOLD program will run over four months with successful applicants having access to self-paced lessons and workshops provided by the Global Governance Initiative, a leader in policy and governance training. Successful applicants will also participate in individual leadership development and workshops with Bravo Consulting and the acclaimed Facet 5 system, which enables individuals to explore and better understand their personality so they can begin to realise their true potential. GOLD students will participate in online workshops and, combined with the self-directed learning, the expected commitment would be approximately 12-15 hours plus two one-day workshops.
How to apply
We would welcome receiving expressions of interest to participate in our GOLD program if you have been practising for at least 10 years, are looking to develop or improve your leadership capabilities and if you have not yet served on divisional, national or other optometry specific boards.
There are 10 places available for this great opportunity.
To submit an EOI, please email c.haines@optometry.org.au with your member number, current CV and a brief statement (no more than 300 words) answering the following questions:
– How do you believe upskilling in leadership and governance will add value to the optometry profession?
– How do you plan on using your new skills to improve the broader optometry sector?
Applications close at 5pm on Friday 3 June 2022. Successful applicants will be contacted to negotiate availabilities. Rural and remote clinicians are encouraged to apply.
Filed in category:
National & State initiatives
Tagged as:
Governance
,
Leadership