Read time:

1:30min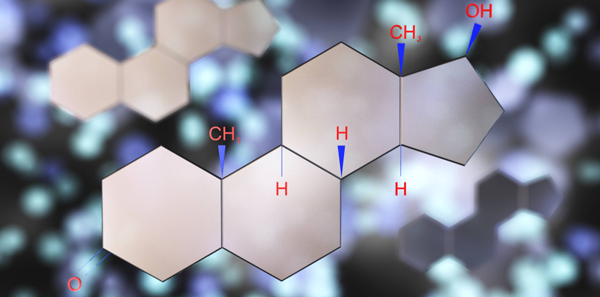 Beata I Lewandowska OD
Diplomate, American Board
of Optometry
Assistant Professor
Nova Southeastern University College of Optometry, Florida, USA
CASE REPORT
A 58-year-old Caucasian male presented complaining of progressively decreased, dim, tunnel-like vision and colour abnormalities in the right eye. He had noticed the symptoms worsening over the previous six months. Past ocular history revealed that a year prior to the visit, he had had his first eye examination and was diagnosed with glaucoma in both eyes. He reported the intraocular pressure (IOP) at the time of diagnosis was 25 mmHg in the right eye. He had been using Travatan Z every bedtime in both eyes since the diagnosis and was started on Combigan twice a day in the right eye about a month prior to his current visit.
The patient admitted to poor compliance with topical medications. He denied any history of trauma or ophthalmic surgery. The patient's medical history revealed a Mallory-Weiss tear that had been surgically repaired in 1985. He also reported taking steroids for bodybuilding for about a year more than 20 years ago. The patient was taking 20 mg of the oral medication Omeprazole every day for high cholesterol. Family history was positive for glaucoma of unknown type in the patient's grandmother. It was not known whether she had gone blind. The patient denied suffering from allergies to any medications. He denied smoking, stated he occasionally drank beer, and reported consuming two cups of coffee per day. The patient's mood and affect were normal and he was oriented to person, place and time. The patient's blood pressure was measured at 153/90 at 2:13 pm.
Uncorrected distance visual acuities were 6/6-2 in the right eye and 6/6 in the left eye. Pupils were equal, round and reactive to light without an afferent pupillary defect in either eye. Ocular motility was normal in both eyes. Colour vision testing revealed a blue-yellow defect in the right eye, but was normal in the left eye. Humphrey Field Analyzer was reliable in both eyes and revealed a dense superior arcuate scotoma and inferior nasal field defect in the right eye (Figure 1).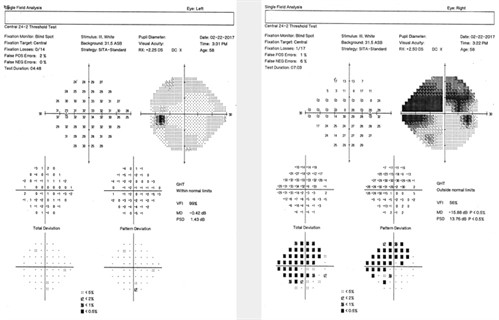 Figure 1. Visual field test revealing superior and inferior visual field defects in the right eye
Slitlamp examination of the anterior segment revealed mild dermatochalasis of both upper eyelids. There was no proptosis observed in either eye. Meibomian gland capping was observed in both eyes with quiet lid margins. Conjunctiva exhibited mild hyperaemia in both eyes and there was an early pinguecula present temporally in the right eye. Cornea was clear in both eyes; neither keratic precipitates nor Krukenberg's spindles were observed in either eye. Anterior chamber was deep and quiet in both eyes. Iris was flat and intact, brown and without any transillumination defects in either eye. Lenses were clear in both eyes and there was no pseudoexfoliation of the lens capsule in either eye. IOP was 19 mmHg in both eyes measured by applanation tonometry at 2:50 pm.
Gonioscopy revealed ciliary body band 360 degrees in both eyes with regular approach and 1+ trabecular meshwork pigmentation in both eyes. There was no peripheral anterior synechiae, no recession, no neovascularisation and no blood present in Schlemm's canal in either eye. Dilated retinal fundus examination revealed a clear vitreous in both eyes. The optic nerve was pink and distinct in both eyes with advanced cupping and extensive peripapillary atrophy observed in the right eye (Figures 2A and 2B).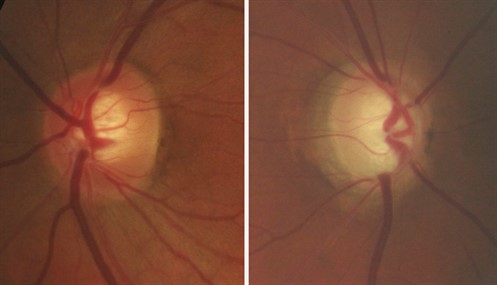 Figures 2A and 2B. Colour optic nerve photos demonstrating cupping in the right eye (2B). Note the advanced neuroretinal rim tissue thinning in the inferior, infero-temporal and temporal regions as part of temporal unfolding in the right eye. Note the temporal loss of RPE in the beta zone and mild hypo- and hyper-pigmentation changes in alpha zone of the right eye. Bayoneting of the vein can be observed at the inferior disc edge of the right eye.
The cup-to-disc ratio was estimated to be 0.90/0.95 in the right eye and 0.50/0.55 in the left eye. Disc haemorrhages were not observed in either eye. Maculae were flat and dry with few small drusen in the foveal region of both eyes. Vessels were normal in both eyes. Retinal periphery was flat and intact 360 degrees in both eyes.
Central corneal thickness was measured at 601 µm in the right eye and 605 µm in the left. Optical coherence tomography (OCT) was reliable and revealed retinal nerve fibre layer (RNFL) thinning and retinal ganglion cell (RGC) loss in the right eye (Figures 3A and 3B).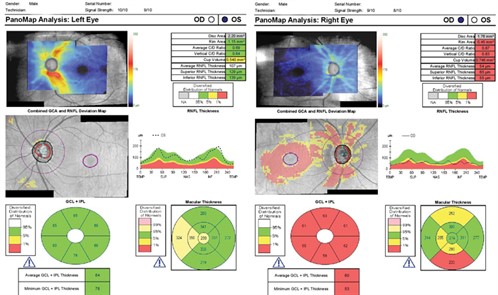 Figures 3A and 3B. OCT demonstrating RNFL and GCL loss in the right eye
We concurred with the patient's previous diagnosis of primary open angle glaucoma in the right eye. Given the patient's age, good systemic health and advanced field loss in the right eye, we set the target IOP in the right eye in the low teens. We advised the patient to continue instilling Combigan twice a day in the right eye and Travatan Z in both eyes at bedtime and to start Dorzolamide twice a day in the right eye. We discussed our findings with the patient, stressing the progressive nature of glaucoma and the importance of his compliance with the prescribed treatment and regular follow-up examinations. In light of the patient's previous struggles with compliance, we referred him to a glaucoma specialist for continuation of care.
DISCUSSION 
Glaucoma is a heterogeneous group of diseases with multiple primary and secondary factors that lead to irreversible vision loss from the dysfunction and death of retinal ganglion cells (RGC).1 Elevated IOP is considered to be one of the initial causes of insult in glaucomatous atrophy.1 Prolonged treatment with corticosteroids is known to cause significant increase in IOP, which may lead to open angle glaucoma.2 It is believed that corticosteroid use increases outflow resistance of the aqueous by inhibiting the degradation of extracellular matrix material in the trabecular meshwork.3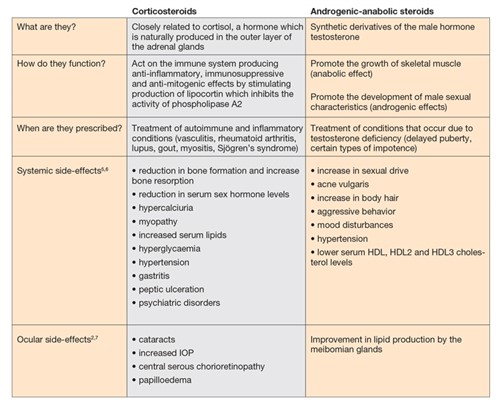 Table 1. Comparison of corticosteroids and androgenic-anabolic and their common side-effects
Early detection and treatment of glaucoma leads to slower progression;4 however, our patient's history revealed he used steroids for bodybuilding. These substances belong to the androgenic-anabolic (AAS) derivatives group.5 It is unlikely they contributed to the development of glaucoma in the right eye. While AAS misuse has been associated with disturbance of endocrine, immune, cardiovascular, urogenital and psychiatric function,6 the literature does not reveal any reports of adverse ophthalmic side-effects. On the contrary, studies have shown that women suffering from primary and secondary Sjögren's syndrome are androgen-deficient.7 There is evidence that the androgen deficiency may lead to meibomian gland dysfunction, altered lipid profiles in meibomian gland secretions, tear film instability, and evaporative dry eye.7,8 Androgen receptor modulators are being studied for treatment of dry eye disease.9
1. Agarwal R, Gupta SK, Agarwal P, et al. Current concepts in the pathophysiology of glaucoma. Indian J Ophthalmol 2009; 57: 257–266.
2. Poetker DM, Reh DD. A comprehensive review of the adverse effects of systemic corticosteroids. Otolaryngol Clin North Am 2010; 43: 753–768.
3. Kersey JP, Broadway DC. Corticosteroid-induced glaucoma: a review of the literature. Eye (Lond). 2006; 20: 407–416.
4. Heijl A, Leske MC, Bengtsson B, et al. Reduction of intraocular pressure and glaucoma progression: results from the Early Manifest Glaucoma Trial. Arch Ophthalmol 2002; 120: 1268–1279.
5. Hartgens F, Kuipers H. Effects of androgenic-anabolic steroids in athletes. Sports Med 2004; 34: 513–554.
6. Moghadam-Kia S, Werth VP. Prevention and treatment of systemic glucocorticoid side effects. Int J Dermatol 2010; 49: 239–248.
7. Sullivan DA, Sullivan BD, Evans JE, et al. Androgen deficiency, meibomian gland dysfunction, and evaporative dry eye. Ann N Y Acad Sci 2002; 966: 211–222.
8. Wickham LA, Gao J, Toda I, et al. Identification of androgen, estrogen and progesterone receptor mRNAs in the eye. Acta Ophthalmol Scand 2000; 78: 146–153.
9. Colligris B, Alkozi HA, Pintor J. Recent developments on dry eye disease treatment compounds. Saudi J Ophthalmol 2014; 28: 19–30.
Members receive complete access to Pharma – available here. 
Filed in category:
CPD, conferences & events
,
National & State initiatives
Tagged as:
Glaucoma
,
Patient management
,
Pharma