Read time:

1:30min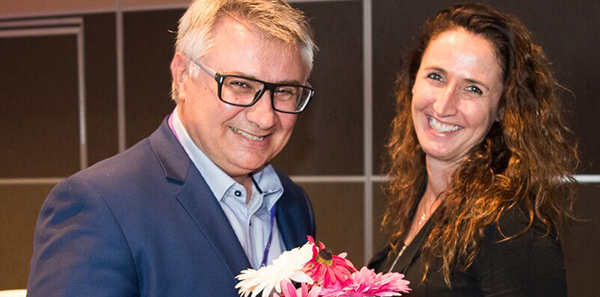 Tony Martella with Optometry WA's Executive Assistant Jude Martindale
Image: Pete Gardner Photography
_____________________________
By Helen Carter
Journalist
After 13 years at the helm of optometry in Western Australia, Tony Martella resigns this month as CEO of Optometry Western Australia.
Mr Martella, whose last day will be on 21 March, is remaining in the health field and on 3 April will become Executive Officer for the office of the President and CEO of the Australian Medical Association (WA).
During his tenure, OWA membership rose 40 per cent from about 270 to 380, and achievements surrounding therapeutic endorsement featured heavily.
Highlights included regulation enabling therapeutic endorsement for optometrists in WA and a course enabling one quarter of OWA's members, or 100 practitioners, to become therapeutically endorsed. Half of WA's optometrists now have scheduled medicines endorsement.
Optometry NSW/ACT CEO Andrew McKinnon organised a surprise goodbye for Tony on stage at Super Sunday last Sunday 11 March.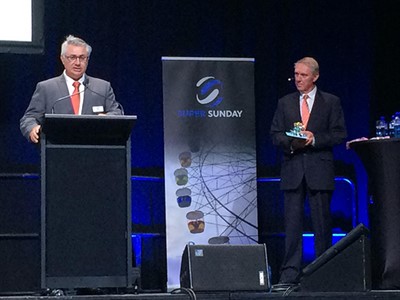 Tony Martella, left, farewells members at Super Sunday 2018, with Andrew McKinnon
Tony came from the Master Plumbers and Gasfitters Association and Master Painters and Decorators Association to start in April 2005 as Chief Executive Officer of the WA division of the Optometrists Association Australia, now known as Optometry Western Australia.
'It's hard to leave. I've met many wonderful people in the profession and industry and have made a lot of good friends,' he said. 'Since announcing I was leaving, I have been inundated with good wishes from members and stakeholders in the industry.'
Many highlights
'Regulation in 2010 to allow therapeutic endorsement of optometrists in WA was probably one of the major highlights,' Mr Martella told Optometry Australia. 'WA was the last state to achieve this and we fought hard for this.
'Following this I liaised with the University of New South Wales to arrange for their lecturers to come to WA over four years to deliver a post-graduate therapeutics course to many of our members. I was very proud that I was able to facilitate local delivery of this course.'
After lectures, practitioners did placements with ophthalmologists in local hospitals and privately. Tony collaborated with hospitals and ophthalmologists and was instrumental in helping optometrists gain these placements.
Other highlights included helping form the WA Early Career Optometrists group two years ago, which currently has 30 members, and the organisation's main annual conference, Western Australian Vision Convention (WAVE).
Building WAVE
'In marketing WAVE as our main education product, I tried to build relationships with members and suppliers as their support is important and valuable for our profession,' Mr Martella said.
'I built WAVE to be a valuable and quality program and am thrilled with the standard of education at WAVE, the clinical workshops and the take home clinical messages optometrists are given. Also the ECO workshop for young optometrists, the day before WAVE, capitalises on the speakers at WAVE. I believe this will continue.'
WAVE was also the first optometry conference to run a dispensers program in 2010.
CPD nights state-wide were another popular initiative, with 60 to 100 people regularly attending metropolitan events with additional regional events in Albany, Bunbury, Geraldton, Mandurah and Busselton, and of course Perth. Speakers included ophthalmology experts from the Lions Eye Institute and ophthalmologists in specialty practices.
Establishing monthly eye clinics for homeless people at St Patrick's Community Support Centre in Perth with the help of volunteer optometrists, dispensers and suppliers in the eye care industry was another important initiative. Tony arranged donated services, frames and lenses.
He also initiated Acacia Prison's recycled spectacles program enabling several inmates to recycle and clean used spectacles donated from patients of WA practices to be used in overseas aid programs.
The organisation's relationship with ProVision was strengthened with Tony referring many independent optometrists to ProVision.
Interstate promotion
Mr Martella constantly promoted the west at events interstate, and regularly attended career expos in Queensland, Victoria and NSW with contact details of WA optometrists wanting to employ eager young graduates attending expos.
He always attended interstate optometry division conferences looking for good topics and speakers to entice to WAVE.
'I've travelled thousands of kilometres and it's never been a 9 to 5 role,' he said.
He spent one memorable week in remote bushland with optometrist Peter McClurg delivering services as part of the North West Optometry Program, and arranged four wheel drive courses, first aid training and cultural awareness training to help members working in outback areas.
Office in a box
'When I first started with the Association, I inherited an office with little or no member infrastructure, so I started all the systems from scratch. I had a blank canvas to work with,' he said.
'I leave OWA in a financially and culturally good position and in a far better state than when I started.
'I've had a good relationship with the CEOs of other divisions and am proud to have contributed to the national agenda. I cannot state enough the importance of the federation.
'I've been fortunate to have worked with a lot of good people and have had good support from Optometry Australia including former CEOs Joe Chakman and Genevieve Quilty and now Lyn Brodie. I've had a wonderful relationship with them and with OA optometrists Luke Arundel and Simon Hanna who I've referred many members to for help.
'Thanks also to my invaluable assistant Jude Martindale, as I couldn't have done it without her.'
The high regard Mr Martella is held in by members is evident from his 'wall of spoons.' What started as a joke asking one member going on holiday to bring him back a teaspoon, has resulted in a collection of 76 spoons, displayed lovingly in the WA office.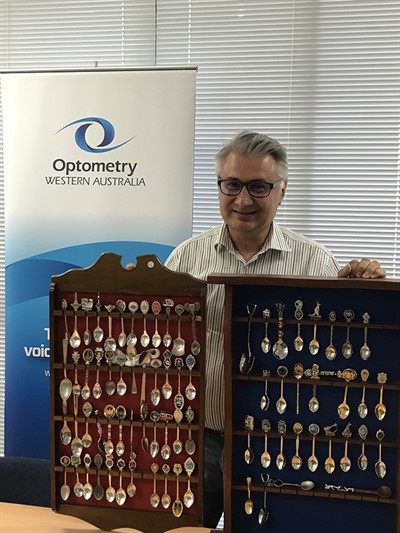 Tony Martella with his cabinet of spoons gifted from members
Tributes and legacy
OWA president Dr Robert Howie said: 'Tony was very strong on networking with members and helping them when they needed a hand. I announced his resignation at one of OWA's Lions CPD evenings where we had a full lecture theatre with about 100 attendees.
'There was a long queue waiting to shake Tony's hand and wish him well afterwards. Tony was very much liked and it will be strange not to have his smiling face organising things at WAVE.
'He leaves OWA in an enviable position as an inclusive organisation, well managed financially and with a culture of friendship, achievement and openness.'
Optometry Australia vice-president and former OWA president, now board director Darrell Baker said: 'Tony Martella served the Western Australian state division optometric community, along with the greater national organisation and membership with the warmth and genuine support that endeared him to all.
'He established himself as a trusted and dedicated advocate and promotor of optometry, a supporter of the underprivileged and a friend to many. We shall miss his smiling face, but he leaves behind a legacy of incredible member and peer engagement that will ensure the continued success of the organisation and profession.'
L-R: Tony Martella with WA board director and ECO member David Hsu, federal MP Tim Hammond and Optometry Australia vice-president and OWA director Darrell Baker
Optometrist Stephanie Bahler from Johnson and Johnson Vision was one of many OWA members who thanked Mr Martella.
'Thank you from the bottom of my heart for being a true representation of what a CEO should be like – someone who takes the time to get to know the individuals well,' she said.
'You were there for me when I first moved to WA, a friendly and familiar face when I initially didn't know many people at CPD events, you helped me through my therapeutics course, and you were there to assist in advice on several issues as well as supporting me in my decisions and career change.
'You have also inspired me to tackle eye care for those less fortunate within Perth itself at the St Patrick's Community Support Centre and Homeless Connect Perth.'
Optometry Australia CEO Lyn Brodie added: 'I have very much enjoyed working with Tony – his passion, total member focus and commitment to the federation is unsurpassed. And he's a nice person!
'I have discussed with Rob Howie that OA will support OWA in any way it can to ensure a smooth transition and that members are well serviced.'
Dr Howie said he had accepted OA's help during the transition and that the OWA board was advertising the position and expected to short-list by April.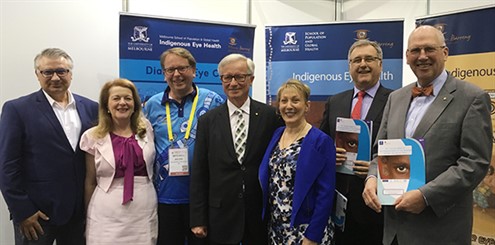 At the launch of the 2017 Annual Update on the Implementation of The Roadmap to Close the Gap for Vision
L-R: Tony Martella, Optometry Australia CEO Lyn Brodie, Senior Research Fellow, Indigenous Eye Health, the University of Melbourne optometrist Mitchell Anjou, former Fraser government Aboriginal Affairs minister Fred Chaney, Vision 2020 Australia CEO Carla Northam, RANZCO president Associate Professor Mark Daniell and Head of the University of Melbourne's Indigenous Eye Health, Laureate Professor Hugh Taylor
_____________________________ 
Filed in category:
Appointments
,
National & State initiatives
Tagged as:
Leadership
,
Member services