Read time:

1:30min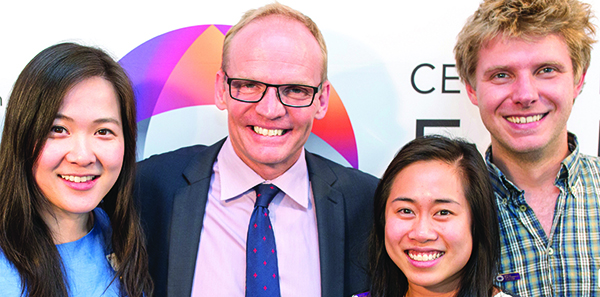 L-R, CERA optometrist and Research Fellow Dr Flora Hui, CERA managing director and glaucoma specialist Professor Jonathan Crowston and other members of CERA's Glaucoma Research Unit, PhD candidate Jessica Tang and Research Fellow Dr Xavier Hadoux.
Photo: CERA
_____________________________
By Helen Carter
Journalist
Melbourne researchers are conducting a world-first trial to see if vitamin B3 (nicotinamide) can help slow glaucoma in people with the potentially blinding eye disease.
Optometrist and Research Fellow Dr Flora Hui from the Centre for Eye Research Australia has been inundated with glaucoma patients wanting to take part in the 60-patient clinical trial.
She suggested that if other glaucoma patients wanted to start taking nicotinamide in the meantime they should consult their GP, as it was contraindicated in some conditions including pregnancy. They could also ask their optometrist or ophthalmologist about it, she said.
'Currently, the use of nicotinamide in glaucoma is still experimental. But because the supplements are widely available commercially, people may still buy it. I recommend consulting your doctor to see if it is ok before starting nicotinamide,' she told Optometry Australia.
The trial follows previous promising research, reported by Optometry Australia last year, which showed nicotinamide can prevent glaucoma plus stop progression of existing disease in mice. The US study found that giving vitamin B3 to glaucoma-prone mice prevented optic nerve degeneration and glaucoma and reversed negative effects of ageing in the mouse eye.
Maintain function for longer
In the new six month clinical trial, CERA researchers hope to prove that therapeutic use of high dosage nicotinamide could be used to support existing therapies, such as daily eye drops or in more advanced cases, surgery.
Dr Hui said researchers hoped nicotinamide would support the mitochondria (powerhouses or 'batteries' of cells) in retinal ganglion cells so the mitochondria could produce energy more efficiently by replenishing levels of nicotinamide adenine dinucleotide (NAD+), a molecule vital to energy metabolism in neurons. The aim is to maintain retinal ganglion cell function for longer to help slow disease progression.
'The ageing eye has reduced levels of NAD+ making the neurons vulnerable to stress,' she said. 'We are recruiting patients with early to moderate glaucoma for the trial because we believe that if nicotinamide has the potential to protect sick ganglion cells, we may detect a change in patients with early to moderate disease.'
Dr Hui, who also practises as an optometrist at eyeclarity in Melbourne's Emporium, and Reservoir Spectacles, further explained in a press release: 'Imagine your car's engine is running a bit rough and as a result, the car doesn't drive smoothly. If you top up the engine with oil, the car runs better, even though you haven't fixed the underlying problem.
'Our study hopes to confirm that vitamin B3 can protect nerve cells from dying, in a similar way that adding oil to a faulty car engine can still allow it to run more smoothly.'
Profound effects
'We will measure retinal structure and function with perimetry, electroretinography, optical coherence tomography and hyperspectral imaging to show if the vitamin has the potential to slow disease progression,' she said.
'The mouse study was exciting and showed nicotinamide had profound effects. Whilst we don't expect to cure glaucoma, we want to see if we can use an accessible and already commercially available adjunct to current therapies.'
Lead investigator of the study, CERA's managing director and glaucoma specialist Professor Jonathan Crowston, said glaucoma currently had no cure and vision loss was generally thought to be irreversible.
'We have recently discovered that in the early stages after an injury, visual function can in fact recover, but that the ability to recover diminishes with increasing age,' he said in the press release.
'We have developed clinical tests that now allow us to look for visual recovery in the clinic and are beginning to look at treatment that could boost recovery. Our premise is that if you can improve optic nerve recovery after an injury that we can reduce the risk of glaucoma progressing.'
Dietary sources of vitamin B3 include turkey, chicken breast, peanuts, mushrooms, liver, tuna, green peas, grass-fed beef, sunflower seeds and avocado.
Glaucoma is a disease of the optic nerve which affects 60 million people worldwide. In Australia 300,000 people are affected but half are unaware they have the disease.
Register your interest in participating in glaucoma clinical trials at CERA's Clinical Trial Registry Web Sight. To determine if you have glaucoma, see your optometrist for an eye test.
_____________________________
Filed in category:
Patient care & management
Tagged as:
Glaucoma
,
Patient management